Hakan Ünsal, who first entered into the sector with Yatsan in 1992 and continued in Boydak Group for many years, has been the General Manager of Merinos for the last three years. He said, "We are targeting to double our total turnover in 2018." We have recently interviewed Hakan Ünsal.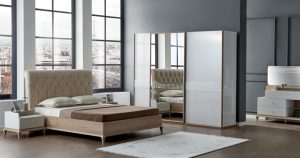 You have been producing diverse range of products related to mattress, furniture and carpet sectors. Which products have you displayed at Furniture Istanbul Fair?
As known, we are a very experienced and global brand in carpet sector, but we are relatively a young brand in furniture products. We are a company of 13 years. We are particularly operating in the field of carpet, furniture and mattress sector. We also produce box springs. We have production facilities covering an area of 150 thousand square meters.closed area in İzmir. We are an export oriented company. We also work with foreign companies such as İkea. We have displayed diverse range of mattresses, furniture groups, sofas, panel furnitures at the Fair. Merinos has become a center of attraction during the Fair. We are planning to increase our dealership network further.
What are the features of the products you exhibit at the Fair?
We usually have sports furniture products preferred by young people in general. We brought our products that we could call economy and top-tier class. Our trendy pastel products arouse great interests in domestic and foreign markets. We visit the fairs both at home and abroad and follow the latest trends. We generally shape our production range in line with the trends we monitor. We have a R&D team of about 15 people and they work hard to monitor the latest trends.
Furniture sector is a sector that does not contribute to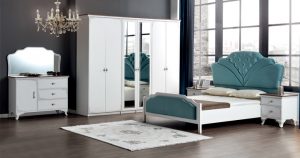 the current account deficit. Which countries do you export?
We export to America, Middle East, Europe, Norway, Denmark, Bulgaria and Libya. There are some fluctuations in the Middle East market. We do not have stores abroad, we operate the sales with our wholesale network. We export 30% of our production. We expect a high increase in our exports if the problems in the Middle East market are resolved.
What particular properties do your products have? What materials do you use in production processes?
We have a patented spring system called LFK, we also use the pocket spring system. We have displayed mattresses with pocket springs at the Fair. We work with the the best quality foam and we carefully choose the materials we use. We just do not have foam and latex production yet.
 As known, consumers in Turkey are increasingly becoming conscious of quality mattresses. How do you interpret this process? How many years of optimal usage should the  mattress has in general?
For a healthy use, maximum life of a mattress should not be more than 8 years. but I recommend renewing the mattress in every 5 years. It may not be damaged as a spring system, but it wears out its foam and fabric. What is important in mattress is that it should comply with orthopaedic standards and the body should wake up as rested enough. In this sense, it is very important to make the choice of the mattress that conforms to the body shape. We produce products that have passed European standards and technical tests. We manufacture all spring systems except the pocket spring system. Our mattress sales in Turkey  exceed those of furniture.