* Highly satisfied with the results they got in Furniture Istanbul, Indivani Yatak (Mattress) introduces new products in January.
Indivani Yatak first entered in the mattress industry by producing medical orthopedic mattresses in 2010 then offered bases, bed linens, pillow and other sleep products. Fatih Yavuz, Corporate Communications Manager of the company, said that they would concentrate domestic market and grow by 40% in 2018. He informed us about their targets and their plans.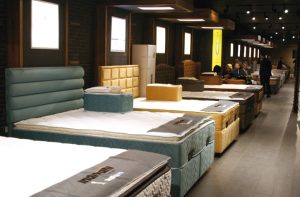 Which products of your company are most famous?
Known as the first company that put the mattress in box, our firm keeps its position in the market. Our latest products are displayed in this fair. In IMOB fair we will introduce our new products in January 2018. Furniture Istanbul fair was a success story for us. We consider participating in other fairs in the future.
What were your targets at the beginning of 2017? How do you feel about your success in this fair?
We have a plan to open corner shops in domestic market aiming to exhibit our mattresses in shopping malls. We have hit our targets in this regard. We want to add new sleep centers throughout the country, and to invest in local ads in the country. We want to make our brand more powerful.
What are your activities in export markets?
70 percent of our production is exported to 56 countries in the world where we have 160 selling stores. We have our own store in Turkey and have 35 projects for corner stores. We targeted to sell 40 % of our total production in domestic market by emphasizing on national buyers.
How is your relation with Russian market?
We have not any activities in Russian region yet.