The habits changed and more mattress-conscious consumer understanding prevailed throughout the country
Russia's changing retail and consumer landscape brings new challenges but also new opportunities.
World mattress production is estimated to amount to USD 25.8 billion in 2016. It could be higher in 2017. Asia and Pacific is the main manufacturing area with a 41% share of world mattress production; China alone accounts for almost 80% of the region's production. The second largest producing area in the world is North America which accounts for 32% of worldwide production. Western Europe ranks third with an incidence of 16% on total production, followed by Central East Europe and Russia and by South America.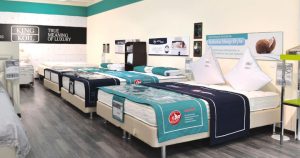 Despite the radical shrink in Russia's economy in last two-three decades it is still a huge power at all areas including politics, military, defense, economy and social points of view. It was normally strong before the USSR dissolved because it was a closed market but the culture of sleeping and living level had shrunk the manufacturing and trade. After the free market policies and opening up to the world, there have been large opportunities for everybody willing to do business with Russia.
After being one of the most dynamic sectors on the furniture market in recent years, sleep products sector turned into a harsh competition arena. Although we see general growth rate reduction and the market is reaching mature phase, there is still a place for young players in the Russian market. Here and there free niches are appearing; moreover, innovative research of types of mattress fillings retains its potential.
In Russia, sleeping solutions have traditionally been very modest; sofa beds and simple mattress solutions such as futons are still the largest product categories on the Russian market, according to Hilders Anders, the owner of World famous brand Askona.
"However, as the Russian economy improves and the space for living gets larger, we see an increase in the sales of more exclusive beds, mattresses and even box springs. Cities such as Moscow and St Petersburg are still the focal areas for increased consumption, but other cities are picking up, and shopping malls are continuously developed in new areas.
"Through the acquisition of Askona in 2010, Hilding Anders is the undisputed market leader with a market share of approximately 30%. The penetration rate for beds in Russia is still far behind comparative countries such as Brazil, providing an explanation for the vast development speed within our industry in Russia.
Our Russian company Askona is the leading player on the Russian market with a multi-brand portfolio, including the license for the US brands King Koil and Serta. Since late 2012, the Group brands Bicoflex, André Renault and Jensen are part of the Hilding Anders retail concept, with currently roughly 100 outlets in major Russian cities. Askona also manufactures private label beds and mattresses, and is the main supplier to a number of large furniture chains in the Russian market."
The Russian furniture market shrank almost 25% year-on-year in volume terms in 2015 due to the country's economic and financial recession. Sales fell across all types of furniture including mattresses. The greatest drop in the household furniture segment was seen in upholstered furniture, which has the largest market share.
The household furniture market fell 24.4%. Due to the increased cost of raw materials and components, the devaluation of the Ruble, and the resulting increase in import prices, the average producer (and importer) price in Russia rose 34% year on year to over 4,000 Rubles in 2015. As a result, the size of the furniture market only grew 1.5% in value terms.
Consumer behavior also changed due to the economic recession. According to the Russian Public Opinion Research Center (VTsIOM), the percentage of buyers of cheap furniture increased from 22% in January to 39% in September. Consumers also bought less furniture or stopped buying all together.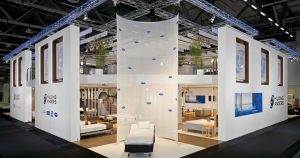 Despite a sharp rise in the cost of furniture manufacturing, consumer prices only went up 13.5% due to a shift in demand for cheaper furniture. According to analysts at Express Obzor, household furniture sales slowed down dramatically; the growth rate also did not exceed +1% against the 2014 level. In 2015, only 20.3 million units of furniture were sold while in 2013 this figure was 22.9 million units (-11.3%). In 2015, the average producer prices for furniture increased by 18.4% from 2014 when the growth rate was +12.4%. This is the largest increase since 2010. According to estimates by Express Obzor, in addition to the increased cost of imported accessories due to the devaluation, the price hike was also due to the Technical Regulation of the Customs Union 'On Safety of Furniture Products', which came into effect on July 1, 2014. This regulation sets the permissible limit for formaldehyde emissions at 0.01 mg/m3 (E0,5).  The greatest increase in prices (+44.1%) was seen in upholstered furniture as it is manufactured using a lot of imported accessories, followed by bedroom furniture such as beds and wardrobes, which uses a lot of wood-based panels. The growth of the average producer prices led to an 11.1% increase in the output of furniture in value terms.
A decline in the Ruble/Dollar exchange rate in 2015 resulted in a sharp increase in the cost of imported furniture and hence in a lower demand. Annualized imports fell 36.3% in volume terms and exports returned to the 2011 levels. The sharp drop caused a decrease in the share of imported goods in the Russian market, from 57.9% in 2014 to 48.1% in 2015.
The demand for cheaper furniture continues, with the exchange rate giving rise to nearly a two-fold increase in prices even for inexpensive furniture.
Furniture imports fell 42.6% in Dollar terms, while the average cost of imported products decreased by 8.4% to $51 per unit of furniture. The change in demand was also influenced by the reduction in customs duties on imported furniture after Russia joined the WTO. A major reduction was seen in the cheap furniture segment, worth less than EUR1.8 per kilo of gross weight. At the time of Russia's accession to the WTO, the customs duty on this type of furniture was EUR0.75 per kilo of gross weight. By 2018, it will fall to EUR0.23.
The breakdown of furniture imports by country did not change, led by China, followed by the Republic of Belarus and Ukraine.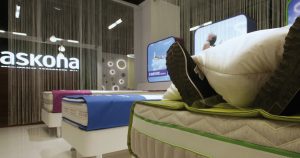 Sales culture
Until very recently Russian consumers had a low awareness of brands and product preferences in the bedroom. Consumer electronics were high on the list. Only recently the trend to healthy sleep habits has gained ground which offers many opportunities. There still are resources for further increase of volume and boost of demand in the mattress sector. Advantageous conditions for players include free niches, high-technology innovations from materials suppliers, used by market leaders for generating unique competitive advantages of their products. Despite gradual decrease of buying activity and average cost, mattress producers still have a wide field for marketing activities.
In recent years the most noticeable trend was increase of retail location space. As leading players have mastered their own production of beds and accessories, offering customers full-value bedding solutions, it is just natural that there was a need for more space to present these products.
In general, the level of retail presentation has definitely increased because of the development of new networks and franchising projects of producers.
Rising culture of sleeping accommodation in Russia leads to decrease of mattresses' lifecycle in Russian homes, slowly but steadily. According to a research held by Askona, the most leading mattress brand in Russia, average lifespan of a mattress in Russia is around 15 years. At the same time in Moscow and Moscow region, St. Petersburg and Leningrad region (generating 40% of sales in the sector) it is much lower now  around 9 years. Big cities become main drivers for further decrease of this rate. However, Russia is yet to go a long way to reach average European standards of 10-12 years.
"Market slowdown is always characterized by more interesting marketing competition", Alexander Aluf, Commercial Director of official representative of Belarusian furniture factory "Vegas" in Russia says, "Producers are looking for and introducing new effective technological solutions in production and materials. On the one hand, by doing so they aim to decrease their expenses to get additional advantage on the price level; on the other hand — they are introducing new materials to the market. In general, this allows producer to compete successfully on the market".
#USSR  #Mattress industry in Russia #Alexander Aluf #Sales culture