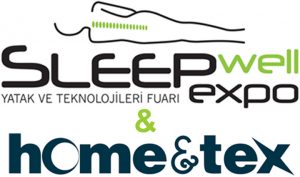 Sleepwell Expo, the first and the only trade fair in the mattress industry and Home&Tex, the second largest home textile and home decoration fair after Evteks, will be concurrently held in 2018. The new dates:  26-29 September for Sleepwell and 26-30 September for Home&Tex.
Held in October every year since 2014, SLEEPWELL EXPO, the first and the only fair in the mattress and mattress manufacturing industry, has decided to pull its date to the end of September to coincide with Home&Tex, the most important meeting point of home textile and home decoration. The Home&Tex show is held at CNR Expo Center and Sleepwell Expo is held at 9th and 10th Halls of Istanbul Expo Center located next to CNR Halls. Although the two venues are at walking distance there will be shuttles to facilitate and fasten the transportation between the two events.
As the first event coming to mind when home textile and home decoration business are the subject Home&Tex, is organized by Istanbul Fair Services Company who is also the organizer of Evteks, one of the most leading home textile fairs of the world, and supported by Turkey Home Textile Industrialists' Association (TETSIAD).
Talking about the excellent concurrent case, Ali Sami Aydin, Chairman of the Board of TETSIAD, said this synergy would reflect positive affects to both fairs and it would generate added value for visitors of the events. He further added, "The month September is a time when foreign travels are at maximum level. If we offer two reasons for foreign buyers this will motivate them to come to Turkey and this will be beneficial for visitors, for both events and for the country. As we all know  related fairs in Germany are held one after another to combine the visitor's schedules. Ours will be better to make concurrently because the venues are not in different cities but in the same complex."
Talking about the new dates and synergy with Home&Tex, Mehmet Soztutan, General Manager of Voli Fair Services, the organizer of Sleepwell Expo, said that this new adjustment would contribute to the performance of both shows and to the tourism and trade of the country. He added, "Home&Tex has made five successful editions until now. The synergy of this important event will contribute to our show a lot. I believe, our potential will also add more value to Home&Tex."
Speaking about the new arrangement, Omer Faruk Gorun, Project Manager of SLEEPWELL EXPO said that this coincidence would add a great amount of value to our show. He added, "Especially the suppliers of machinery, fabrics, alezes, raw materials and accessories that are used in home textile manufacturing will generate a good and lucrative traffic between two shows. Besides, the conferences, seminars, symposia and panels that will be organized at both sides will enrich the week and offer more benefits to the industry."
#SLEEPWELL EXPO #TETSIAD #mattress #Home&Tex #Mehmet Soztutan #Ali Sami Aydin