* One of the companies that are supported by special incentives under the frame of Turquality program ISBIR aims longer steps both in domestic and export markets
The youngest investment of Isbir holding, Isbir Yatak (Isbir Mattress Company) is also the only channel to reach consumers directly. The Holding is mainly active in B2B markets. Special products of Isbir, the brand known as master of mattresses, attract great interests of buyers. İlham Oz, general manager of the company evaluates the year 2017 for Sleep Well readers.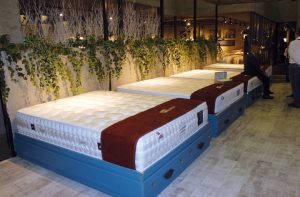 What are the most attractive products of Isbir this year?
Up to recent years, Isbir Yatak was a leading brand in upper segment of the market. Then we decided to transfer our technology, know-how and quality to seating group and now we have been introducing our new seating products firs in Furniture Istanbul fair, under Isbir room concept. This is the most important move for us in the fair.
In our mattress category, there are several products including the ones made of viscoelastic open cell memory foam mattresses. Customers liked our polymer spring memory form type of mattress, as well. These are known as products that get the form of the body. But it is not so. These mattresses disperse the changing pressures produced by the body evenly. Different pressures for different parts of the body can be measured in pressure maps. This is the real ergonomic, orthopedic sleep, similar to the real sleep experienced only on weightless space.
What is your target for the year?
We are under Turquality program. There are several incentives provided for us and we use them. Europe and Middle East markets are major targets for our exports. Export sales account for about 10% of our total sales. Our products are sold in 25 countries, including Turkic republics, Azerbaijan and Georgia. We have distributors in several countries. We consider entering Russian market soon.
How fares Furniture Istanbul Fair?
The schedule of the fair has recently been changed, so it takes more time to settle. But, we are not pessimistic; there are several guests from abroad.
What is the theme that you decided on for coming year, 2018?
We keep being active both in domestic and export markets. And we will focus on seating groups.
Any additional comments?
I want to say to the consumers that mattress is an important product for health. They have to renew their mattresses in shorter periods; a period of 6 to 7 years is a long time. They have to think about their health and dedicate budget accordingly.
#Isbir  #Turquality #Isbir Mattress Company