·Bambu fibers and EiderTech™ Fill bring innovation and comfort together in one ultra-soft blanket
ALPINE, Utah — Purple Innovation, LLC ("Purple"), a comfort product company known for developing the "World's First No Pressure™ Mattress," announced the launch of Purple's newest product, The Purple Blanket, available for a limited time only on purple.com.
The Purple Blanket was engineered with comfort in mind. It has a dual-feel design that gives users two distinct and luxurious experiences. One side is made of 100 percent rayon from bamboo fibers giving the blanket a smooth, sleek and cool feel. The other side is composed of a plush, mink-like fabric for cozy, warm comfort.
The blanket also features an EiderTech™ fill, which mimics the loft, breathability and insulating features of eiderdown while providing a sustainable and eco-friendly alternative. The EiderTech fill also won't migrate, clump or poke like natural dow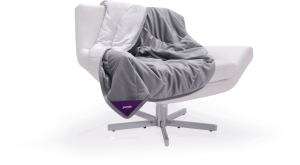 n and helps regulate temperature so users get a perfect experience no matter the season.
"This product is the ideal addition to any living room, bedroom or guest room. It is terrific for warming up during the winter months and lounging around in the summer," said Alex McArthur, chief marketing officer at Purple. "The dual-feel design and EiderTech fill make this blanket a unique, soft and sustainable product."
The consumer-ready version of the blanket was finalized after months of prototyping, evaluating various materials and constructions, and extensive consumer testing. "Purple has a deep history of developing innovative comfort products. True to that tradition, we designed, manufactured and tested the Purple Blanket to be the

most comfortable blanket in anyone's home," said Bret Mitchell, senior director of brand management at Purple.
#themattressindustry, #blanket, #news, #SleepWellMagazine, #SleepWellExpo, #purplemattress, #purple