* Never containing any hazardous materials for health in its products and giving priority to offer comfortable sleep Bedart promises healthy and peaceful days for with its motto of "sleep tight, wake up rejuvenated!" for those who know the value of their sleep.
We have recently visited the stand of Bedart at Furniture Istanbul Fair and spoke with Ibrahim Tek, marketing manager of Bedart, who stated that their first priority was human health by saying, "We are sparing no effort in order you to wake up happy. We use the fabrics of the best brands of the world such as Bekaert and Boyteks and we never include any adhesiv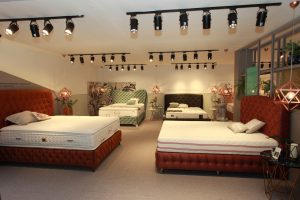 es with carcinogenic ingredients." Pointing out that the stuff inside the mattresses were as important as the fabrics covering the bed, Tek their product which is antibacterial and self-perpetuating had aroused a great deal of interest at the fair.
Success coming with specialization
Intensifying it's a quarter century of experience on bed base manufacturing as of 2013 Bedart has been producing 10 different models of bed bases, 25 headboards and 30 different types of mattresses with a daily capacity of 300 mattresses and 150 bed bases. The company has been operating in its 17,000 sqm of factory in Ankara where Bedart employees 85 personnel. It is a respectful brand with its after sale services, maintenance and repairing services to assure customer satisfaction in addition to its quality in production.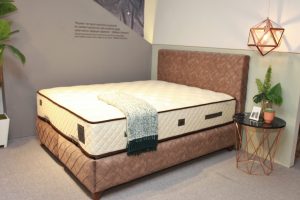 Target is to export to more markets
Talking about their export operations, Bedart Marketing Manager Ibrahim Tek explained, "We currently have England, Germany, Sweden, The Netherlands and Northern Iraq as our export markets. Our main customer portfolio covers African and Middle Eastern countries. We have been progressing in the industry through the fairs we participate and through our other works with an intention to increase our export markets. Or goal is to export more. We will take our place in 15th International Istanbul Furniture Fair to be held in January 2019."
"Trade fair should be at forefront in the mattress industry"
Ibrahim Tek stressed that the biggest support to mattress manufacturers should be granted by the government and the way of industrialists should be opened in addition to struggling with informal employment. Tek underlined the impact of the shows held in the mattress industry on export operations by saying, "There are approximately 65,000 big or small establishments in our sector. These companies have to be supervised in order to make our presence felt in world markets. I believe we can make the names of those who deserve pronounced respectfully in the world arena. The fairs are the arteries of industries in every sector and the mattress industry is no exemption. The KOSGEB supports should be increased in order more companies to participate in fairs and the trade fair business should be at the forefront in the mattress industry."
#Bedart, #themattressindustry, #fairs, #imob, #success, #bed, #mattress, #bedbase