* Every initiator establishing business relations with America should know the consumer preferences and all details in order to keep pace with the competition conditions. Mattress size standards factor is one of these important issues for even machinery manufacturers to adjust their products.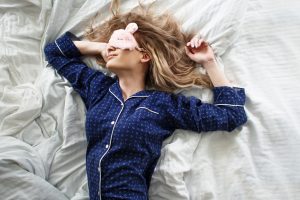 The recent years have witnessed a big volume of sleep product industry exports to the USA from Turkey. Machinery exports take the lead in this progress. Almost all other categories and product groups are involved. Those who would like to export mattresses should know that unlike Europe and Asia, America has its own customs, styles, preferences and specs for almost every product. Mattress is no exception.
Machinery manufacturers and exporters also should know what their products would be used for in that giant market. So every initiator who establishes business relations with America should know the consumer preferences and all details in order to keep pace with the competition conditions. To help you with these we have compiled a guide for mattress sizes in America.
Choosing what size mattress to buy isn't an easy work especially considering the variety of choices available. Today, you can count on finding California king, king, queen, full XL, full, twin XL, twin and crib mattresses widely manufactured, imported and sold in American stores. Not all models are made in every size, though many are. Each of these mattress sizes is designed to meet a specific need, with factors like room size, how active of a sleeper you are, and whether or not you share the bed determining which size would best suit your needs.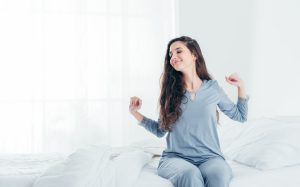 Mattress size is an individual preference, but understanding specific dimensions and your own expectations will help you narrow down the bed size that will serve you best. For instance, if you are purchasing a new mattress, you will need to make sure that it is big enough to accommodate you comfortably when you lie down or move around on it, and that it completely fits in the space within your bed. So, when you're considering which size to buy, you should consider factors like whether or not you sleep with a spouse or partner, if children and pets share your bed, whether you're on the taller or shorter side, and how large your bedroom is. You should measure the dimensions of your bedroom before going out to buy a mattress.
Buying a too-small mattress is one of the biggest mistakes new bed-buyers make. This guide will help you understand mattress sizing, along with recommendations to find your best fit, or will help manufacturers to manufacture the correct sizes for their target audience.
Following is the standard sizes classified for the needs and customs of American consumers:
SIZE                 DIMENSION (")          DIMENSION (cm)
King                 75" x 80"                    190.5 cm x 203.2 cm
Calif. King       72" x 84"                    183.0 cm x 213.4 cm
Queen             60" x 80"                    152.5 cm x 203.2 cm
Full XL             54" x 80"                    137.2 cm x 203.2 cm
Full                  54" x 75"                    137.2 cm x 190.5 cm
Twin                39" x 75"                      99.0 cm x 190.5 cm
Twin XL           39" x 80"                      99.0 cm x 203.2 cm
Crib                 27" x 52"                      68.6 cm x 132.0 cm
King (76″ x 80″)
King Size mattresses are ideal for couples looking for luxury comforts, more sleeping space, or room to share with children and pets. King size mattresses measure 75″ x 80″ and they are the largest mattress size by US standard manufacturing. Due to their size, king size mattresses and mattress sets are most commonly more expensive and more difficult to move. However, the spacious sizing offers peaceful sleep for couples in all sleeping positions. It is also encouraged to measure the room's floor space before buying a King size bed to ensure a comfortable fit. In fact, two twin extra-long beds pushed together are about the same size as a king, an option that can offer a flexible arrangement for a guest room.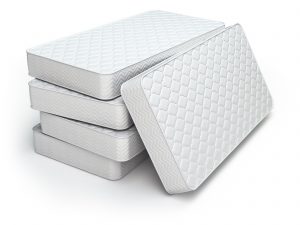 California King (72″ x 84″)
Popular on the West Coast, California King mattresses are ideal for tall people needing extra length to avoid hanging their feet off the bed. California King beds are great for individuals and couples due to their narrower dimensions. With a California King size bed, you receive an extra 4" of length and lose 3" in width in comparison to a standard king size bed. This difference in size helps make the California King fit better into smaller spaces than a standard King while helping taller individuals get more restful sleep.
 Queen (60″ x 80″)
Queen size mattresses are the most commonly purchased of all sizes. They measure 60" x 80" – 7 inches wider and 5 inches longer than a full-size mattress- offering a comfortable size for couples, as well as a reasonable size that fits well in almost all bedrooms. The Queen size mattress can be the most cost effective for couples and due to its popularity, it has the added benefit of a huge style selection when it comes to bedding sets, bedroom furniture, and bed accessories.
Full XL (54″ x 80″)
Full XL size mattresses are the same width as the Full, but 5-inches longer. Full XL mattresses are great for tall individuals who don't need the spaciousness of a Queen, but enjoy something roomier than a Twin. Full XL mattresses still don't have the width to effectively accommodate couples, and the Full XL size of many models costs the same as the couple-oriented Queen. Full XL mattresses work well for tall, active sleepers who want the largest size intended for single person use.
Full (54″ x 75″)
Sometimes still called a double mattress, a full-size mattress is 53-54 inches wide, which is just 15 inches wider than a twin size (or "single"). For a couple sharing a bed, that leaves each partner only 27 inches of personal space — or about the width of a crib. Both twin and full sizes are approximately 75 inches long, which may be too short for some adults. So, full size mattresses are great for growing children, single sleepers, and individuals working with a narrower floor space. Full size mattresses fit easily in standard bedrooms and guest rooms. A full-size mattress is a perfect transitional mattress at an economical price. While offering more spacious sleep than a twin-size mattress, a full-size mattress is easy for young adults to move from home to first apartment.
Twin XL (39″ x 80″)
The Twin XL mattress is ideal for tall individuals needing more legroom with their mattress. They are around the same length as a king or queen mattress. They measure 39" x 80", making them the same width as a standard twin with an extra 5 inches length-wise totaling 80 inches. With their narrower size and extended length, Twin XL mattresses and mattress sets fit well in smaller spaces while offering more room to stretch out than is available in a standard twin.
 Twin (38″ x 75″)
Twin size mattresses are the smallest standard mattress size other than a crib-size mattress. They measure 38" x 75" and are intended for single sleepers. Twin size mattresses work great for children's rooms, small bedrooms, and guest rooms. They offer adequate room for young children while being easy to move from room-to-room. Twin size mattresses and mattress sets are also typically the least expensive of all standard sizes.
Crib/Toddler (27" x 52")
A crib or toddler mattress is just the right size for your baby's first bed. These dimensions are widely accepted to be the standard across the US, so this size will fit with any standard crib you bring home for your young one. In general, your baby's crib mattress should be fairly firm. Soft mattresses and pillowtops seem like a good choice for parents, but infants need a solid sleep surface because they can't move themselves out of positions where their face sinks into the mattress if they happen to flip over on their tummies. Push down on the mattress and see how easily your hand sinks. The more resistance, the firmer the mattress. Whether you choose an innerspring or solid foam mattress, just make sure it's nice and firm!