HKM Comfort introduced a new collection for 2017 that addresses to every body
HKM Comfort chooses the all layers of mattresses with delicate care. Owner of Company Adnan Dursun, emphasizes on the importance of R&D while responding to the changing demands of customers.
Would you mention about the technology you use in mattress production and product portfolio of your company?
Our portfolio is composed of mattresses, and some other complementary decorative items such as bead steads and benches.
We use Bonnel springs, five region packed springs, micro springs, high-low springs, as main structure of the mattresses and stuffing materials as latex, wool, and visco materials such as natural materials and memory foams. Specially produced Climatex fabrics are used on the surface that has cooling effect, Comfortfresh fabric, a knitted-woven fabric that absorbs stinky scents.
Our bases are in two categories; one has 4 cm deep pool and the other is solid. They are made of variety of quilts and cosmetic applications. An automatically locking closing system for user safety and larger storage space beneath, patented assembly system and parkelams are added to the main products.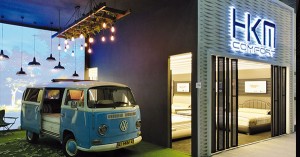 What are the distinguishing characteristics of your product development and R&D studies?
We begin to design process with an aim to produce custom made special collections for our buyers, answering the changing needs of the people.
Mattresses no longer are thought as a gift item presented to the furniture buyers. It should be wisely chosen product addressing completely the needs of the people in terms of health, economy and ergonomics. We are in close contact with several suppliers both in domestic and foreign markets to provide healthier sleeps to the people. We keep watching closely to the recent developments in the world.
How is your distribution system? At what points your products meet with prospects in Turkey?
They are sold at more than 200 corner distributors, especially in Marmara, Aegean, Mediterranean regions and inner regions of Anatolia. Sales graphs and number of our sellers are especially rising following the introduction of our collection for 2017.
Would you mention about your export activities? Which countries do you have contacts?
Export markets are important for us. We emphasize on fair activities and R&D. We get several ideas from our customers. We are able to answer changing needs of different markets.
Europe has a major share in our export activities, especially Germany, Austria, France, Holland and Belgium where we have distributors. This year growing numbers of visitors and businesspeople from Gulf and Arab countries are interested in our products during Istanbul CNR Imob fair, where we exhibited our products. We got some project offers from these countries. We have many sleep centers in these countries.
What is your point of view towards local fairs? Do you participate in any?
We see them as valuable opportunities to promote our successes and to grow our business even more. We find time and energy to meet with new buyers from around the world. We have been participating in Istanbul CNR Imob and Inegol/Mobel fairs regularly for eight years. Besides we have been in Izmir/Modeko, China/Furniture, India/Index, KSA/Mobitex as well.
What are your expectations about 2017 in your industry?
Recently, awareness about innovation and quality has risen in especially mid-sized firms. They began to invest in R&D. Recent reduction of VAT has made positive effects on the furniture and in more than 20 sectors related with furniture.
In line with growing consciousness of the customers, the industry has been increasing its perception, though it is not thought of as a health related segment. Sleep experts and mattress manufacturers are all trying to improve our position. We forecast about 30 % to 40 % growth in our sales this year.
What do you want especially to add?
The business voyage that has began as Hakim Furniture in 1989, is know keeping its route as HKM Comfort Sleep Systems and Ewos Design companies, with the same enthusiasm and dynamism that we have had at the beginning.