STAN TR is born from the new partnership.
Hong-Kong based and Switzerland origin NA Group company signed a strategic business agreement with Innova Bedding and Onder Honi in Turkey.
Innova Bedding is a Kayseri origin company networking, consulting, sourcing and distributing in bedding, furniture and textile industry.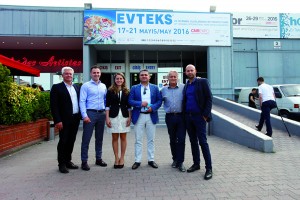 The name of the new company is going to be StanTR. STAN TR will perform sales from Turkey by using NA Group's sales network in other countries to bedding and textile materials.
NA Group is producing pillow and zippered textile bags in China mainland and Cambodia. The main market of the group is Central Europe. Na Group has its own companies in Macedonia, Romania, Bosnia Herzegovina, Germany, China and Hong Kong about mattress and textile industry for 40 years. With the new partnership NA Group companies will source from Turkey. STAN TR will be established in Turkey as the 7th country for cooperation in activities to be done.
The NA Group is an amalgamation of international trading and production companies headquartered in the Far East that was established on the initiative of Rolf Neidhart and Andreas Arbenz. Its strategy is based on the supply of components and finished products from the Far East to the processing industry and retail trade.
NA Group companies work without any bank loans whatsoever — all the Group companies have grown under their own strength. All profits are reinvested in the NA Group.
NA Group integrated business model focuses on three areas – sourcing, agents and services – and allows us to combine expertise and resources for the benefit of our customers. We add local specialist knowledge to the experience we have gained in all competence areas at the NA Group to deliver flexible and uncomplicated solutions for our customers.
NA Group's compact organizational structure allows us to act with flexibility and speed. In other words, we have the capacity to adapt our products and services to changing market and customer requirements.
NA Group's business model affords us the opportunity to engage the market in an innovative way and the unrivalled ability, by way of local structures in Asia, to handle sales directly without any intermediaries. All this is done with the reliability of western standards. Efficient supply chain management is guaranteed.
In the strategic business areas:
– Bed products
– Mattress accessories
– Promotional articles
The products marketed by the NA Group originate from the close cooperation with its production partners. When selecting products the benefit to the customer is always its first priority, and NA always tries to satisfy the needs and desires of its existing customers in its target markets. The products stand for functionality, fitness for purpose, user-friendliness and durability.
The NA Group markets the following bed products: – Baby items – Bed goods – Packaging bags – Support pillows.
Mattress accessories comprise the following products:
– 3D Mesh – Mattress covers – Mattress foot protectors – Zippers
The new company's headquarters will be in Kayseri. STAN TR will supply bedding and mattress components from Europe and Fars East to Turkey. At the same time the company will sell Turkish bedding components and mattress production materials to worldwide mattress producers with the cooperation of NA Group and Innova Bedding network.
#Innova_Bedding #NA_Group #business #Hong_Kong #Switzerland #StanTR #bedding #textile #materials #pillows #Packaging #bags #Bed_goods