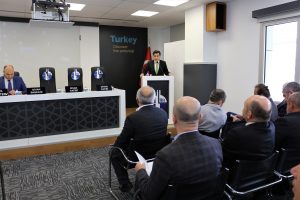 Having 1.8 percent share in total exports the furniture industry in Turkey aims to be one of the top ten exporters in the world by 2023. Iraq, Germany, Saudi Arabia, France, and USA are top markets for Turkish furniture exports.
Chairman of Istanbul Furniture, Paper and Forestry Product Exporters Association Ahmet Gulec said that the volume of furniture exports was 15 billion TL in 2018. Gulec forecast 4 billion dollar income from furniture exports in 2019. The industry is expected to earn up to 10 billion dollars from annual exports by 2023.
Ahmet Gulec said, "We, as the furniture industry, assumed an important task for the development of national economy. Contribution of the furniture industry to national economy is growing annually both in terms of national and foreign currencies." Gulec underlined the fact that present level of foreign currency rates is in balance and satisfactory for furniture exporters.