Furniture Istanbul was held between 7th and 12th November in CNR Expo, Yesilkoy. 75 percent of the furniture companies in Turkey were represented in the fair. About 60 thousand visitors from both domestic and foreign markets visited the fair. In the framework of buyer delegation organizations, 4.35 thousand buyers from 84 countries including Italy, Germany, Austria, Switzerland, Saudi Arabia, Iraq, Kuwait, Qatar and UAE attended the show.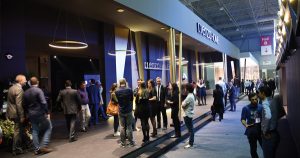 Modern, classic and modular furniture for offices, living rooms, kids, children, mattresses and outdoor items are all exhibited during the event.
Have been organized by Mosder, the furniture industrialists association, for 13 years, the fair hosted leading 300 hundred brands and names in furniture field in Turkey, including Bellona, Bambi, Yataş, İstikbal, Alfemo, Enza Home, Bretz, Merinos, Fatih Kıral, İpek, Kilim, Yatsan, Teleset, İşbir, Mondi, Tepe Home, İdaş, Buka, Novussi, Rengarenk, Almila, Kupa Genç Odası, Saloni, Loda, HKM Comfort, Leta Sandalye, Arno Home, Ladin, Cardin Concept ve ABC Mobilya.
Nuri Oztaskin, chairman of Mosder, said, "We have had a successful event from all point of views. Furniture Istanbul has assumed an important mission on the way to exhibit the size and power of the furniture industry in Turkey and convened most of the leading companies under one roof. The fair attracted about 60 thousand visitors, 4.35 thousands of them are foreign. 300 brands have introduced their new products for the first time in the fair. Major designers coming from abroad were also hosted in Design Stories seminars during the event."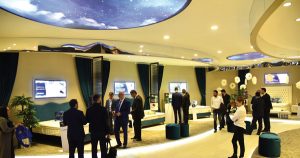 Buying teams and visitors from 84 countries were also in the fair, among them were, Italy, Germany, Austria, Switzerland, Saudi Arabia, Iraq, Kuwait, Qatar, UAE. There were those coming from several cities of domestic market, including Manisa, Eskisehir, Kayseri, Ankara Konya, Usak and Trabzon.
In Furniture Istanbul 2018-2019 trends in furniture and decoration industries are launched. Design was a major topic and a good number of innovative products were introduced, among them were smart mattresses that can be controlled by smart phones, educational youth rooms, massaging bases, etc. 14 design experts from Italy, Spain, France, Finland and Holland were in the fair and presented their works and informed about the details of designs of future.