Yitas Bed-Baza, which sets out with the slogan "Peace from nature to your bed", blends its 60 years of retail experience with good observation and renewed R&D studies. Now it is one of the leading companies in the mattress industry.
Talha İrfan Yigit, General Manager of the company, shares info about his patented products, the Sleep Center project under development and the problems of the sector.
Melting of experience with R&D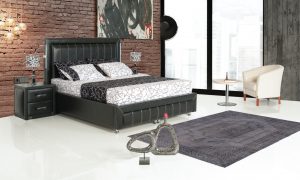 Having 60 years of retail experience in the furniture sector, YITAS has started to produce mattresses by adding R&D studies to its experience and observing the sector and customer demands closely. Yitaş and Swiss Love Bed brands have production facilities of 30,000 square meters in Konya Organized Industrial Zone. Talha Irfan Yigit, general manager of Yitas, who realized the necessity of R&D in the production of beds, said, "We have devoted one thousand sqm, area in our factory to R&D activities and are trying to provide the best beds to our customers."
The secret of success
As Yitaş family, we aim to take each step of progress securely while extending our business. We strive to build our team with sound, well-equipped, knowledgeable, and hardworking people. Our company, who does not want to experience the fall of the fate of the fast rising ones, takes care to take part in all the works that will contribute to the sector by progressing to its targets with sound steps."
Patents of base with safe-box own by Yitas
One of the first five companies among the manufacturers of bases, beds and home textiles in Turke, Yitas, emerges as a company offering the widest array of potential options having 45 different kinds of bases and 63 kinds of specific items in its product portfolio. In the production of beds which are complementary to the bedroom as well as base and accessories, it offers 32 types of mattresses to the consumers by using the latest technology reached by the sector, such as latex, visco, pocket spring, 7 zone spring mattress and sl spring types. In addition to remote controlled medical bases, the company produces all the bases that can be produced in the sector such as oval bases, hotel type bases, boxspring bases with patented Yitas brand safe-box bases. Bedside products of the base, such as bedside tables, marquise (Ottoman), dresser and dresser mirror, such as furniture products in the bedroom are also offered as variety of models to consumers.
About product packaging, Yigit said, "We can deliver our beds in the form of nylon press without touching our beds and pack them with Roll Pack winding system if desired. Under the most hygienic conditions, the latest system is manufactured and packaged on the line without touching the bed and the bases are sold with a 5-year product warranty."
Yitas, which is selling mostly in Turkey, is expanding its export network by establishing sales points in the Gulf countries and African markets, especially in Europe.
Target is to establish Sleep Centers
Yiğit said, "As far as this stage, our goal was to invest in our factory and machinery and deliver hygienic products with the latest technology. We have reached our ideal position; the next target is to accelerate the promotion and advertising efforts in order to backup to these investments."
Yiğit added that 'Sleep Center' project, which they have done their infrastructure works for a long time but postponed the process because of the circumstances which our country passes, "We aim to bring our products to the market by participating in more fairs, engaging more travel and the putting more support of our foreign trade representatives."
Firsts that was brought by R&D studies
Talha Irfan Yigit said: "As Yitas, we produced the electrically heated beds with thermostate. Yitas produced three types of mattresses with the motto "For those who say my spine is aching" to our consumers who have low back pain. Yitas produces woolen mattress, which is important for human health, that absorbs sweat naturelly and is a natural stress-absorbing product. Our legendary base, which is a medical product that is remotely controlled, supporting the body form on six points, especially for the elderly and those in need of care, is produced only in our company that has German Hartmant slat and icon motor."
"Turkey improves in mattress production"
Once in the past, Turkey, was producing mattresses of much more backward technology from European countries and the United States. We were ahead only of African countries and those in the Arabian Peninsula. Presently, the point in bedding manufacturers has reached in Turkey having latest technology and machinery, manufacturing firms are doing well and it is carried the industry up to the top.
Yiğit said: "In the textile field, we produce and manufacture hundreds of cotton knitted fabrics, wool fabrics and different quality fabrics such as bamboo, aleo vera, cool max, milky and silky. These are all show that mattress industry is developing well in Turkey."
Yigit said: "As Yitas family, with our pride, we can say that we are now producing bedspreads as much better mattresses as those of products of European companies such as Tempur, Roviva, Hasena, Bico, Hastens, Halsa and so on."
"VAT is a big problem in mattress industry"
One of the biggest problems of the mattress sector is the VAT issue. Yigit said: "The confusion caused by the discrepancy between the products sold at different levels of VAT, between 8% and 18%. For the mattresses, which is the most natural need of the human, the VAT should be much lower than its present level of 18%, it is sine qua non for our industry."
Yigit stated that the lack of qualified personnel in all sectors or short-term work in business life is a big problem in terms of production. "Smaller, pop-up enterprises that produce from old beds called quit-beds should be controlled. We expect that the authorities should implement the necessary measures and incentives for the mattress sector," he says.
#yitaş, #sleep, #bed, #baza, #safeboxes, #sleepcenters, #productpackaging,