Prepared to operate its new bed production plant, Yatas is preparing to increase its annual capacity to one million beds with this investment.
We made an exclusive interview with Metin Ozbek, R&D and production manager, Yatas in the manufacturing factory to talk about their new factory investment, he stated that they will invest 15 million Euros in 2017 with the new investments.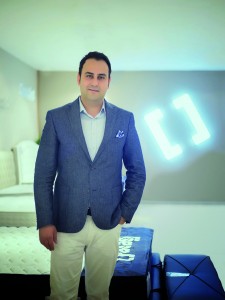 Can you inform us about Visco Ultimate Support, which is a new addition to Yatas's Pure Touch range?
"Visco Ultimate Support is a new generation viscose product that has been added to the Visco series of Yatas. Here we have combined Yatas's forty-year-old sponge experience with Yatas's unique open-celled "Yatas Visco Technology". With this technology, we offer a more viscose-friendly experience for users with a higher viscoelasticity and air permeability. By trying more than sixty different combinations in the layer, we have developed an inner construction that is most suitable for Turkish people's sleeping habits and does not contain the disadvantages of viscos. In this layer vertical zoning, we again applied Yatas's unique vertical zoning principles. Ordinarily, horizontal zoning is usually performed in beds, i.e. 3,5,7 or 9 different zoning in 200 or 190 cm lengthwise direction of bed. We combine our custom vertical zoning technology (VTZ ™) classic bed zoning that we developed in our sleep laboratories to provide the most appropriate backbone support and pressure distribution for the user. This means that we have developed a system which calculates the right amount to be buried into the bed of the body down from the top surface of the first contact, and first of all, with a gentle onset of the body, then the body shape and then the firm support of the spine. For a good mattress, these Yatas beds are the first element of the design constitution.
The system you have used is an open cell viscose production technique. This means a higher air permeability and a cooler sleep environment than the other, TDI based closed cell construction. As Yatas, we have a study, we do not only make beds, we actually pay more attention to science. We calculate material choices and usage rates very precisely. We have a sleep laboratory in which we have developed specifically, in which all the hardness curves of our designs and all of our existing beds are removed one by one, which are tested according to the body structures of the customers in the different body mass index. Which body mass index is suitable for which bed is absolutely a scientific calculation is done. We have an algorithm called Smart Match ™, which we developed related to this and launched at İSMOB. With Smart Match ™ application we set the Turkish people's sleep map and save the database on a regular basis. I can say that in our database we have more than 70,000 customers. We produce all the beds we design in accordance with this information. We offer bedding advice in the light of day such as height, weight, lying position, shirt body, pants body, sweating and allergy detection, and we offer the right to change unconditionally when we choose the beds we recommend to them from Smart Match."
You opened your 330nd store in Canakkale. What is your reason for choosing Canakkale as your location? Do you have location in every corner of Turkey?
"We are at many points of Turkey as Yatas. Our last store opened in Canakkale. We continue to work intensively on opening new stores. It is anticipated that seventy domestic stores and ten more overseas stores will be opened by the end of the year, apart from the existing ones.
As Yatas, we export to more than forty-five countries, we aim to be in all the corner of Turkey."
Do you have any other innovations you plan to carry out until the end of 2017?
"This year we will have an investment of 15 million Euros. In this investment, we change the entire production run of the bed and sponge factory. We have just completed the construction of a new bed plant of twenty-eight thousand square meters. We are currently working on our installation plans with our suppliers. In June we will pass 100% of our new factory and we will increase our annual capacity to one million beds. With our fully automated new factory we aim to increase our capacity by around 40 percent. It will be a factory to meet the capacity, targets and growth plans until the year 2021. By 2021 we plan to have another new bed factory in another location."
Design is as important as features in the bed. What does Yatas care about design?
"We are not just selling beds, we are also dealing with the science of sleep, and we pay more attention to the side of sleep. In short, a good sleep, a good quality of life … We really care about it. For this reason, we are carrying out special design activities for both the interior design and the exterior appearance in bearing production. We will design a new bedding model with 10 different renderings related to the exterior. We then choose from among the suitable fabrics we choose. After setting up the Brief, we make 25 different combinations from 700 different fabrics. We work with all the major manufacturers of innovative fabrics in the world. He has a large committee of marketing staff, sales team and quality team, along with twenty-five design evaluation committee. We are evaluating individual beds with that comedy. We have always been presenting our collection launches in ISMOB until this year. Maybe this year we can start to present our collections before İSMOB. Before deciding on the final design of the product, we always do focus group work in the final check."
Finally, do you have a message you want to give?
"In Turkey, ten million beds per year are produced. Unfortunately, there has been some contraction in the market in the past … As Yatas, we have not been affected yet, but unfortunately our stakeholders have been affected. Turkey, as a location, has the necessary expertise and capacity to increase production in the bed sector as production quality. As a country we get a fairly low share of the world's bedding market. I think that marketing activities should be intensively carried out in this regard. It is also necessary to analyze foreign markets correctly and to offer innovative products that meet the needs in the most appropriate way. We do not stop as a Turkish bed sector, but we have not seen the peak yet … I believe that in the next four years there will be positive developments in favor of the Turkish bed sector. Relevant to this, I think the sector should already be positioned and shaping its plans."
#Yatas, #PureTouchRange, #Visco, #MetinOzbek