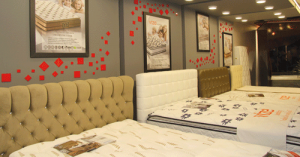 Having been trading furniture from 1990 to 2001 Vize Mobilya started to produce furniture and selling them at its stores. "Last year we started to produce mattresses," says Alper Aksoy, general manager of the company.
On new facility for production
We have been producing sets for bedrooms and for youths in addition to beds and bases in our factory of 30 thousand sqm located in Vize, Kirklareli. We have latest models of machinery for production and we are able to produce 10 thousand beds monthly.
We have been producing both beds and bases at the same level of quality. We use highest quality materials that suit best to the technology we use. Our motto is "quality product, delivery on time." We have been producing beds for six months. During this period, we delivered some of our productions to Iran, Iraq and Libya and made our presence felt in those markets.
On exports
These sales are made possible by valuable contributions of our friends, not professional business deals. However, we formed a team for export activities, who participated in the fairs in Morocco and Libya. They will visit the ones that will be held in Algeria and Dubai. We have signed a contract with a store chain in France. Similar deal is to be cooked for Belgium. In principle we want to sell our goods to European markets. This is our priority for 2015. We plan to sell about 5 thousand sets in export markets