Working with the conscious and responsibility of being the brand that directs the sector, Bellona offers the pleasure of a lovely slumber to Bellona bed lovers at the four corners of the world.
Bellona is one of the firms that invest in technology and use the latest technology that is not developed by global competitors in the mattress industry on behalf of Turkey's mattress industry. We have listened Bellona's current investments that include various innovations such as Yoga, Bioenergy and Collagen technologies for the industry from Mehmet Altay, Corporate Communication and Marketing Expert of Bellona: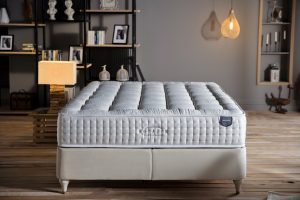 What do you think about the mattress industry in Turkey? What should manufacturers do to develop the current situation further?
The mattress sector in Turkey keeps up increasingly its production and innovative capability over the years. Besides, we have technological developments and innovative inventions what currently exist in world mattress market. We are very much determined to develop the technological innovations that cannot be developed by our global competitor so far. Our latest product group of Yoga, Bioenergy and Kolajen help us to succeed in the field of the mattress sector. We think that presenting better its capacity in global market and increasing the brand awareness, in other words; following marketing trends helps us to be better in the sector. We should mostly pay attention to export to reach customers all around the world.
Do you have new investments in recent years or do you have new products that you will introduce into the sector in 2020?
We have a new production plant project equipped with the latest technological equipment that will produce mattresses, foundations and headboards on a closed area of 48.000 m², will be finished in September 2019. In addition, we continue our innovative inventions that offer to our customers for every product line that we have. We continue to produce by caring brand awareness and responsibility that shapes the sector with same efforts.
Your company is in the list of most respected brands in the 8th Turkey Reputation Index Survey that is carried out by Turkey Reputation Academy. What would you like to say about this success?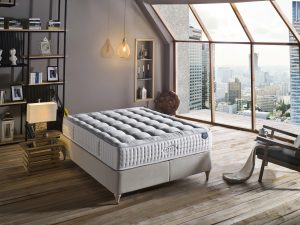 No doubt, we are very happy and proud of it. We thank to all customers who believe and trust in us. We would like especially to thank our workmates, too. This reliance is a result of the Bellona family cooperation.
Which countries do you export to? Where are your target markets?
We export to more than 30 countries, particularly in Lebanon, Iraq, USA, France and Bosnia Herzegovina. Our target markets are Europe and Middle east, particularly Germany, Romania and Greece.
What are the fairs did you attend in domestic and abroad? Which ones are you planning to attend in the future?
We attend High Point Fair in the USA, iSaloni Fair in Milan, Italy and Mebel Fair in Moscow, Russia.
How was the iSaloni Fair? What is the importance of this fair in terms of your company and the sector?
iSaloni is a fair that sets the trends and it is the pioneer for the furniture sector. It was a fruitful show that we have paved the way for our long-term targets by strong steps.
#industry, #sleep, #bed, #market, #fair, #mattress, #sector, #isaloni,