McRoskey is one of the most leading innerspring mattress manufacturers. The company manufactures a great many varieties at its factory in San Francisco. For over 100 years, every McRoskey mattress has been made carefully, lovingly, and almost completely by hand with detail of workmanship not possible in mass production.
The McRoskey innerspring unit is formed from steel spring crimped hourglassshaped coils that are laced together with steel spring helical wire. The shape of the coil and its assembly into the innerspring unit make a very durable and responsive component. This is the beginning of a truly remarkable sleeping experience!
The flexible innerspring unit and the mattress construction also mean you can easily flip and rotate your McRoskey mattress. You benefit from using both sides of the mattress.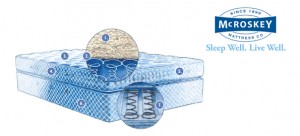 The wonderful comfort of fiber filling materials 
Luxurious layer upon layer of resilient cotton and man-made fiber filling materials are placed one layer after the other on both sides of the innerspring unit. Fiber, not foam, is a proven filling material with enduring cushioning comfort. You will honestly feel caressed from head to toe.
Attention to detail
You will be impressed with the attention to detail in the construction of the McRoskey mattress and box spring. Sidewalls of both the mattress and box spring are airleted and vented for breathability.
Mattress and box springs handles are built to be used to flip, rotate or carry the product. They will not pull out. Another detail is in the hemming of each panel of cotton ticking used to cover the mattress and box spring. That means when the top panels are sewn to the side panels, the seams will not pull apart.
The pressure-absorbing box spring McRoskey continues to build a true box spring essential for total comfort. Unlike most other box springs, which are essentially covered platforms, McRoskey's box spring is built with pressure-absorbing comfort using strong steel coils individually fastened to a well-designed hardwood frame that is insulated with materials to prevent the box spring from squeaking.
The end result benefits you!
The combination of the McRoskey innerspring unit, its fiber filling materials, its attention to detail, and its box spring construction results in comfortably cool support without pressure points.
These are the construction features that are the secrets to an incredibly responsive, durable and comfortable mattress and box spring that support you night after night, year after year. The result of all this perfectionism is a McRoskey. Widely considered the most comfortable bed ever made.