* Planet Furniture promises flawless customer satisfaction by producing products and projects for the needs of hotels with its 65 years of experience in the business.
Hotels emphasize on customer satisfaction while hosting thousands of guests. One of the factors contributing to the satisfaction is mattresses in the facility. We asked about it to Mert Alsan, Planet Yatak project and corporate sales manager. He said, "Products that keep their comfort, hygiene and the form for years can only be produced by having technology, experience and excellence."
Offering comfortable sleep is a great challenge for hotels where people of different body forms are hosted. What are your points that support this argument?
As you know our company is a member of group companies who is active in several sectors including textile, foam, iron and steel and transportation. In this regard it is an integrated mattress producer. Our argument that you mentioned above comes from this background having all knowledge, technology, R&D, and high production capacity. Each hotel has its own guest profile depending on the concept they offered. Their income levels, and local and regional living habits may be common.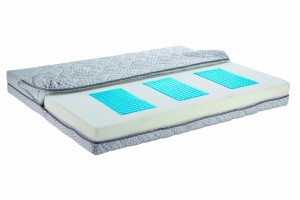 How frequently the mattresses in hotels should be replaced by new ones?
Mattresses in hotels are products of hygiene; so they must be replaced on this criterion, not on the physical lives or when they lost their forms. If the mattresses would not be protected against and be cleaned from mites, microbes, insects and other microorganisms they become an ideal room for proliferation of microbes that cause infections. The frequency of replacement is related with these measures, how they are taken, how they are processed. Using waterproof aleze, turning mattresses up regularly, having deep cleaning may expand replacement frequency. If you need a exact answer, I may say that traditionally they have been replaced in there to ten years, in general.
What is your market share in the hospitality industry and volume of annual production?
Though it changes annually, our share in hospitality industry is about 7%. Our target for annual production volume is 600 thousand.
What is the share of mattresses sold to the hospitality industry in your total sales?
Our sales to the hospitality industry accounts for about 10% of our total sales in both domestic and foreign markets.
What are the differences of hotel mattresses from others?
Mattresses in hotels should serve best to all people at every age and forms. They must be durable, hygienic, flame retarded and offer the maximum physical comfort.
Besides these, certificates for high level of hygiene and extra security are demanded. Some facilities writes special contracts for comfort, health, durability and safety, and some others may prefer our products that are all certified for their specifications, comfort, hygiene and forms.
Do you have additional comments?
How luxurious is the hotel and the services it offers, mattress is the most attractive product that a hotel can offer to their guests. And these products that are durable, hygienic, and comfortable can only be produced by having technology, knowledge and a feel of excellence.