Las Vegas Market features thousands of gift, furniture and home décor lines, allowing for cross-category commerce among these industries. The Summer 2017 Las Vegas Market runs July 30-August 3.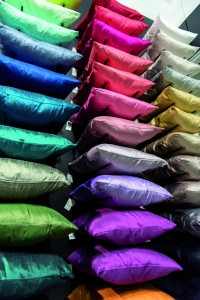 Twice a year, thousands of retailers and designers come to Las Vegas Market to see what's new, what's hot, and to get ahead of trends for the coming season.
Las Vegas Market increasingly deserves its reputation as the industry's preeminent Market for finding new products, trends and design. Virtually all Las Vegas Market exhibiting companies – ranging from the world's leading manufacturers to some of the most innovative companies – continue to introduce new products at each Market.
Since its launch in the Summer of 2005, Las Vegas Market has become the most comprehensive furniture, home décor and gift market in the Western United States, presenting a unique cross-section of 4,000+ resources in an unrivaled market destination. Here you will find:
The only home furnishings market in the west
The fastest growing gift & home décor market in the nation
THE national bedding market
New category launches including casual/outdoor, and housewares/gourmet
WMC: A 5 million+ square-foot, state-of-the-art venue
Las Vegas Market is held on the World Market Center Campus in the Heart of Downtown. The campus is comprised of three interconnected buildings and a temporary exhibit facility called the Pavilions, all encompassing 40 floors of furniture, bedding/mattress, lighting, casual/outdoor, decorative accessories, wall art, floor coverings, housewares, home textiles, tabletop, lifestyle products, general gift, housewares/gourmet and more – delivering the most complete, cross-category wholesale tradeshow for the furniture, home décor and gift industries in the United States.
TEMPORARY GIFT & HOME DÉCOR EXHIBITS TOP 500 IN LAS VEGAS
Las Vegas Market announced that some 100+ new, returning and renewing companies will swell its steadily-expanding presentation to a record 500+ temporary gift and home décor resources exhibitors in the Pavilions at Las Vegas Market for the Summer 2017 Las Vegas Market this summer.
"Las Vegas Market is experiencing record demand for temporary exhibition space – with more than 100 new exhibitors already confirmed for Summer Market – as well as record renewal rates from current exhibitors," said Dorothy Belshaw, president of Gift Leasing and Chief Marketing Officer, International Market Centers. "Las Vegas Market is the nation's fastest growing gift and home décor market, which is reflected in the continued growth in our temporary offerings."
In total, The Pavilions at Las Vegas Market will showcase 500+ exhibitors in five categories (GIFT, HOME/B HOME, DESIGN and HANDMADE) in Pavilion 1; and DISCOVERIES: The Antique Vintage Marketplace in Pavilion 2.  With the continued growth of temporary exhibits, Las Vegas Market is introducing some changes to the exhibit hall layout, including creation of new "neighborhoods" with subcategories of related products, to facilitate buyer sourcing and shopping.
GIFT, the largest temporary category with 200+ exhibitors, will be reorganized into "neighborhood aisles" of like products – such as personal accessories and personal care; stationery and publishing; children's products; gourmet and tabletop; and seasonal and garden – beginning in Summer 2017. GIFT resources making a first appearance at Las Vegas Summer Market include: Albanese Confections, Bestmate Trends, BioRepublic Skincare, Blissful Keyos, Caffeinated Cards, Cherished Moments, Doodle Pants, Chit Chat Collection, Christian Art Gifts, Crimes of Beauty, Culver Industries, Debbie Lee's Classic Creations, Echo France, Feeling Smitten, Gratitude Glass Jars, LA Readers, Laguna Herbals, Mabel Chong, McSteven's, Mila Wholesale, Minya International, MOVA International, Natural Home Brands, Notes & Queries Inc., Paparte, Poppy Handcrafted Popcorn, Scentuals Natural & Organic Skin Care, Sticks, Sunbelt Gifts, Talla Imports, Tey-Art Inc., The Book Seat, The Tiny Shed, Tinte Cosmetics, Tourance, Vanklee, Wheelhouse Designs and Yogibo.
Som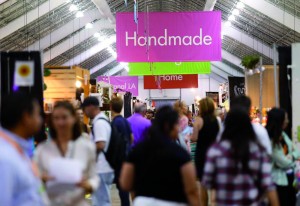 e 100+ exhibitors will show in the HOME and BHOME category, including new-to-Market resources: 727 Sailbags, ArtAllure, Evelyne Prelonge, Eydel Fine Arts, Filling Spaces, Gatsby Lighting, Gem Décor, Jo & Maddie, Mill Wood Art, Namo Rugs, Nedia Home, Neta Dizayn, New View, Pitkin Stearns International Inc., Samplize LLC and The Model Keepers.
More than 25 exhibitors will be featured in the DESIGN category, including first-time Las Vegas Market participants: Cookplay USA, Miks Letterpress, Post Studio/Delusions of Grandeur Designs, Soap and Paper Factory, Tatine and Xela Aroma.
The expanded and sold-out HANDMADE category will extend its product offerings this summer to add more apparel, jewelry and outdoor décor in particular.  HANDMADE's 75 exhibitors include new-to-Market vendors: Abrazo Style, Amano Trading, Applepear Handcrafted Jewelry, Aroara Industries, Broken Top Candle Company, EllaJude, Grandmother's Buttons, Korbata, LUA Company, Lumily and World Treasure Trading.
More than 120 exhibitors will be featured in DISCOVERIES: The Antique Vintage Marketplace in Pavilion 2. DISCOVERIES will be reorganized into four neighborhoods – Antiquities/Antiques, Vintage, Global and Cash & Carry – to facilitate easier shopping, and a special Cash & Carry Shopping Spree, with extended shopping hours from 6 to 8 p.m., will be offered on Monday, July 31, 2017. A new "Made in Texas" collection of exhibitors also will debut, featuring vintage Texas up-cycled style. Notable vendors within DISCOVERIES include: B. Tiff NY, Backroads to OZ, Broke Jewels, Kilim Home, My Mothers Buttons, Ole Gift, Rough and Tumble Vintage Design, Spellbound Collections/Rodeo Royalty, Sweet Lola, Uber Chic Home, Vintage Addiction, Vintage Studios and Widafouta Design USA.
Beyond exhibits, the Pavilions at Las Vegas Market will offer participants a variety of seminars, special events and guided tours during the Summer Market.