Having stores in 6 points as Dubai, Jordan and Saudi Arabia, Laressa will increase it up to 40 in both Middle East and Europe.
Aiming to differentiate its products Laressa offers new varieties to the market. Planned to grow both in domestic and export markets, the company wants to have 50 exclusive stores in the country. Bulent Bayram, chairman of the company introduced his company and their growth plans for the coming years.
As one of the oldest businessmen in the sector, what is your view on recent developments?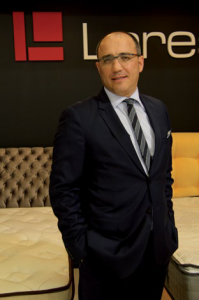 People know that we make kind of different products. 2015 was a hard year. Players in the markets have postponed their moves after elections and this has caused a slowdown for everybody. We managed to overcome this somehow, and we grew 25%, a serious growth, by selling to official buyers and to export markets. Coming years will be both hard and profitable for us, we hope. Producers especially in the furniture industry have to check their plans and prices for next periods.
What are your plans for this year?
We decided to check our balances before entering new year. If we will be able to maintain our sales as in the past, we will be successful. Because, last year our growth rate was 25%, it is hard to repeat it this year.
Do you consider opening new stores?
One of our considerations is to increase the number of stores in the country. Our products are sold now at 27 points, all exclusive stores of Laressa. We have 50 shop in shops in the country. We want to have 50 stores soon.
What is your position in export markets?
We have plans for operations in abroad. Export markets demand variety of products. We aim to improve our penetrations in retail level, then to have our own stores. 22% of our production is sold to export markets. Rising rates of foreign currencies are squeezing our sales and profits.
Only in 6 points in abroad we have special mattress stores in Dubai, Jordan and Saudi Arabia, 18 points in total. We planned to have 40 stores in abroad.
What kinds of mattresses do you produce?
We travel a lot in the world markets. We study the product varieties in different countries. They have mattresses made of organic, natural, synthetic, chemical materials. We want to choose the best among them. For example, horsehair mattresses are not common in Turkey but we make these manually out of horsehair. This year we will emphasize on commercial type of products.
What are they?
There is a fabric called dynamic balance that provides a balance of ion and the body. Positive ions are produced by plastics, cements and similar materials. We need also negative ions that can be get from earth, air and nature. Some nano technology products produce negative ions to sooth the body and the soul.
Cool therapy is another one. It is made of higher quality fabrics that provide coolness that improves the quality of sleep. Fresh days are for removal of perspiration and odors, thanks to the industrial finishings they have. Duo is the mattress that was made by using two different levels of hardness of springs. One side of the mattress is softer and other side is harder. Duo means this spec.
On one of our products, last layer of mattresses, the cover fabrics can be removed easily. The upper cover is washable and to be replaced back practically.