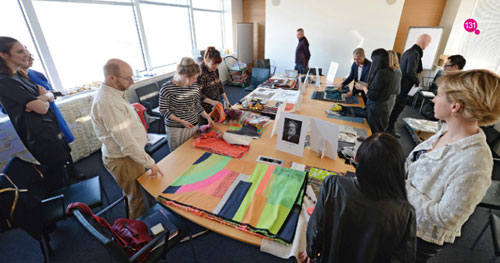 Plans for the trend season 2016/17 have started with the international Trendtable meeting in Frankfurt
Heimtextil is continuing its successful Theme Park idea. After an exciting première of the new trend area at the latest international trade fair for home and contract textiles, Heimtextil has now started planning for the trend season 2016/17. "Having achieved widespread encouragement for our trend activities, we are now going to enter the next round. The idea of an inspirational area at the center of the exhibition premises and the presentation of wide-ranging future trends turned out to be a great success. The Theme Park was continually well attended, and trade fair visitors felt that the show was a great enrichment, says Olaf Schmidt, Vice President Textiles & Textile Technologies at Messe Frankfurt. About 10 months before the next trade fair Heimtextil met with international trend researchers, so that it has already laid the foundation for the design trends of the next season.
Representatives of six prestigious studios came together for the Trendtable meeting on 9 and 10 March 2015 which was held at the Frankfurt Exhibition Centre. The representatives of the various design studios each outlined their perspectives of current trends, showing a large number of trend setting projects. The areas they covered were architecture, interior design, fashion, art and lifestyle from all parts of the world. All of those ideas became part of the evaluation procedure. The experts defined the relevant trends and then developed them further through their exchange of ideas. "We had some extremely interesting chats which brought to light lots of new perspectives and international trends. So we are now eagerly awaiting an in-depth presentation in the form of a Trend Book which will be published in mid-2015," says Schmidt.
WGSN group leads the way
The Trendtable was attended by Dan Namura and Gen Namura from Dan Project in Japan, Mayouri Sengchanh from Exalis/Carlin International in France, Felix Diener from the studio of the same name in Germany, Kate Franklin and Caroline Till from FranklinTill Studio in the UK, Anne Marie Commandeur and Grietje Schepers from the stijlinstituut amsterdam in the Netherlands and Isham Sardouk, Lisa White, Helen Sac and Graham Hollick from the WGSN Group in the United States. The trend experts from WGSN will be editors of the Trend Book and will handle the design of the Theme Park. The accompanying website, www.heimtextil-theme-park.com will also be managed by WGSN.
Studios involved in setting the trends for the 2016/17 season: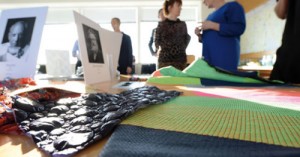 The WGSN Group (USA) is playing a leading role in showcasing the new trends in the Trend Book and the Theme Park. Isham Sardouk, Executive Vice President of WGSN Mindset, manages the WGSN Mindset Portfolio on a global scale, based on the resources and data of WGSN, Homebuildlife and WGSN Instock. Lisa White is the Creative Director of Homebuildlife. She and her team have developed the unique B to B trend website for the areas of interior and product design. Helen Sac is a senior consultant and also creative manager with responsibility for content creation at WGSN Mindset Consulting Services. www. homebuildlife.wgsn.com
Dan and Gen Namura from Dan Project (Japan) are two young de – signers from Tokyo whose artistic origins can be traced right back to the famous craftsmanship of Yuzen dyeing and the weaving of kimo – no materials in Kyoto. Their work ranges from designing furniture fabrics, through bags and dresses to fine textiles and colorful graphic prints. www.dan-web.net Mayouri Sengchanh, Managing Director of Exalis, represents Carlin International (France), the oldest established trend agency worldwide, which is among the top five in the industry in Germany, Switzerland and Russia. Carlin International offers services in style marketing, brand development and consultancy as well as in the identification of trends, industry-specific trend books and the individual creation of color and trend worlds through customer workshops. www.carlin-groupe.fr
Felix Diener, textile designer and engineer (Germany), set up his own design studio in 2008. He designs carpets, curtains and home accessories. His creative work forms an interface between art and technology and is characterized, in particular, by the use of colors, materials and textures. As can be gathered from his portfolio, his individual design philosophy goes far beyond colors and shapes: His main emphasis is on a quest for innovative structures, surfaces, compositions and production techniques. www. felixdiener.com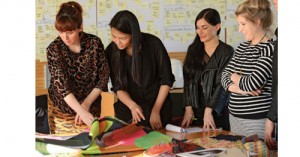 Kate Franklin and Caroline Till from FranklinTill Studio (UK) have had over 20 years of experience in research, trend forecasting and design strategies. The wide-ranging projects of this multidisciplinary agency include trend reports, color forecasts, realizations of designs, market developments as well as curatorships of trade fairs and exhibitions. Caroline Till also heads the globally famous course in Textile Futures at the Central Saint Martin's College of Arts and Design in London. www.franklintill. com
As the founder and Managing Director of the stijlinstituut amsterdam, Anne Marie Commandeur heads a team and network of multidisciplinary designers whose focus is on creativity and marketing. They work intensively in the areas of material innovations, forecasting, color trends, product design and strategic design planning. Anne Marie Commandeur is a lecturer in trend forecasting and design applications as well as an external examiner at various design schools and universities and a regular speaker at international events. www.stijlinstituut.nl