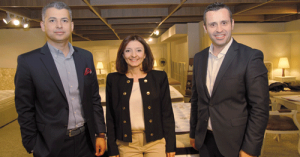 With its accumulated know how the company keeps its efforts to help consumers to sleep well.
One of the companies following the developments in the industry and offering high level of beds Yatsan improved its lower level of products that will be sold at the same prices. Number of stores in abroad is also increased. Export representative of Yatsan Hale Ahmet, regional coordinators Devrim Bilek and Levent Ulusoy informed about their investments and export activities.
On products offered in 2014
We reviewed our sub segment products in 2014. We improved them more. We began to use more woolen and cotton materials in their production. Their fabrics are changed by using cool and dry fabrics known as A/C technique. They have been using in the sportswear because of their ability to evaporate the humidity. We added mechanisms that facilitate air ventilation inside our products. These are controlled by smart phones. We launched jelly visco products to reduce the complaints about over perspiration during sleep.
On customized products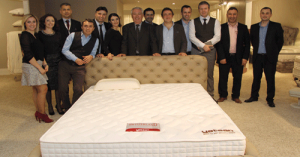 In the last couple of years buyers in bed industry have become more aware of the details of the products they buy. We are one of the rare companies offering customized products thanks to our recent investments in machinery inventory. We are a factory outside but a boutique workshop inside. Each of our 800 personnel operates like an individual factory. We accept special orders from buyers. They define we produce. This is one of our advantages
On R&D activities and on listening the customers
R&D is important for us. Our sector is also aware of the importance of this fact. As exporters we keep following the developments in the world and try to adopt them immediately. Actually, we have basically invested in people for improving our product and customer service qualities. We trained our sales staff to provide better customer services in our stores.
On retail and distribution activities
Presently we have 68 exclusive sales store on 68 locations. We started with major cities to cover the market then moved to points in malls. This expanded our coverage in domestic market. Our stores in Mersin, Gaziantep and Antalya were highly successful. The same distribution scheme will be in operation this year, as well.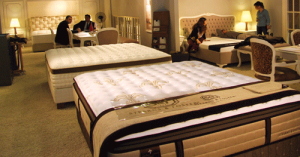 On exports of the company
We may say that our exports have increased 30 % in 2014. We sold well in new markets we entered. Our stores in foreign countries were increased. New stores were opened in Morocco, Hungary, Iran, Latvia and in China. We have deals with worldwide distributors in America such as Serta and King Koil. We export our products to more than 30 countries including Belgium, Germany, Holland and Saudi Arabia. We want to start more stores in abroad. We targeted to establish 10 stores in China, which is a great market for beds with its large population.