Pioneer in sleep innovation teams up with leading wellness company to offer an exclusive deal for mattress buyers.
ATLANTA, Jan. /PRNewswire/ -Serta®, one of America's leading bedding brands, announced today it is partnering with WW International, Inc., a global wellness company powered by the world's leading commercial weight management program. In the U.S., 1 in 3 adults don't get enough sleep1, and as sleep is foundational to wellness, the two brands are coming together to provide a unique wellness offering to help support mental, physical and sleep health. The collaboration kicks off with an exclusive deal at Sam's Club.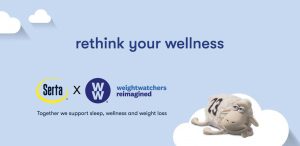 When people get healthy sleep it's easier to eat well2, move regularly3 and be in a helpful mindset4. Now through March 31, Sam's Club members who purchase a Serta mattress at $399 or above will receive a three-month WW Digital free trial (valued at more than $60).5  Members can choose from a variety of beds at Sam's Club and on SamsClub.com to unlock the deal including, but not limited to:
Serta Perfect Sleeper Ashbrook – $439 (Queen size)
Serta Perfect Sleeper Glenmoor – $539 (Queen size)
Serta SleepToGo 12-Inch Memory Foam Mattress in a Box – $499 (Queen size) and $599 (King size)
"Well-being is especially top of mind for many as we start this New Year. Since the pandemic began, more than half of American adults say they have been doing everything they can to promote health and wellness7," said John Newsome, senior brand manager at Serta. "We're thrilled to partner with WW, known for helping consumers meet their overall weight loss and wellness goals. Sleep is a key component to being your best self, and a comfortable mattress makes all the difference."
"As one of our core, science-backed pillars, we know healthy sleep is essential as it relates to your holistic health and well-being, in addition to food, activity and mindset," said Sean Bunner, SVP Partnerships and M&A at WW. "As a leader in wellness, we're applying our behavior change expertise to the area of sleep, which is why it was only natural for us to join forces with Serta to provide consumers with products that help them feel rested while helping them adopt sustainable habits to support overall health."
Serta, yeni yılda bütünsel sağlık çözümleri sunmak için WW ile yaptığı ortaklığı duyurdu
Uykuda yeniliğin öncüsü, yatak alıcılarına özel bir fırsat sunmak için önde gelen sağlıklı yaşam şirketiyle işbirliği yapıyor.
Amerika'nın önde gelen yatak markalarından biri olan Serta® bugün, dünyanın önde gelen ticari kilo yönetim programı tarafından desteklenen küresel bir sağlıklı yaşam şirketi olan WW International, Inc. ile ortaklık kurduğunu duyurdu. ABD'de her 3 yetişkinden biri yeterince uyumuyor¹ ve uyku sağlıklı yaşamın temeli olduğundan bu iki marka zihinsel, fiziksel ve uyku sağlığını desteklemeye yardımcı olacak sağlık alanında benzersiz bir teklif sunmak için bir araya geliyor. Bu işbirliği, Sam's Club'da özel bir fırsat ile başlıyor.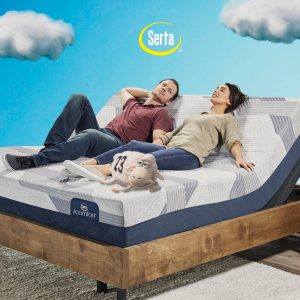 İnsanlar sağlıklı bir uyku uyuduklarında sağlıklı beslenmek², düzenli hareket etmek³ ve bunlara yardımcı bir düşünce yapısında olmak4 kolaylaşır. 31 Mart'a kadar 399$ veya üzeri fiyatlı bir Serta yatağı satın alan Sam's Club üyeleri, üç aylık WW Dijital ücretsiz deneme (60$'dan daha fazla fiyat değerinde) ürününe sahip olacaklar.5 Üyeler fırsatı yakalamak için Sam's Club ve SamsClub.com adresindeki aşağıdaki yataklar da dâhil ancak bunlarla sınırlı olmamak üzere çeşitli yataklar arasından seçim yapabilirler:
Serta Perfect Sleeper Ashbrook – 439 $ (Queen boy)
Serta Perfect Sleeper Glenmoor – 539 $ (Queen boy)
Kutuda Serta SleepToGo 12-inç Hafızalı Köpük Yatak                    – 499 $ (Queen boy) ve 599 $ (King boy)
Serta'da kıdemli marka yöneticisi John Newsome, ''Yeni yılla birlikte, sağlık artık çoğu insan için en önemli şey haline gelmiştir. Küresel salgın başladığından beri Amerikalı yetişkinlerin yarısından fazlası sağlığını güçlendirmek için ellerinden geleni yaptıklarını söylüyor7. Tüketicilerin genel kilo verme ve sağlık hedeflerine ulaşmalarına yardımcı olmasıyla bilinen WW ile ortaklık kurmaktan heyecan duyuyoruz,'' dedi.
WW'de ortaklıklar, birleşme ve satın almalardan sorumlu kıdemli başkan yardımcısı Sean Bunner, ''Ana, bilim destekli temellerimizden biri olarak, sağlıklı uykunun yiyecek, aktivite ve düşünce yapısına ek olarak, bütünsel sağlığınızla ilgili olduğu için gerekli olduğunu biliyoruz. Sağlık alanında bir lider olarak davranış değişikliği uzmanlığımızı uyku alanına uyguluyoruz. Bu nedenle tüketicilerin genel sağlığı desteklemek için sürdürülebilir alışkanlıklar kazanmalarına yardım ederken dinlenmiş hissetmelerini sağlayacak ürünleri sunmak için Serta ile güçlerimizi birleştirmemiz oldukça doğal,'' dedi.