Invest in good health and better sleep by choosing certified organic, nontoxic materials.
CHAGRIN FALLS, Ohio, Jan. 2021 /PRNewswire/  A whopping 70% of adults in the U.S. claim that they receive an insufficient amount of sleep. With recent studies revealing a strong link between sleep and strengthening the immune system, and the CDC deeming sleep disorders a public health epidemic, better sleep is projected to be a top trend of 2021.
Coining 2021 as "The Year of Healthy Sleep," Naturepedic, GOTS-certified organic, MADE SAFE- certified nontoxic, mattress and bedding brand is focusing on changing the paradigm for what this means.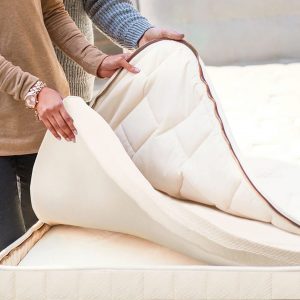 "While many of us might acknowledge that sleep is essential to good health, there is still a lack of understanding that this goes beyond healthy sleep rituals. Sleeping on certified organic, nontoxic materials is a key piece to the puzzle for achieving good health and better sleep," comments Barry A. Cik, Environmental Engineer, Founder and Technical Director of Naturepedic.
"By opting for certified organic, nontoxic mattress and bedding products, consumers are avoiding unnecessary exposure to questionable materials and chemicals found in most conventional mattresses. Many mattresses and bedding products are increasingly being linked to health issues and risks, particularly for babies and kids as they grow and develop." Cik adds, "Moreover, not only do these materials help regulate body temperature while sleeping, an important factor in boosting sleep quality, but knowing that you're sleeping on sheets, pillows, and a mattress that is designed for healthy sleep can positively impact your ability to unwind at night."
"When I became educated on the differences between a Naturepedic Organic Mattress and the memory foam mattress I had been sleeping on for years, I ditched my memory foam mattress and ordered a Naturepedic Organic Mattress. It was one of the best decisions I made for my mental & physical health. I've experienced deeper restful sleep and have peace of mind knowing my Naturepedic Organic Mattress is safe and doesn't have unpleasant & questionable off-gassing odors and toxic chemicals like my old mattress. Blue Cure thanks Naturepedic for making healthier products without harmful chemicals," states Gabe Canales; Founder & President, Blue Cure Foundation
Leading the organic mattress revolution for over 15 years, Naturepedic offers a variety of mattresses and bedding options for all ages, while meeting and exceeding the most stringent certifications in the marketplace.  With a range of cutting-edge organic baby crib mattresses, the only certified-organic crib mattresses that offer nontoxic waterproof coating, along with exclusive organic mattresses designed for kids, plus a wide-range of adult mattress options, including customizable organic mattresses, Naturepedic understands that when it comes to your health and getting a good night's sleep, there really is no room for compromise.
In 2021, Naturepedic will be shining the spotlight on the different healthy sleep needs for babies, kids and adults, while engaging in educational partnerships, providing accessible resources and vital information on its website and blog. Naturepedic advocates and fights for chemical policy change through NGOs like the American Sustainable Business Council and Toxic Free Future For Our Children.
"By choosing a mattress that eliminates hazardous chemicals found in conventional mattresses, while offering a more natural and non-toxic alternative, you'll set yourself on the path to healthier sleep in 2021," states Cik, "We are committed to equipping our consumers with knowledge to better understand how to achieve this now and for years to come. We can't wait to kick off the year and reveal our exciting new campaigns."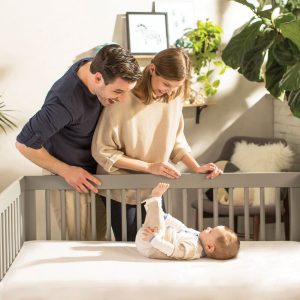 "Sağlıklı Uyku Yılı": Naturapedic 2021 girişimini duyurdu Yeni yılda daha iyi uyku
Organik sertifikalı, toksik olmayan malzemeler seçerek sağlığınıza ve daha iyi uykuya yatırım yapın.
ABD'deki yetişkinlerin %70'i, önemli bir kısmı yeterli uyku almadıklarını söylüyor. Son zamanlarda yapılan araştırmalar uykuyla bağışıklık sistemini güçlendirme arasında güçlü bir bağ olduğunu ortaya koyuyor. CDC (ABD Hastalık Koruma ve Korunma Merkezi) uyku bozukluklarını bir halk sağlığı salgını olarak kabul ediyor. Bu sebeplerden daha iyi uykunun 2021'de en öne çıkan trend olması bekleniyor.
GOTS sertifikalı organik, MADE SAFE sertifikalı, toksik olmayan malzemelerden üretilen yatak ve uyku ürünleri markası Naturapedic, 2021'i "sağlıklı uyku yılı" olarak adlandırıyor. Marka bunun ne anlama geldiğine ilişkin genel inanışı değiştirmeye odaklanıyor.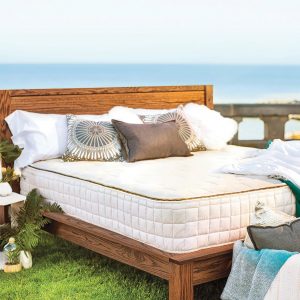 Çevre mühendisi, Naturapedic'in kurucusu ve teknik direktörü Barry A. Cik, "Çoğumuz uykunun sağlık için gerekli olduğunu kabul edebiliriz ancak yine de bunun sağlıklı uyku ritüellerinin ötesine geçtiğinin farkında olmayabiliriz. Organik sertifikalı, toksik olmayan malzemelerin üzerinde uyumak daha güçlü bir sağlık ve daha iyi bir uyku için kritik öneme sahiptir. Tüketiciler, organik sertifikalı, toksik olmayan yatak ve uyku ürünlerini seçerek çoğu geleneksel yatakta bulunan nereden geldiği belli olmayan malzemelere ve kimyasallara gereksiz biçimde maruz kalmamış oluyor. Birçok yatak ve uyku ürünü, özellikle bebekler ve çocuklar için büyürken ve gelişirlerken sağlık sorunları ve risklerle giderek daha fazla ilişkilendiriliyor. Dahası, güvenli malzemeler sadece uyku kalitesini artırmada önemli bir etken olan vücut ısısını düzenlemeye yardımcı olmakla kalmaz, aynı zamanda sağlıklı uyku için tasarlanmış bir yatakta, çarşaflar ve yastıklarda uyuduğunuzu bilmek gece gevşeyebilmenizi sağlayabilir," dedi.
Blue Cure Vakfı (prostat kanserine karşı eğitim ve savunuculuk faaliyetleri yürüten vakıf) kurucusu ve başkanı Gabe Canales şöyle konuştu:
Naturepedic organik yatak ile yıllardır uyuduğum hafızalı köpük yatak arasındaki farklar konusunda bilinçlendiğimde hafızalı köpük yatağımı atıp Naturepedic organik yatak siparişi verdim. Ruhsal ve fiziksel sağlığım için aldığım en iyi kararlardan biriydi. Daha derin uyudum ve dinlendim. Ayrıca Naturepedic organik yatağımın güvenli olduğunu biliyorum. Eski yatağım gibi kötü, yatağın gaz çıkışından kaynaklanan bir kokusu yok, onun gibi zehirli kimyasallar içermiyor. Bu nedenle huzurluyum. Blue Cure zararlı kimyasallar kullanmadan sağlıklı ürünler ürettiği için Naturepedic'e teşekkür ediyor."
15 seneden fazla süredir organik yatak devrimine öncülük eden Naturepedic, pazardaki en katı standartlı sertifikaların standartlarını karşılar hatta bu standartların üzerinde faaliyet gösterir. Naturapedic'in her yaştan insan için çeşitli yatakları ve uyku ürünleri seçenekleri mevcuttur. Naturepedic, konu sağlığınız ve iyi bir gece uykusu olduğunda gerçekten uzlaşmaya yer olmadığını bilir. Naturapedic çeşitli gelişmiş teknolojili organik bebek yatakları sunar. Bu yataklar toksik olmayan su geçirmez kaplaması olan tek organik sertifikalı bebek yataklarıdır. Çocuklar için tasarlanmış özel organik yatakların yanı sıra kişiye göre özelleştirilebilen organik yataklar dâhil yetişkinler için çok çeşitli yetişkin yatak seçenekleri mevcuttur.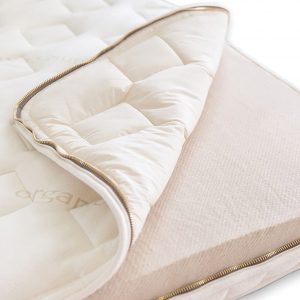 Naturepedic 2021'de web sitesinde ve blogunda erişilebilir kaynaklar ve hayati bilgiler sunarak eğitim ortaklıkları kurarken, bebekler, çocuklar ve yetişkinler için farklı sağlıklı uyku ihtiyaçlarına dikkat çekecek. Naturepedic, Amerikan Sürdürülebilir İş Konseyi (American Sustainable Business Council) ve Çocuklarımız İçin Zehirsiz Gelecek (Toxic Free Future For Our Children) gibi STK'lar aracılığıyla kimyasal politika değişikliğini savunuyor ve bu uğurda mücadele veriyor.
Cik, "Geleneksel yataklarda bulunan zararlı kimyasalları ortadan kaldıran bir yatak seçerek, daha doğal ve toksik olmayan bir alternatif sunarak 2021'de daha sağlıklı bir uyku için adım atacaksınız" dedi. "Bunu şimdi ve gelecek yıllarda nasıl başaracağımızı daha iyi anlamak için tüketicilerimizi bilgilendirmeye kararlıyız. Yıla başlamak ve heyecan verici yeni kampanyalarımızı paylaşmak için sabırsızlanıyoruz."