Serabed, one of the İzmir-based mattress manufacturers, explained to Sleep Well its work in the covid-19 outbreak process. Firm's Foreign Trade Official Emrah Akar explained how they managed the crisis that occurred with the outbreak.
Akar, pointing out that the habits that changed with the epidemic were also in the commercial life, explained they rearranged the supply chain. Adding that they adapt rapidly to changing conditions and increase their presence in digital environment as Serabed, Akar also emphasizes how important it is to manage this process in a healthy way.
What was the biggest challenge in your business life these days when the virus changed the flow of life?
It will be more accurate to understand this issue by dividing this question into 2 parts.
1- Commercially: We had to program the procurement and logistics processes from the very beginning, since the raw material supply chain, which our entire production process is organically linked to, has deteriorated. Programming of this process brought with it a very painful process. Because some of the raw material suppliers that we are familiar with purchasing either stopped working or switched to short working order, the product could not be supplied in the periods we demanded. This situation caused almost twice the work and process planning intensity and the same stressful period.
2- In terms of human health: As the furniture production sector is a labor-intensive sector, it was a period when we and our employees were concerned about transmitting the virus. In fact, we still continue to experience this process. Of course, this process works in a similar way all over the world, but this period basically pushes every individual of working age rightly to a worried process, negatively affecting psychologically. It is quite clear that the negative impact of this situation on work motivation has become continuous. By accepting that a new period has been entered on a global scale in the next period, we will act with the awareness that the work and social order should be shaped accordingly and redesign our organization accordingly.
Could you reorganize your business in terms of production, logistics and distribution?
There was no sharp break in production and sales departments specifically for our own organization. During periods of intense worries about pandemic, we maintained our work by taking a few days off. As the customer profile evolves from the store customer to the customer who makes internet shopping, we can say that the production and sales towards digital market places increased. In this regard, we were able to adapt our organization to the current operation with minor revisions.
How do you evaluate the role of the troops you are a member of in this process? Which institutions did you have with you most in this challenging process?
In general, we have not come across any expectations regarding the support of any stakeholder while circumventing this process. On the other hand, Torbalı Chamber of Commerce to which we are affiliated took very fast actions during the curfew. He helped by organizing the permissions related to our work and opening the way for us.
During the pandemic process, interest in hospital beds increased. Do you have production in this area or do you plan to produce?
There is no production line for hospital beds and medical groups in our existing production groups. There is no operation for this production group in our short and medium term plans.
Have there been any changes in your projects and goals? (Fairs, changes in your export activities, your search for solutions…)
The instruments such as fairs and export, mentioned in our current operation, are already on the main plan. Of course, in addition to these, various studies and improvements regarding the increase of our awareness in digital market places and the increase of our market share are among our main goals.
Are there any messages you want to give?
What we all observe and realize more clearly in this process is that the only element in human life is human health. It is quite obvious that we need to put a new understanding of consciousness in the center of our lives that will live without forgetting this and protect ourselves and those around us and then the health of all individuals and future generations in the world.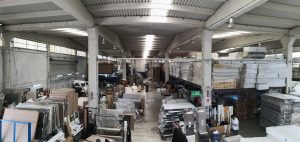 Serabed değişen koşullara hızla uyum sağladı, dijital ortamda gücünü arttırıyor 
İzmir merkezli yatak üreticilerinden Serabed covid-19 salgını sürecindeki çalışmalarını Sleep Well'e anlattı. Firmanın Dış Ticaret Yetkilisi Emrah Akar salgınla birlikte oluşan krizi nasıl yönettiklerini açıkladı.
Salgın ile birlikte değişen alışkanlıkların ticari hayatta da iz düşümleri olduğuna dikkat çeken Akar, tedarik zincirini yeniden düzenlediklerini ifade etti. Değişen koşullara hızla uyum sağladıklarını, Serabed olarak dijital ortamda da varlıklarını arttıracaklarını ekleyen Akar, röportajda bu süreci sağlıklı bir şekilde yönetmenin ne kadar önemli olduğunu da vurguluyor.
Virüsün hayatın akışını değiştirdiği bu günlerde iş hayatınızda karşılaştığınız en büyük zorluk ne oldu?
Bu soruyu 2 kısma ayırarak cevap vermek konunun anlaşılması bakımından daha isabetli olacaktır.
1- Ticari yönden: Tüm üretim sürecimizin organik şekilde bağlı olduğu ham madde tedarik zinciri bozulduğu için alım ve lojistik süreçlerini en baştan programlamak zorunda kaldık. Bu sürecin programlanması oldukça sancılı bir süreci de beraberinde getirdi. Çünkü alım yapmaya aşina olduğumuz ham madde tedarikçilerinin bir kısmı ya çalışmayı durdurdu ya da kısa çalışma düzenine geçtiği için talep ettiğimiz sürelerde ürün temini gerçekleştirilemedi. Bu durum da neredeyse eski düzenin iki katı kadar iş ve süreç planlama yoğunluğuna ve aynı oranda stresli bir dönem yaşamamıza neden oldu.
2- İnsan sağlığı yönünden: Mobilya üretim sektörü emek yoğunluklu bir sektör olduğu için çalışanlarımızın ve bizim virüsü bulaştırma endişesi yaşadığımız bir dönem oldu. Aslında hala bu süreci yaşamaya devam ediyoruz. Tüm dünyada bu süreç tabi ki benzer bir şekilde yürüyor fakat bu dönem temelde çalışma yaşındaki her bireyi haklı olarak psikolojik olarak da olumsuz etkileyip endişeli bir sürece itiyor. Bu durumun çalışma motivasyonu üzerindeki olumsuz etkisinin sürekli hale geldiği oldukça açık. Bundan sonraki dönemde küresel ölçekte yeni bir döneme girildiğini kabul ederek çalışma ve sosyal düzenin buna göre şekillenmesi gerektiği bilinciyle hareket edip, organizasyonumuzu buna göre yeniden dizayn edeceğiz.
Üretim, lojistik ve dağıtım açısından işinize tekrardan organize olabildiniz mi?
Kendi organizasyonumuz özelinde üretim ve satış departmanlarında keskin bir ara verme süreci yaşanmadı. Pandemi ile ilgili en yoğun endişelerin olduğu dönemlerde birkaç günlük aralar vererek işimizin devamlılığını sağladık. Müşteri profilinin mağaza müşterisinden internet alışverişi yapan müşteriye evrilmesi ile daha çok dijital pazar yerlerine dönük üretim ve satışların artış gösterdiğini söyleyebiliriz. Bu doğrultuda organizasyonumuzu küçük revizyonlarla mevcut işleyişe adapte edebildik.
Bu süreçte üye olduğunuz birliklerin rolünü nasıl değerlendiriyorsunuz? Bu zorlu süreçte en çok hangi kurumlar yanınızda oldu?
Genel anlamda bu süreci atlatırken herhangi bir paydaşın desteği ile ilgili bir beklentiye girmedik. Diğer bir yandan bağlı bulunduğumuz Torbalı Ticaret Odası sokağa çıkma yasağının olduğu günlerde çok hızlı aksiyonlar aldı. Çalışma yürütmemiz ile ilgili izinleri organize edip önümüzü açarak yardımcı olmuştur.
Pandemi sürecinde hastane yataklarına ilgi arttı. Bu alanda üretiminiz var mı ya da üretim yapmayı planlıyor musunuz?
Mevcut üretim gruplarımızda hastane yatakları ve medikal gruplara dönük bir üretim bandı bulunmuyor. Kısa ve orta vadeli planlarımızın da içerisinde bu üretim grubuna dönük bir işleyiş yok.
Projelerinizde ve hedeflerinizde herhangi bir değişiklik oldu mu? (Fuarlar, ihracat çalışmalarınızdaki değişim, çözüm arayışlarınız…)
Mevcut işleyişimizde bahsi geçen; fuar, ihracat çalışmaları gibi enstrümanlar zaten ana planda yer alıyor. Tabi bunlara ek olarak dijital pazar yerlerinde bilinirliğimizin artışı ile ilgili çeşitli çalışmalar ve iyileştirmeler ile pazar payımızın artışı en temel hedeflerimiz arasında.
Aktarmak istediğiniz herhangi bir mesaj var mı?
Bu süreçte hepimizin daha net bir şekilde gözlemlediği ve farkına vardığı şey; insan yaşamındaki yegane unsurun insan sağlığı olduğu. Bunu unutmadan yaşayıp önce kendimizi ve etrafımızdakileri sonra da dünyadaki tüm bireylerin ve gelecekteki nesillerin sağlığını koruyacak yeni bir farkındalık anlayışını hayatımızın merkezine koymamızın gerekliliği oldukça açıktır.
#serabed, #izmir, #bed, #yatak, #bedding, #sleep, #teknoloji, #üretim, #lojistik,