Proyat's company official shared the direction of their works during the pandemic period.
What is the biggest challenge you have been facing these days?
Along with the outbreak of the virus in our country, being unable to predict when this process will end, has prompted our production rate to stagnate.
Have you been re-organized for working in terms of production, logistics and distribution?
We applied 2-week break in line with the measures for the pandemic. Then we were reorganized our production plans and started to continue our production by taking maximum precautions.
During the pandemic period, interest in hospital beds increased. Do you have production in this area or do you plan to manufacture?
As Proyat, we do not have a plan any time soon, but we have not received a request. Still, we can focus on the issue if such a demand is received.
Are there any changes in pre-programmed projects and objectives, such as fairs, export operations, solutions, etc.?
In MODEKO International Izmir Furniture Fair, which we attended in recent months, we met with great interest in new models in front of our customers. We continue our production rapidly without changing the production plan we decided before the outbreak and shrinking in employment.
Is there any message you would like to highlight?
As the Proyat family, it is our wish to continue our lives by following the precautions taken without any new fluctuation in the normalization process during this epidemic in the world and in our country.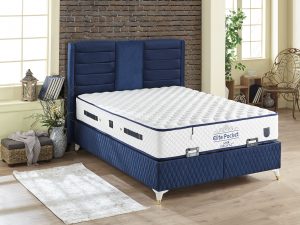 Proyat'ın gündeminde istihdamı azaltmak ve üretim planlarını değiştirmek yok
Proyat firma yetkilisi pandemi döneminde çalışmalarının ne yönde ilerlediğine dair paylaşımlarda bulundu.
Virüsün hayatın akışını değiştirdiği bu günlerde iş hayatınızda karşılaştığınız en büyük zorluk ne oldu?
Salgının ülkemizde görülmesiyle beraber bu sürecin ne zaman biteceğini öngöremiyor olmak üretim hızımızı durağanlaştırmaya sevk etti.
Üretim, lojistik ve dağıtım açısından işinize tekrardan organize olabildiniz mi?
Salgın önlemlerine yönelik olarak üretimimize 2 haftalık ara verdik. Bu sürenin ardından hızlıca üretim planlarımızı tekrar organize ederek maksimum önlemler çevresinde üretimimize devam etmeye başladık.
Pandemi sürecinde hastane yataklarına ilgi arttı. Bu alanda üretiminiz var mı ya da üretim yapmayı planlıyor musunuz?
Proyat olarak yakın zamanda hastane yatakları projemiz bulunmuyor. Talep olması durumunda konu üzerine yoğunlaşıp gerekli çalışmaları başlatabiliriz.
Projelerinizde ve hedeflerinizde herhangi bir değişiklik oldu mu? (Fuarlar, ihracat çalışmalarınızdaki değişim, çözüm arayışlarınız…)
Geçtiğimiz aylarda katılımcısı da olduğumuz Uluslararası İzmir Mobilya Fuarı MODEKO' da yeni modellerimizi müşterilerimizle buluşturduk. Bu fuarda güzel bir ilgiyle karşılandık ve fuardan mutlu döndük. Salgın çıkmadan kararlaştırdığımız üretim planımızı bozmadan ve istihdamda küçülmeye gitmeden üretimimize hızla devam ediyoruz.
Aktarmak istediğiniz herhangi bir mesaj var mı?
Proyat ailesi olarak temennimiz, vaka sayısının azalmaya başladığı bu günlerde alınan tedbirlere uyarak normalleşme süreci içerisinde olmamız. Tüm dünyada ve ülkemizde yaşanan bu salgının etkisini kaybetmesiyle haytalarımıza eskisi gibi devam ederek sağlıklı üretim yapmayı umut ediyoruz.