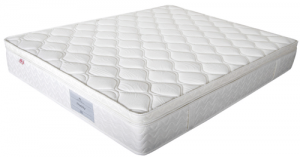 Ider Mobilya puts its Paddy bed model on the market for people who acknowledge the importance of starting a day with a rested body.
Paddy bed gives you back the energy you lose within a day and enhances your dreams. Paddy bed can be safely used at homes as it is in accordance with OEKO-TEX standards.
Comfort is here all year round
Thanks to the bioenergetics technology used in Ider Mobilya Paddy bed model; air permeability of fabrics is a lot more in comparison with other fabrics. It balances the body temperature throughout the night and therefore helps comfort continue all year round. Beds are always clean thanks to their water repellency feature Thanks to its water repellency feature preventing dirt from getting into the bed, you can save both time and energy which you would otherwise spend on cleaning. You can also prevent mold growth thanks to the bed's wetting proof structure.
Your bed is under protection against bacteria
Beds are very favorable places for bacteria, mold and dust mite growth. People while sleeping leave sweat, oil and skin pieces all of which provide an environment for bacteria, mold and dust mite growth. These 'unwanted guests' on the bed can reproduce constantly despite a cleaning process and allergy concentration – caused by house dust mites – increases, and strong and unpleasant odors occur. Sanitized beds fight against these factors and take the bed under protection.
Hercules spring system improves sleeping quality
Hercules spring system which has the most appropriate response time to gestures helps improve your sleeping quality. HR foams with orthopedic structure and proven durability refresh your body by providing the necessary comfort for you. You will be able to enjoy summer months without having sleeping problems due to the heat thanks to the bed's cool and body temperature balancing structures. You can safely use Paddy bed model which has a certificate of conformity to OEKO-TEX standards. The product proves that it doesn't contain any unhealthy substance with its internationally recognized certificate. You can find Paddy bed model in Ider Mobilya stores.