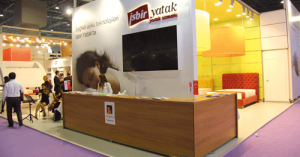 Isbir Yatak company was covered by Turquality incentive program and aims to export half of its production. The company opens 30 new stores. General manager Metin Gultepe introduced his company and export activities:
On recent activities of the company
We started a restructuring period in 2013 with new investments. A three-layer distribution network composed of producer, regional and local distributors, was established. Now we serve in domestic market with three regional, 120 exclusive and 137 shop-in-shop distributors.
Exports
We sold 15% of our production into 17 export markets. This month we have been accepted in the Turquality program that will encourage us for more investments in abroad. Half of our expenses will be funded by the program. We plan to open 30 stores in 4 countries. Our target is to sell half of our production in abroad in four years. Bed is a bulky product, so we need more incentives for reducing logistics and financial costs.
On the industry
In the 2000's when we entered in bed business by starting visco elastic foam production, the industry has changed. We emphasized on the importance of beds for health and for our lives. We are kind of pioneers in the increasing awareness in the market. We launched new products by using latest technology and better materials and we took the lead in the market. Now our rivals are following our footsteps, and we keep our efforts to develop innovative products.
On the technologies used in new products
We have a bed that its hardness can be controlled remotely. Another bed has heat-conditioning system that can be cooled on the one side by 5 degrees while the other side is to be heated up to 48 degrees thanks to a special pad. We have another bed developed and approved by two universities that contains vitamin A and C molecules that 66.7 % of them are transferred to skin during sleep.
In so-called bed A/C type of bed, there are tiny pipes imbedded in pads that circulate waters to keep the temperature stable during sleep. Temp is controlled by user either for cooling or heating purposes. Smart beds that are made of polymer springs is a signal for groundbreaking developments. They are quitter, more durable and more flexible than their previous kinds.
Not every visco is "Viscostar"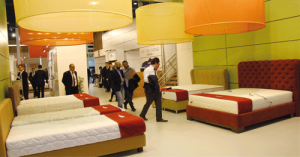 Viscoelastic material, the main component of Viscostar, contains billions of microscopic memory cells. It is memory foam with an open-cell structure, giving a minimum reaction time through its molecule mobility. With its unique decompression qualities, first used by NASA astronauts in order to provide them with relief from the intense G-Force they experienced during space travel. Incorporating cutting-edge space technology into their design, Viscostar mattresses have a decompressing quality due to the viscoelastic materials used on the surface of the mattress.
The memory cells move in response to body heat and weight, taking on a new ergonomic shape that fits your body. They are called Memory Foam Mattresses because of their mnemonic decompression quality. By molding to your body, the mattress alleviates pressure and paves the way for healthier blood circulation. Reduces unwanted movements in bed and increases the quality of sleep. Recommended by health experts for its therapeutic ability to relieve pressure and alleviate extreme fatigue and soreness. Viscostar is the ideal mattress for health-conscious people due to its pressure relief and perfect body alignment qualities. It helps to reduce back, shoulder and neck pains.
On growing consciousness of customers
We started a trend for the development of better products that is imitated by our rival companies. Buyers are coming to the stores after searching what they need and what they can get. They began to ask more questions. So, we grouped our products into the needs of customer segments. We have more economical products for C and D segments that are sold under B-Mix brand in corner stores.