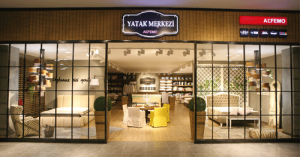 One of the major bed and furniture producers in Turkey Alfemo plans to establish more bed centers in 2015. Growth target for the year is 80%. Export manager of the company Serkan Duman and retail expert Volkan Ozel informed about their activities.
On the year 2014 and plans for 2015
We did not grow as much as we desired but there was no sales loss in 2014, 10 % up. We export 35% of the production. Iraq is our major market among 60 other countries. We emphasize on retail concept. This year will open our first stores in Uzbekistan and Kazakhstan. In 2015 we expect to grow 80%. We opened 14 stores in export markets including Panama, Costa Rica, Columbia and Venezuela. We enter other countries in Middle East and Central America. Stores are designed on the same concept and it takes 6 months to open a new one. Now we have 39 stores in 20 countries.
On beds series and technologies used in them
A renovation project was started in the second half of 2014. We studies all materials used in beds and their use for the consumer. All beds that have been manufactured will be redesigned from their fabrics and fillings. We started to buy our fabrics from different suppliers to improve our quality. We use breathing visco fabrics, new felts, new and more durable springs, and cords that are supplied by a producer of seatbelts.
We produce our own springs to be used in the manufacturing. A new and multi spring system was developed and the number of springs per sqm was increased. In Queen Elizabeth model there are 220 springs/sqm. We also combined pocket and multi springs as double or triple spring systems. Pocket springs spread the pressure and multi spring system makes them orthopedic. We also use zone pocket springs each is for different weighs and pressures. We also offered Luxus, Medi-Fit, New Age, Sleeper and Visco Sleep series.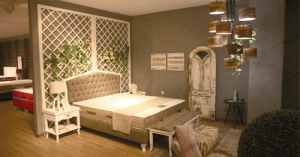 Luxus series is for ultra lux sleep for spouses, the healthiest bed technology, produced up to American high low pocket technology. It applies different pressures thanks to their springs of different heights and pressures arranged in cascades. Raw material for Bamboo series comes from nature. Tests showed that fabrics made of bamboo are more durable and practical and is naturally anti-bacterial, has high level of hydrofoil, is breathing and resistant to UV lights. Bamboo grows naturally and fast in nature, and is nature friendly. It prevents mites, bacteria and allergens. Medi-fit series is for medical benefits. Research shows that deep and slow sleeps are more restful after a stressful day ended in some time in nature. Walking in fresh air, running, playing tennis or swimming is good before a good sleep. A right mattress is a must for complete health benefits.
Cashmere sensitive serie of beds take its name from Cashmere region in Himalayas where Capra Hircus goats are originated. Wool obtained from this kind is known as cashmere in the world and named as Pashmina by local population. In this series of bed, fabrics made of pure cashmere are used and this provides highest comfort by balancing temperature of the bed. Since it is high velocity of heating and cooling in wool, it serves as an heat conditioning element.
Cellpur visco of visco sleep series in made of cellpur, with a mixture of natural material obtained from 53eucalyptus trees with foamed materials. With its microstructure the bed removes the moisture during sleep time and reverse it fast during day. It provides highest level of dryness for better sleep. Cellulose powder in it prevents mites and allergens. With its open porous cells the form of bed is maintained and it is flexible, breathable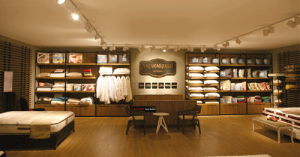 On the sleep culture of consumers
Price of beds are converging the price of bedroom furniture in line with increasing consciousness of buyers and consumers. They are now highly aware of terms suc as pocket spring, visco, processed fabrics etc. Sellers also can offer customers a wide range of product alternatives to suit best to the needs of individual customer. Two sided beds are improving the sleep qualities of spouses.
On retail stores
Last year we increased our investment on products addressing young consumers. We have 14 special stores in Turkey. This year we are opening new stores as bed centers. There will be two channels to reach our buyers. One is for Alfemo that operates as full concept. In general this focuses on furniture. The other line is designed for younger generations. We organized our management plans for new stores. Presently we have only two bed centers in Turkey, one in Samsun the other in Rize. Our target for this year is to reach 25 stores.