Migraines and poor sleep quality have significant effects on physical health and cognitive function. So, how do you know which one to address first? To manage migraine symptoms and improve sleep patterns, learn more about how the two are related and what you can do about it. ASA, American Sleep Association has recently posted the below article:
Sleep and migraines are linked and controlled by the same parts of your brain, so it might be time to look at your sleep quality if you're experiencing migraines. Migraines, poor sleep quality and sleep deprivation have significant effects on physical health and cognitive function. To manage migraine symptoms and improve your sleep patterns, learn how the two are related.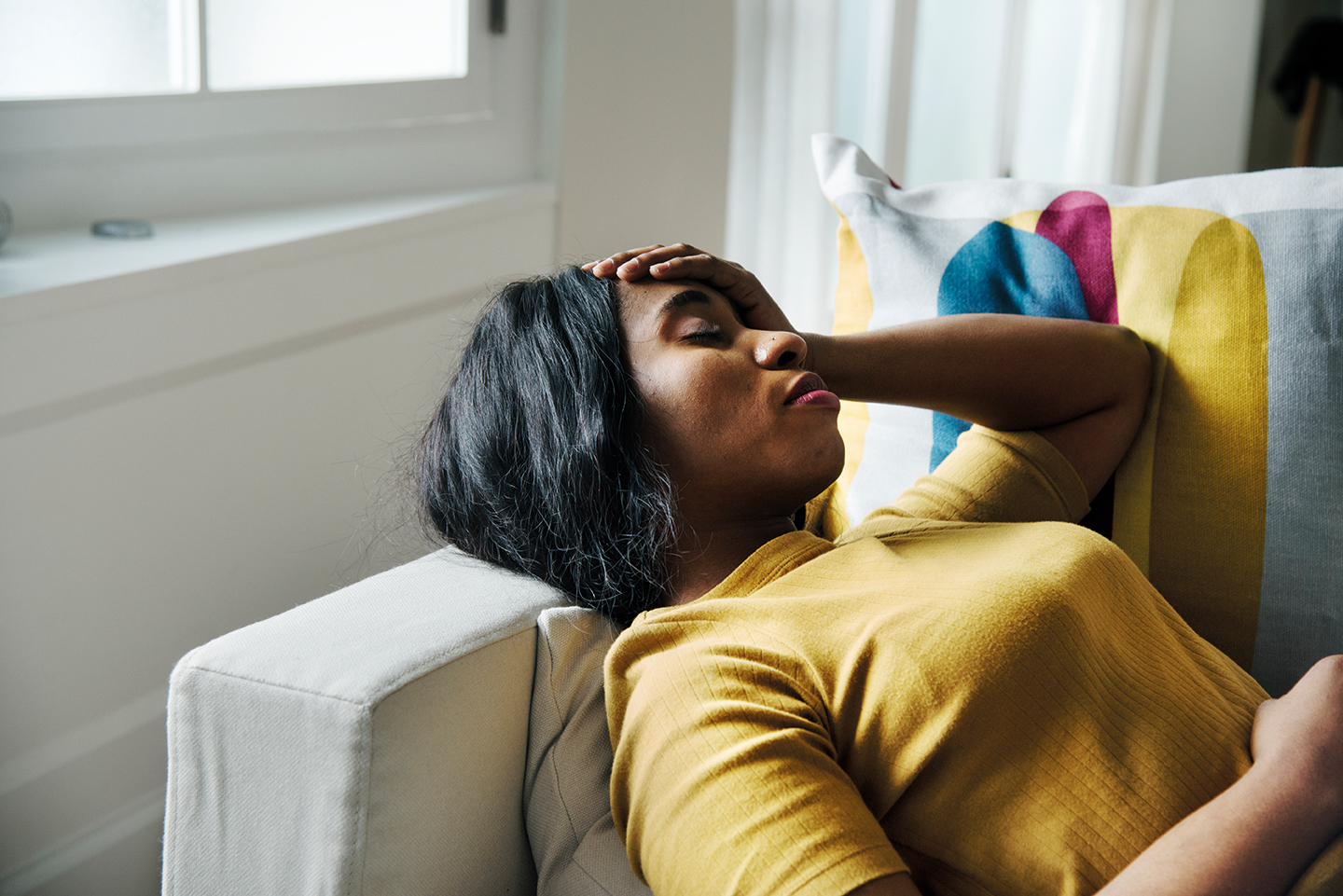 What are migraines?
Migraines are neurological disorders characterized by the presence of intense or throbbing headaches. The International Headache Society diagnoses migraines by the severity of pain and lasting from four to 72 hours. Affecting approximately 12% of Americans, migraines rank among the world's most debilitating illnesses. In addition, they are the most prevalent neurological condition, negatively impacting quality of life, social and family life and work abilities.
Migraines often begin with prodrome and aura symptoms, with early signs like mood changes, food cravings and vision impairments. Once the migraine sets in, it becomes progressively more severe and may trigger other symptoms like increased sensory sensitivity, nausea and vomiting. Some people also experience muscle weakness or tingling and numbness in their extremities. They often occur at the beginning of the day.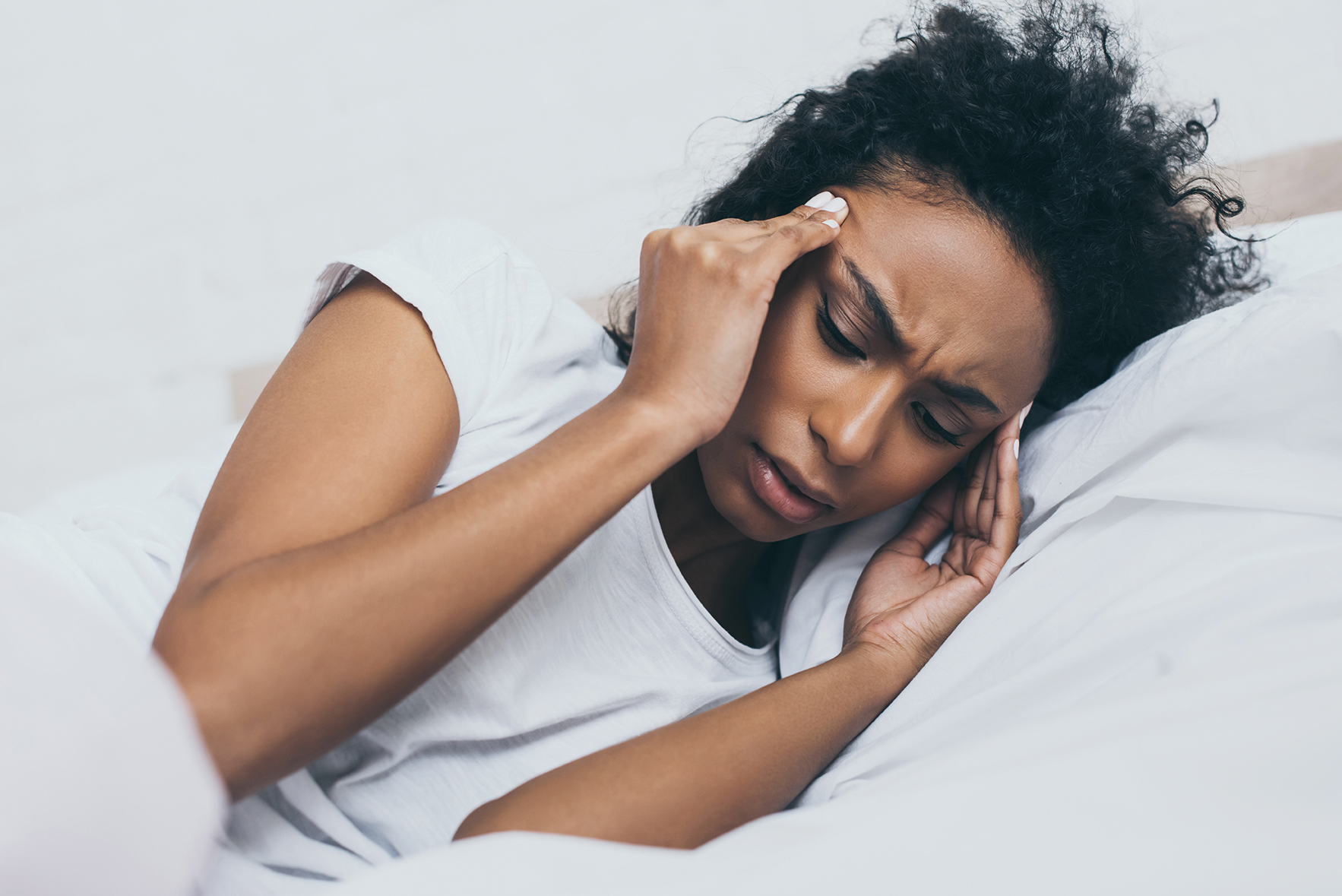 What causes migraines?
While migraines were thought to have been caused by constricted blood vessels, studies now show that genetics and various other factors cause them. Women are three times more likely to experience migraines than men, and those with a family history of migraines may be more likely to have genetically-caused migraines. Migraines are also often comorbid with medical conditions like mood disorders, epilepsy and sleep disorders. Other causes may include:
Stress
Head injuries
Bright or flashing lights
Hormonal changes
Skipped meals
Insufficient sleep
Food triggers
Sudden or extreme weather changes
Caffeine
Tobacco
Medication
Migraines have no cure, but migraine symptoms may be alleviated with medication use and behavioral changes. The U.S. Food and Drug Administration (FDA) currently approves the use of several drugs to relieve migraine symptoms.

How are migraines and sleep related?
Studies suggest that migraines and sleep have a bidirectional relationship. In other words, poor sleep patterns can cause migraines and vice versa. Sleep and migraines share common anatomical areas of the brain within the brain stem, cortex, hypothalamus and supraoptic nucleus. These anatomical structures regulate neurotransmitters like serotonin, melatonin, orexin and dopamine.
In sleep, these areas regulate the circadian rhythm and control wakefulness levels. For migraines, these structures process, modulate and transmit pain. Research into these mechanisms suggests the bidirectional relationship between sleep and migraines, such as when melatonin levels decrease during the onset of a migraine.
Both migraines and poor sleep have significant associated health risks. Of migraine patients, 30% to 50% experience disturbed sleep. Studies show strong comorbidity between migraine attacks, disturbed sleep and psychiatric conditions like depression and anxiety. Migraine patients are also at higher risk for stroke and heart attack. Other complications include:
Reduced cognitive function
Chronic pain-related stress
Mood disorders
Obesity
Increased accident or injury risk
Diabetes
Reduced productivity
Neurological relationship between migraines and sleep disorders
Migraine patients experience various sleep problems and disorders, the most common being insomnia, daytime sleepiness, sleep apnea and parasomnia.
Insomnia, defined as the inability to sleep or total lack of sleep, is more prevalent in patients with migraines than those without them. Among those patients, migraines occur at an increased pain and frequency. Research speculates that since the hypothalamus and brainstem are both involved in sleep-wake physiological and pain modulation, they may be related mechanisms for both migraines and insomnia.
Sleep apnea, which causes breathing problems and sleep disturbances, is shown to cause morning headaches. Migraines, however, occurred at similar rates among sleep apnea patients and the general population. Restless leg syndrome is substantially more common among migraine patients, affecting up to 39% of subjects. Studies suggest that this is due to a shared dysfunction within the hypothalamus and the dopamine system. They theorize that the conditions don't necessarily affect each other, but have the same neurological root cause.
Parasomnias are broad and undesired sleep abnormalities like sleepwalking or nightmares and are associated with migraines. They may be mutually linked to serotonin dysfunction, which is otherwise responsible for sleep-wake cycles and migraine pathogenesis. Bruxism is associated with joint dysfunction, and both may trigger migraines through nerve activation. Studies also suggest that migraine patients may have increased pain susceptibility.
How do migraines affect sleep patterns?
Migraines and poor sleep have a cyclical relationship. As sleep disturbances increase, risks associated with migraine onset increase. Pain tolerance may lower, increasing migraine severity and preventing sleep onset. Migraines may wake you up consistently and early in the morning.
Since migraine onset is related to sleep-wake patterns, too much sleep can also cause migraines.
Tips for improving migraine symptoms and sleep health
While migraines don't have a cure, some medications and behavioral changes may improve sleep and migraine symptoms. There is also a new drug free alternative to managing migraines through a wearable device that Cefaly offers.  Here are a few ways to improve sleep and manage migraines:
Go to sleep and wake up at consistent times
Avoid under-sleeping or oversleeping, aiming for about eight hours
Avoid stimulants, especially before sleep
Track migraine symptoms to identify causes and triggers
Engage in relaxing activities like meditating before bed
If your symptoms persist and negatively impact your quality of life, it might be time to seek a medical opinion. Doctors can diagnose sleep disorders and migraines and provide prescriptive treatments like medications, diet changes and therapy.
Migren ve uyku arasındaki ilişki
* Uyku ve migrenin beyninizin aynı bölümleri tarafından kontrol edildiğini biliyor muydunuz? Araştırmalar, migren ve uykunun çift yönlü bir ilişkiye sahip olduğunu, yani kötü uykunun migrene, migrenin ise zayıf uykuya neden olabileceğini gösteriyor.
Migren ve kalitesiz uyku, fiziksel sağlık ve bilişsel işlev üzerinde önemli etkilere sahiptir. Peki, hangisine önce hitap edeceğinizi nasıl bileceksiniz? Migren semptomlarını yönetmek ve uyku düzenini iyileştirmek için ikisinin nasıl ilişkili olduğu ve bu konuda neler yapabileceğiniz hakkında daha fazla bilgi edinin. Amerikan Uyku Derneği (ASA) kısa süre önce aşağıdaki makaleyi yayınladı:
Uyku ve migren, beyninizin aynı bölümleri tarafından birbirine bağlıdır ve kontrol edilir, bu nedenle migren yaşıyorsanız uyku kalitenize bakmanın zamanı gelmiş olabilir. Migren, kalitesiz uyku ve uyku yoksunluğu, fiziksel sağlık ve bilişsel işlev üzerinde önemli etkilere sahiptir. Migren semptomlarını yönetmek ve uyku düzeninizi iyileştirmek için ikisinin nasıl ilişkili olduğunu öğrenin.
Migren nedir?
Migrenler, yoğun veya zonklayıcı baş ağrılarının varlığı ile karakterize nörolojik bozukluklardır. Uluslararası Baş Ağrısı Derneği, migrenleri ağrının şiddetine göre teşhis eder ve dört ila 72 saat sürer. Amerikalıların yaklaşık %12'sini etkileyen migren, dünyanın en zayıflatıcı hastalıkları arasında yer alıyor. Ayrıca, yaşam kalitesini, sosyal ve aile yaşamını ve iş becerilerini olumsuz yönde etkileyen en yaygın nörolojik durumdur.
Migrenler genellikle ruh hali değişiklikleri, aşerme ve görme bozuklukları gibi erken belirtilerle birlikte prodrom ve aura semptomlarıyla başlar. Migren bir kez başladığında, giderek daha şiddetli hale gelir ve artan duyusal hassasiyet, mide bulantısı ve kusma gibi diğer semptomları tetikleyebilir. Bazı insanlar ayrıca kol ve bacaklarında kas zayıflığı veya karıncalanma ve uyuşma yaşarlar. Genellikle günün başında ortaya çıkarlar.
Migrene ne sebep olur?
Migrenin daralmış kan damarlarının neden olduğu düşünülürken, araştırmalar artık genetik ve diğer çeşitli faktörlerin ana nedenler olduğunu gösteriyor. Kadınların migren geçirme olasılığı erkeklere göre üç kat daha fazladır ve ailesinde migren öyküsü olanlarda genetik kaynaklı migren olma olasılığı daha yüksek olabilir. Migren ayrıca sıklıkla mizaç bozuklukları, epilepsi ve uyku bozuklukları gibi tıbbi durumlarla birlikte de görülür. Aşağıdaki nedenlerden dolayı da olabilir:
Stres
Kafa yaralanmaları
Parlak veya yanıp sönen ışıklar
Hormonal değişiklikler
Atlanan öğünler
Yetersiz uyku
Gıda tetikleyicileri
Ani veya aşırı hava değişiklikleri
Kafein
Tütün
İlaç tedavisi
Migrenlerin tedavisi yoktur, ancak ilaç kullanımı ve davranış değişiklikleri ile migren semptomları hafifletilebilir. ABD Gıda ve İlaç Dairesi (FDA) şu anda migren semptomlarını hafifletmek için çeşitli ilaçların kullanımını onaylamaktadır.
Migren ve uyku nasıl ilişkilidir?
Araştırmalar migren ve uykunun çift yönlü bir ilişkiye sahip olduğunu gösteriyor. Başka bir deyişle, kötü uyku düzenleri migrene neden olabilir ve bunun tersi de olabilir. Uyku ve migren, beyin sapı, korteks, hipotalamus ve supraoptik çekirdekte beynin ortak anatomik alanlarını paylaşır. Bu anatomik yapılar serotonin, melatonin, orexin ve dopamin gibi nörotransmitterleri düzenler.
Uykuda bu alanlar sirkadiyen ritmi düzenler ve uyanıklık seviyelerini kontrol eder. Migren için bu yapılar ağrıyı işler, modüle eder ve iletir. Bu mekanizmalar üzerine yapılan araştırmalar, migrenin başlangıcında melatonin düzeylerinin düşmesi gibi uyku ve migren arasındaki çift yönlü ilişkiyi ortaya koymaktadır.
Hem migren hem de kötü uyku, önemli sağlık risklerine sahiptir. Migren hastalarının %30 ila %50'si uyku bozukluğu yaşar. Çalışmalar migren atakları, uyku bozukluğu ve depresyon ve anksiyete gibi psikiyatrik durumlar arasında güçlü bir komorbidite olduğunu göstermektedir. Migren hastaları ayrıca inme ve kalp krizi için daha yüksek risk altındadır. Diğer komplikasyonlar şunları içerir:
Azaltılmış bilişsel işlev
Kronik ağrıya bağlı stres
Mizaç bozuklukları
Obezite
Artan kaza veya yaralanma riski
Diyabet
Azaltılmış üretkenlik
Migren ve uyku bozuklukları arasındaki nörolojik ilişki
Migren hastaları en sık uykusuzluk, gündüz uyku hali, uyku apnesi ve parasomni olmak üzere çeşitli uyku sorunları ve rahatsızlıkları yaşarlar.
Uyuyamama veya tam uykusuzluk olarak tanımlanan uykusuzluk, migreni olan hastalarda, olmayanlara göre daha yaygındır. Bu hastalar arasında migrenler artan bir ağrı ve sıklıkta ortaya çıkar. Araştırmalar, hipotalamus ve beyin sapının her ikisinin de uyku-uyanıklık fizyolojik ve ağrı modülasyonunda yer aldığından hem migren hem de uykusuzluk için ilişkili mekanizmalar olabileceğini tahmin ediyor.
Solunum sorunlarına ve uyku bozukluklarına neden olan uyku apnesinin sabah baş ağrılarına neden olduğu gösterilmiştir. Ancak migren, uyku apnesi hastaları ve genel popülasyon arasında benzer oranlarda meydana geldi. Huzursuz bacak sendromu, migren hastalarında önemli ölçüde daha yaygındır ve deneklerin %39'unu etkiler. Çalışmalar, bunun hipotalamus ve dopamin sistemi içindeki ortak bir işlev bozukluğundan kaynaklandığını düşündürmektedir. Koşulların mutlaka birbirini etkilemediğini, ancak aynı nörolojik kök nedene sahip olduğunu teorileştirirler.
Parasomniler, uyurgezerlik veya kabuslar gibi geniş ve istenmeyen uyku anormallikleridir ve migren ile ilişkilidir. Uyku-uyanıklık döngülerinden ve migren patogenezinden sorumlu olan serotonin işlev bozukluğu ile karşılıklı olarak bağlantılı olabilirler. Bruksizm eklem disfonksiyonu ile ilişkilidir ve her ikisi de sinir aktivasyonu yoluyla migreni tetikleyebilir. Çalışmalar ayrıca migren hastalarının ağrı duyarlılığının artmış olabileceğini düşündürmektedir.
Migren uyku düzenini nasıl etkiler?
Migren ve kötü uyku döngüsel bir ilişkiye sahiptir. Uyku bozuklukları arttıkça migren başlangıcı ile ilişkili riskler artar. Ağrı toleransı düşebilir, migren şiddetini artırabilir ve uyku başlangıcını önleyebilir. Migren sizi sürekli ve sabah erkenden uyandırabilir.
Migrenin başlaması uyku-uyanıklık düzeniyle ilişkili olduğundan, çok fazla uyku da migrene neden olabilir.
Migren semptomlarını ve uyku sağlığını iyileştirmek için ipuçları
Migrenin tedavisi olmasa da bazı ilaçlar ve davranış değişiklikleri uyku ve migren semptomlarını iyileştirebilir. Cefaly'nin sunduğu giyilebilir bir cihazla migreni yönetmek için ilaçsız yeni bir alternatif de var. Uykuyu iyileştirmenin ve migreni yönetmenin birkaç yolu:
* Uyuyun ve tutarlı zamanlarda uyanın
* Az uyumaktan veya fazla uyumaktan kaçının, yaklaşık sekiz saat hedefleyin
* Özellikle uykudan önce uyarıcılardan kaçının
* Nedenleri ve tetikleyicileri belirlemek için migren semptomlarını izleyin
* Yatmadan önce meditasyon yapmak gibi rahatlatıcı aktivitelere katılın
Belirtileriniz devam ederse ve yaşam kalitenizi olumsuz etkiliyorsa, tıbbi bir görüş almanın zamanı gelmiş olabilir. Doktorlar uyku bozukluklarını ve migreni teşhis edebilir ve ilaçlar, diyet değişiklikleri ve terapi gibi reçeteli tedaviler sağlayabilir.