Ashly Bedding, which does not spare any devotion in terms of both the anatomical structure of its customers and their comfort, also comes to the fore with its special mattress design for babies.
Can you tell us about the establishment story of your company?
We started upon a decision made because our company, established in İzmir in 2004 as SPM Limited Company, has kept leadership in all mattresses, pillows and mattresses produced for the medical sector in Turkey since those years. As the General Coordinator of the company for 12 years, we established the Ashly Bedding Company as a result of the trainings I have received, the studies I have done and the experiences I have gained.
As a young and dynamic brand, you use social media very effectively. How has social media affected your brand??
As I mentioned, we are a company, maintaining the leadership in the market in 2004, but we have not used social media effectively in Turkey until now, especially in home beds, because we are working with 70% exports. However, with the Ashly Bedding brand, we started to use social media as the fastest and most effective communication tool in order to appeal to the end consumer. Our interaction is high and we get very good results. Social media interactions are very important in terms of awareness. For this reason, we continue on our way rapidly with an increasing momentum in a short time.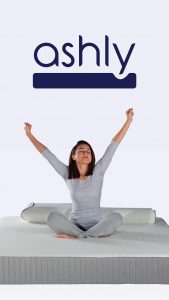 Have your e-commerce sales started? What are your goals in e-commerce?
Producing medical and personalized mattresses is a very difficult and detailed process. It is impossible to be successful in the medical sector without your certificates, test reports, medical experience and positive results. One of our biggest goals is to provide full support to both our patients and home bed users with our medical bed, pillow and cushion models, and to enable everyone in Turkey to have these beds. E-commerce is also a useful method in terms of providing accessibility in this way. Because we have delivery to all provinces, the users only have to contact us and share their health-related information. We are giving 100% comfort, health and service with the highest quality.
Can you tell us about your export targets?
As SPM Limited Company we export to 27 countries. Especially in Germany, our products are sold by prescription through our partner in Germany. We are already an experienced company in this field. From now on, we will start to develop our exports in home bedding with the Ashly Bedding brand in 2022. For this purpose, we aim to double our export volume in a short time with our fair participation and foreign marketing strategies. But as our company culture, our priority is always human health and the service we provide at high quality. We care more about developing our niche products than numbers. For this reason, thanks to the positive feedback we have received over the years, we are progressing very quickly in the market.
Normally, mattress companies do not make a separate classification for babies or prepare an advertising campaign. But you have a 26-page baby catalogue. Can we learn the reason for this and the feedback to you? 
Because we have special production for babies and children, we have made a different catalog with the Ashly Baby brand. Since the babies and children are sensitive, it is necessary to produce more special and medical products in order to support their spine and protect their bone structure, as well as to eliminate allergic risks. For this reason, we have separated our focus points as adult infants and children. We have given the same great attention to all of them and carefully categorized them in order to prepare our products. It is impossible for us to offer sloppy and overly hard beds to babies just because they can't tell if a bed is comfortable because they only express themselves by crying. On the contrary, the happiness of the babies and the happiness of the parents became our focus and our aim was to make everyone happy.
What kind of marketing strategy do you intend to follow in the future?
As both SPM and Ashly, we receive management consultancy services. We have very intensive trainings, projects and strategic planning studies. Our marketing strategies also play an important role in this planning. In order to become a brand and highlight the points we are different, of course, our social media activities will continue, We have a sponsorship at Kafa Radio, and the various sponsorships, the works we have prepared with women entrepreneur groups, our advertising campaigns and surprises will continue intensively. As we have a young and dynamic team, our schedule is very busy; we have a lot of energy, our work as the Ashly Bedding family continues rapidly.
As far as I know, you use visco in your products. What is the difference of visco mattress from other mattresses? Can you explain?
Visco elastic material is a product that should be used carefully. It is a very important material in terms of taking the shape of the body. But the specifications of the visco elastic sponge are important. For example, the return time of the visco elastic sponge we use is 4 seconds. This standard is the German standard. Its deformation, elasticity, tear strength, density, hardness, open cell are evaluated separately.
*Every viscoelastic material is not the same. You need to set its specifications and produce it that way. This is also a matter of experience. Any visco elastic sponge cannot be used in our production.
*The excessive embedding makes the user sweat; you need to adjust the density, hardness, and patient or user carrying capacity of both the visco sponge and the support sponge underneath.
*On the one hand, it should be comfortable and on the other hand, it should not sweat. Whether it is a home bed or a sickbed, we produce all of them in accordance with medical norms. For this, first of all, it is necessary to know the reasons for the pressure wound. The details are incredibly many and it is not possible for me to describe them here at once.
*However, among our models, we have products that are produced with non-viscoelastic sponge and used for the inpatients that lie down for 24 hours, do not cause any wounds. In this sense, appropriate cuts for anatomy are important. We can even make a single-layer mattress extremely comfortable.
*The most important point I will say is that our spine is S-shaped and the bed must maintain this form. In addition, our body has physiological folds, and a bed that takes the shape of these folds is only a comfortable and healthy bed. For this, the mattress should be optimally soft, not hard. Therefore, the pressure exerted by the mattress on the body should be tested.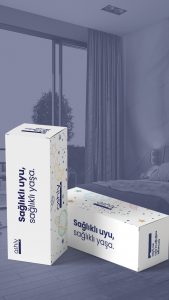 Bebekleri de Düşünen Firma: Ashly Bedding
*Gerek müşterilerinin anatomik yapısı gerek de onların konforu konusunda hiçbir özveriden kaçınmayan Ashly Bedding, bebeklere özel yatak tasarlamasıyla da ön plana çıkıyor.
Firmanızın kuruluş hikâyesinden bahseder misiniz?
2004 yılında SPM Ltd Şti olarak İzmir'de kurulan firmamızın o yıllardan bu yana Türkiye'de medikal sektör adına ürettiği tüm yatak, yastık ve minderlerde liderliği sürdürmesiyle verilen bir karar üzerine yola çıktık. Şirketin 12 senedir Genel Kordinatörü olarak, aldığım eğitimler, yaptığım çalışmalar ve edindiğim tecrübelerin bir sonucu olarak Ashly Bedding firmasını hayata geçirdik.
Genç ve dinamik bir marka olarak sosyal medyayı epey etkin kullanıyorsunuz. Sosyal medyanın markanıza etkisi nasıl oldu?
Bahsettiğim gibi 2004 yılında piyasada liderliği sürdüren bir firmayız ancak %70 ihracat ağırlıklı çalıştığımız için Türkiye'de özellikle ev yataklarında şimdiye kadar sosyal medyayı etkin kullanmamıştık. Fakat ashly bedding markası ile son tüketiciye hitap etmek açısından sosyal medyayı en hızlı ve en etkin iletişim aracı olarak kullanmaya başladık. Etkileşimimiz yüksek ve çok da güzel sonuçlar alıyoruz. Bilinirlik açısından sosyal medya etkileşimleri oldukça önemli. Bu sebeple kısa zamanda artalan bir ivme ile yolumuza hızla devam ediyoruz.
E-ticaret satışlarınız başladı mı? E-ticaretteki hedefleriniz nelerdir?
Medikal ve kişiye özel yatak üretmek oldukça zor ve detaylı bir süreçtir. Sertifikalarınız, test raporlarınız, medikal tecrübeniz ve pozitif sonuçlarınız olmadan medikal sektörde başarılı olmanız imkansızdır. Hem hastalarımıza hem de ev yatağı kullanıcılarına, medikal yatak, yastık ve minder modellerimizle tam destek vererek, öncelikle Türkiye'deki herkesin bu yataklara sahip olmasına imkan vermek en büyük hedeflerimizden biri. E ticaret de, bu yolda ulaşılabilirliği sağlamak açısından faydalı bir yöntem. Tüm illerimize gönderimimiz mevcut olduğu için kullanıcılara sadece bizimle iletişime geçip sağlık ile ilgili bilgilerini paylaşmak düşüyor. Biz de  %100 konfor, sağlık ve hizmeti en yüksek kalitede iletiyoruz.
İhracat hedeflerinizden bahseder misiniz?
SPM Ltd. Şti. olarak 27 ülkeye ihracatımız mevcut. Özellikle Almanya'da ürünlerimiz Almanya'daki partnerimiz aracılığıyla reçete ile satılmaktadır. Bu konuda zaten tecrübeli bir firmayız. Bundan sonra Ashly Bedding markası ile de ev yataklarında ihracatımızı geliştirmeye 2022 yılında başlayacağız. Bu amaçla fuar katılımlarımız ve yurt dışı pazarlama stratejilerimiz ile kısa zamanda ihracat hacmimizin iki katına çıkmasını hedefliyoruz. Ama firma kültürümüz olarak her zaman önceliğimiz insan sağlığı ve yüksek kalitede verdiğimiz hizmet. Rakamlardan çok niş ürünlerimizi geliştirmeye önem veriyoruz. Bu sebeple de yıllardır aldığımız olumlu dönüşler sayesinde piyasa da oldukça hızlı ilerliyoruz.
Normalde yatak firmaları bebekler için ayrı bir klasman oluşturmaz ya da reklam kampanyası hazırlamazlar. Fakat sizin 26 sayfalık bebek kataloğunuz mevcut. Bunun nedenini ve size olan geri dönüşleri öğrenebilir miyiz?
Bebek ve Çocuklara özel üretimimiz mevcut olduğu için ashly baby markası ile farklı bir katalog oluşturduk. Bebek ve çocukların hassas olması nedeniyle onların omurgalarına destek verip kemik yapılarını korumak, aynı zamanda alerjik riskleri ortadan kaldırmak için daha özel ve medikal ürünler üretilmesi gerekiyor. Bunun için odak noktalarımızı yetişkin bebek ve çocuk diye birbirinden ayırdık. Hepsine aynı yoğun ilgiyi gösterip, özenle ürünlerimizi hazırlamak adına kategorilendirdik. Bebekler kendilerini sadece ağlayarak ifade ettikleri için bir yatağın rahat olup olmadığını söylemeleri mümkün olmuyor diye onlara özensiz ve aşırı sert yataklar sunmak asla bize göre değil. Aksine bebeklerin mutluluğu ve ebeveynlerin mutluluğu odak noktamız haline geldi ve amacımız herkesi mutlu etmek oldu.
Önümüzdeki süreçte nasıl bir pazarlama stratejisi izlemeyi düşünüyorsunuz?
Hem SPM hem Ashly olarak yönetim danışmanlığı hizmeti alıyoruz. Çok yoğun eğitimlerimiz, projelerimiz ve stratejik planlama çalışmalarımız mevcut. Pazarlama stratejilerimiz de bu planlamamızda önemli yer kaplıyor. Markalaşmak ve farklı olduğumuz noktaları öne çıkarmak adına tabii ki yine öncelikle sosyal medya çalışmalarımız devam edecek, Kafa Radyo'da sponsorluğumuz mevcut, çeşitli sponsorluklar, kadın girşimci gruplarıyla hazırladığımız çalışmalar, reklam kampanyalarımız, sürprizlerimiz yoğun bir şekilde devam edecek. Genç ve dinamik bir ekibimiz olduğu için programımız çok yoğun, enerjimiz de çok, ashly bedding ailesi olarak çalışmalarımız hızla devam ediyor.
Bildiğim kadarıyla ürünlerinizde visko kullanıyorsunuz. Visko yatağın diğer yataklardan farkı nedir? Açıklar mısınız?
Visko elastik malzeme dikkatli kullanılması gereken bir üründür. Vücudun şeklini alması açısından çok önemli bir malzemedir. Fakat visko elastik süngerin spesifikasyonları önemlidir. Örneğin bizim kullandığımız visko elastik süngerin geri dönüş süresi 4 sn'dir. Bu standart Alman standartıdır. Deformasyonu, elastikiyeti, yırtılma mukavemeti, yoğunluğu, sertliği,  açık hücreli olması ayrı ayrı değerlendirilir.
*Her visko elastik malzeme aynı değildir. Spesifikasyonlarını belirlemeniz ve bu şekilde üretilmesi gerekir. Bu da tecrübe işidir. Herhangi bir visko elastik sünger bizim üretimimizde kullanılamaz.
*Aşırı gömülme kullanıcıyı terletir, hem visko süngerin hem de altındaki destek süngerinin yoğunluğunu, sertliğini hasta veya kullanıcı taşıma kapasitesini ayarlamanız gerekir.
*Bir yandan konforlu olması bir yandan da terletme yapmaması gerekir. İster ev yatağı ister hasta yatağı olsun, hepsini medikal normlara uygun üretiriz. Bunun için öncelikle bası yarasının hangi sebeplerle oluştuğunun bilinmesi gerekir. Detaylar inanılmaz derece de çoktur burada bir çırpıda anlatmam mümkün değil.
*Ancak modellerimiz arasında visko elastik olmayan sünger ile üretilen  ve 24 saat yatan hasta için kullanılıp hiç yara oluşturmayan ürünlerimiz var. Bu anlamda anatomiye uygun kesimler önemlidir. Tek katmanlı bir yatağı bile son derece konforlu hale getirebiliriz.
*En önemli söyleyeceğim nokta omurgamız S şeklindedir ve yatağın bu formu koruması gerekir. Ayrıca vücudumuzun fizyolojik kıvrımları mevcuttur ve bu kıvrımların şeklini alan bir yatak ancak rahat ve sağlıklı bir yataktır. Bunun için de yatağın sert değil optimal yumuşaklıkta olması gerekir. Bu nedenle yatağın vücuda yaptığı basınç test edilmelidir.