Armis Bedding is carrying luxury to bedrooms with new Cascade mattress which presents unique sleep comfort. Cascade mattress offers both firm or medium soft use together with double sided pad option.
Cascade mattress which offers fluffy sleep with its hyper surface and special fabric has the pocket spring system which supports your spine by reacting regionally according to the amount of pressure that occurs on them. It meets the diverse regional support that the body needs. It makes the sleep experience enjoyable and uninterrupted with pocket spring system which is twice long-lasting than classical spring systems. The knitted fabric used on the upper surface of the mattress prevents sweating due to its air permeability, preventing sleep breaks and involuntary movements. Cascade mattress attracting with different comfort options and double sided pad.
Beside mattress, base, headboard and footboard Armis product range contains white textile products like quilt, pillow, mattress protector, baby sets which is completing your sleep comfort. All our products of Armis Bedding, who continues its works with the aim of providing the best quality, the most innovative products with affordable prices to its consumers, gives "Better than Sleeping" experience.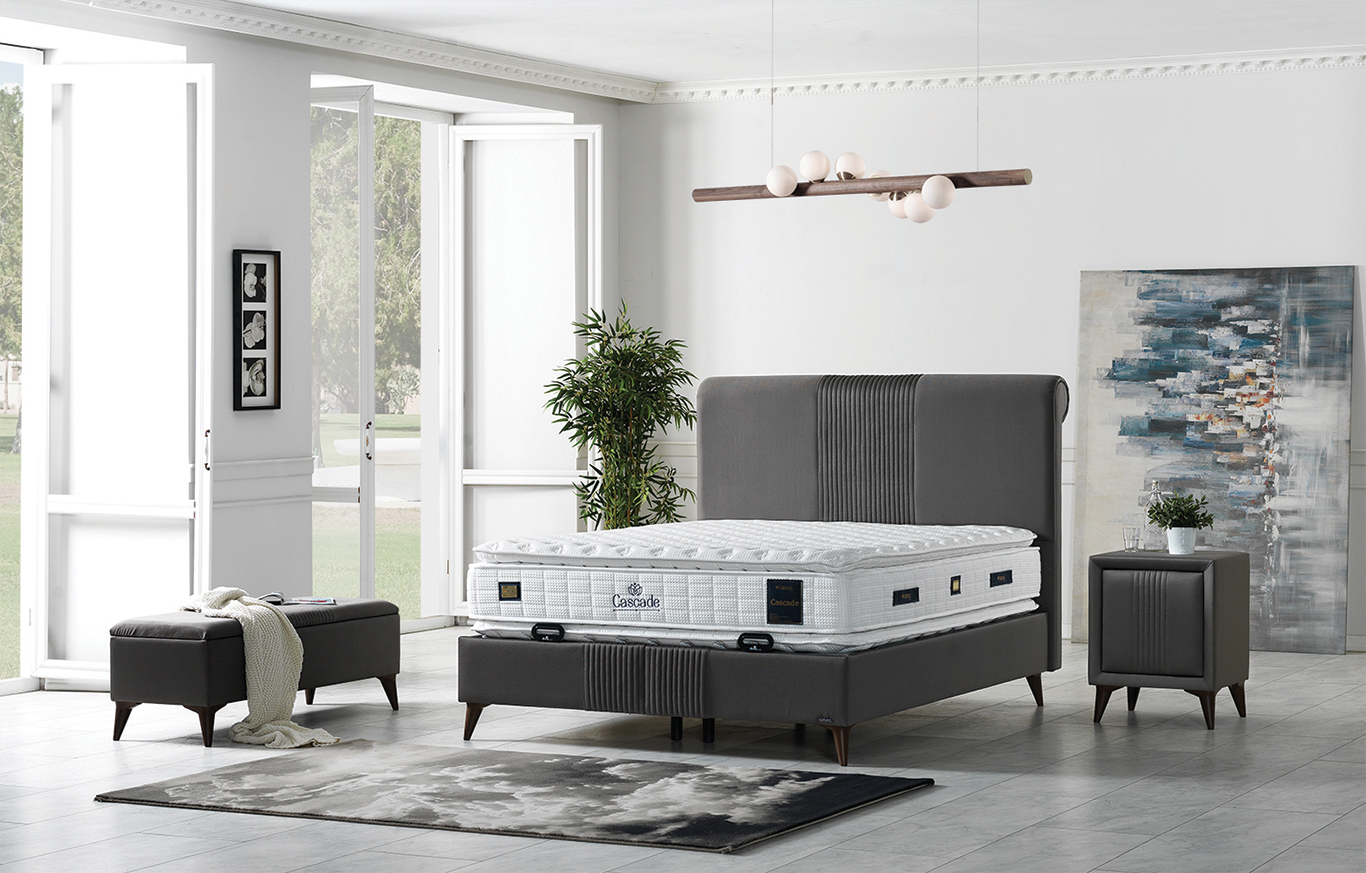 Armis Yatak'ın Cascade yatağı ile çift taraflı uyku keyfi
Armis Yatak, eşsiz uyku konforu sunan yeni yatağı Cascade ile lüksü yatak odalarına taşıyor. Çift taraflı ped seçenekli Cascade yatak, ister sert ister orta yumuşak kullanım imkanını bir arada sunuyor.
Hyper yüzeyi ve özel kumaşı sayesinde yumuşacık bir uyku vaat eden Cascade yatak, birbirinden bağımsız hareket edebilen yayların uygulanan basınç miktarına göre bireysel tepki vererek ihtiyaç duyulan bölgesel destek sağlayan paket yay sistemi sahip. Klasik yay sistemlerine göre iki kat daha uzun ömürlü olan paket yay sistemleri, sunduğu omurga desteği ile keyifli ve kesintisiz bir uyku deneyimi imkanını sağlıyor. Yatağın üst yüzeyinde kullanılan örme kumaş, hava geçirgenliği sayesinde terlemeyi engelleyerek, uyku bölünmelerini ve istemsiz hareketleri önlüyor. Cascade yatak, farklı konfor özellikli çift taraflı ped'i ile de dikkat çekiyor.
Armis Yatak ürün yelpazesinde; yatak, baza, yatak başı, ayak ucu başlığının yanı sıra uyku konforunu tamamlayacak yorgan, yastık, alez, bebek takımlarından oluşan beyaz grubu da yer alıyor. 'Mis gibi uyku' deneyimi mottosuyla her zaman tüketicilerine en iyi kaliteyi, en yenilikçi ürünleri, ulaşılabilir fiyatlarla sunmak hedefi ile çalışmalarını sürdüren Armis Yatak'ın tüm ürünleri kaliteli uyku vaat ediyor.