Brittany Mollis, Naturapedic: "We mastered the art of creating an organic mattress that looks as good as it feels, and we are so excited to share the results with you. So without further ado, we're proud to introduce our new luxury line: Halcyon."
A perfect combination of elegance and comfort, the Halcyon collection was designed to provide safe, healthy sleep in style. This collec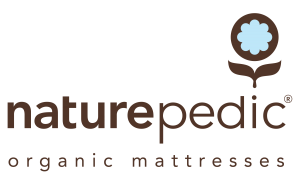 tion features three organic options: Azure, Arcadia, and Elysium. Each option features the finest organic cotton and latex, a luxury wool blend, and encased support coils to provide unparalleled comfort.
So what makes this combination of materials so special? Let's take a look at what's inside each mattress.
Organic cotton: This means there are absolutely no harmful chemicals. Organic cotton is the purest form of cotton and a healthier alternative to synthetic fabrics and foams. Naturepedic uses only U.S. grown and certified organic cotton as filling for its mattresses and buys directly from USDA certified sources. This increases purity, organic reliability.
Organic latex: Unlike synthetic latex found in many products, our latex is made from the milk of a rubber tree. We only source our latex foam from reputable certified organic suppliers, ensuring purity, fair labor practices and support for healthy farming to protect our planet's latex forests. Latex is known to relieve pressure-points, allowing a comfortable night's sleep.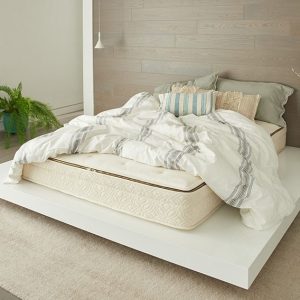 Organic support coils: Coils of Halycon are individually wrapped in certified organic cotton fabric and hand assembled for unmatched quality. This method ensures iso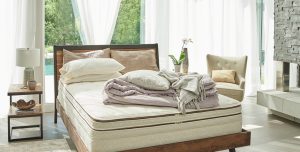 lation of movement and pressure point relieving comfort that contours to your body.
Luxury wool blend: All Halcyon mattresses include a luxury wool blend layer consisting of organic wool, alpaca, and cashmere to allow you to stay cool in summer and warm in winter. This unique blend offers improved comfort for a more luxurious sleep. Organic wool of Halcyon comes from healthy, well-treated sheep, and we do not use harmful chemicals in the processing of the wool.
There is also a non-latex option for those who have latex allergies.
The Halcyon luxury collection offers more than mattresses—it offers the ultimate sleep experience.
#TurkishMattressIndustry, #mattress, #SleepWell, #Naturepedic, #Holcyon, #Sleepworld