Making quality and customer oriented manufacturing, Insleep offers confidence to its customer with mattresses and bed bases of high technology.
Having a great success of entering among top-100 of Inegol with its export volume of 1.5 million dollars, in sleep has a lot to say about the sector. Nazım Çiftçi, proprietor of Feyza Baza, says they increase their exports in line with the targets they constantly heighten. Çiftçi explained, "We believe that our exports will be more than 1,5 million" when he was detailing their mattresses in an exclusive interview he granted to Sleep Well during Furniture Istanbul show.
Could you furnish us with some important milestones about your company?
We, as three brothers, started this business in small workshop of 150sqm. We have been continuing in the sector, which we had started with two persons in 2011, now with 40 personnel and a factory of 3,500sqm. We have been manufacturing for some leading brands and actively working on the way to export our own products.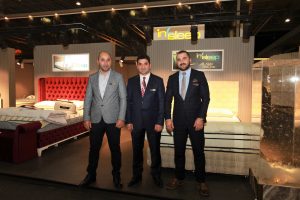 Could you mention about your product range and capacity?
We have a production capacity of 150 sets of bed bases daily in the bed base department and approximately 200 or 250 mattresses daily. We have a very good machine line, which has a seaming machine with which we produce everything from A to Z and it offers production possibilities untouched by human hands, automatic packaging machine, spring machine and quilted machine.
What did you display in Furniture Istanbul? Did you have any surprises for your visitor?
We displayed a product which you cannot find anywhere else. Our drawer bed base and speaker bed base header with digital features which offers music with Bluetooth connection, attracted a great deal of attention in Furniture Istanbul.
At which fairs shall we see your company in 2019?
We participate in Inegol Furniture Fair every year since 2002. This is the first time we are participating in Furniture Istanbul. Probably, we will attend to all of the shows in Istanbul after Furniture Istanbul.
We, as Insleep, have not set any specific targets. Our targets came after our success. In short, the more we realize success the more we export. We believe that we will exceed 1,5 million after 2019.
Will there be any change in your product range?
We, as in sleep brand, follow design and technology and we make an effort to produce most suitable products for the principles of our own company and customers. 80% of our products of the previous year have not taken place in our new season catalog except products that were in demand mostly last year. We work to meet our different designed products for our customers.
What would you say about your current markets, potential and ta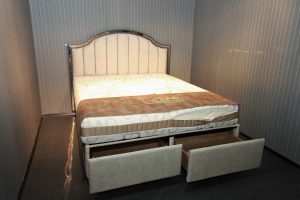 rget markets, if we talk about your exports?
We began our work in order to realize various projects in the Europe and Africa and to introduce our quality in abroad.
We took part among the first 100 companies of Inegol with our export volume of USD1,5 million last year. We export to about 26 countries. At the same time, we take the place in Austria by my brother who lives in Wien and knows about trade in Europe.
Is there anything that you would like to highlight?
We do customer-oriented business without compromising on quality. Our goal is good customer, big export volume and durable products.
#mattressindustry, #sleepwell, #sleepwellexpo, #manufacturing