New Year, Same Luxury from Scruffs® Pet Bedding & Accessories, highlighting our cosiest, warmest and most comfortable beds for pets in 2021. 
Pictured above, Scruffs® Ellen dog bed collection is produced using a textured faux fur, with a contrasting tweed outer cover. The bed's sleep area has been lined with luxurious plush fur, providing warmth & comfort. Each bed is finished with a soft-feel Scruffs logo on the front of the bed.
The Scruffs® Ellen donut bed is filled with 100% recycled polyester filling, combined with a fixed centre cushion for improved support, greater cushioning characteristics and enhanced durability. Scruffs® Ellen donut bed has a non-slip base.
Scruffs® Velvet Donut Bed is a stylish addition to any modern living space. Designed for small dogs and cats, the bed will ensure your pet is kept as snug as possible with its one-piece design and wrapped-around crushed velvet finish. Each bed features a fixed deep-filled centre cushion for enhanced support, and high-walls for added security and comfort.
Scruffs® Manhattan Collection is designed using a luxury monochrome color scheme. The fabric is soft-to-touch and utilises a marl finish, which is complimented by matching outer stitching to achieve a coherent look. Available in four stylish colorways which reflect the latest in-home furnishing trends, Scruffs® Manhattan beds will compliment your home décor whilst providing a homely environment for your pet to rest.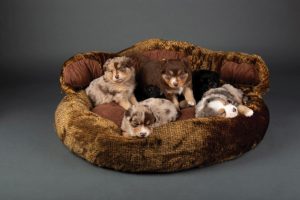 Scruffs® evcil hayvan yataklarından yeni yılda aynı lüks
Scruffs®, 2021'in evcil hayvanlar için en rahat, en sıcak ve en konforlu yatakları.
Yukarıda resmi bulunan Scruffs® Ellen köpek yatağı koleksiyonu dokulu bir suni kürk kullanılarak üretilmiştir, zıt bir yün dış kaplaması mevcuttur. Yatağın uyku alanı sıcaklık ve rahatlık sağlayan lüks pelüş kürkle kaplıdır. Her yatağın ön kısmında yumuşak dokunuşlu bir Scruffs logosu mevcuttur.
Scruffs® Ellen çember yatak % 100 geri dönüştürülmüş polyester dolguyla doldurulur. Yatak daha iyi destek, daha gelişmiş yastık özellikleri ve daha fazla dayanıklılık sağlamak için sabit bir orta yastık ile birleşiktir. Scruffs® Ellen çember yatağın tabanı kaymaz özelliktedir.
Scruffs® Velvet Çember Yatak herhangi bir modern yaşam alanına şık bir dokunuş getirir. Küçük köpekler ve kediler için tasarlanan yatak, tek parça yapısı ve etrafının ipek kadife kaplamasıyla evcil hayvanınızın olabildiğince rahat olmasını sağlar. Her yatakta, gelişmiş destek için sabit, derin doldurulmuş bir orta minder ve daha fazla güvenlik ve konfor için yüksek duvarlar bulunur.
Scruffs® Manhattan Koleksiyonu, lüks bir monokrom renk düzeni kullanılarak tasarlanmıştır. Kumaşı yumuşak dokunuşludur. Kumlu kumaşı uyumlu bir görünüm elde etmek için eşleşen bir dış dikişle tamamlanır. En son ev içi mobilya trendlerini yansıtan dört şık renk seçeneği bulunan Scruffs® Manhattan yatakları, evcil hayvanınızın dinlenmesi için ev sıcaklığında bir ortam sağlarken ev dekorasyonunuzu tamamlayacak.