Certified B Corp mattress maker passes exhaustive supply chain audit to meet most rigorous sustainable forest certification in the world.
HOBOKEN, N.J., Jan / PRNewswire/ After an extensive audit process, the Forest Steward Council® the global leader in responsible forest management — certified Avocado Green Brands as an FSC-certified company. By certifying Avocado, makers of organic and eco-luxury sleep products, FSC has traced the path of its products coming from forests and validated the exclusive use of FSC-certified companies through the supply chain. An FSC-certified company manages forests in a way that preserves biological diversity and benefits the lives of local people and workers, while ensuring it sustains economic viability. Avocado's forest materials include GOTS organic certified latex for use in their mattresses and pillows and timber for use in their furniture line.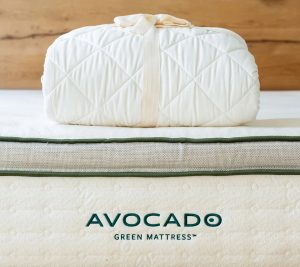 "Certification from FSC is one of the most difficult standards a company can achieve," said George Mathew, Avocado's Vice President of Components Sourcing, Standards, & Certifications. "It's extremely prestigious, and it means Avocado's products are harnessing materials from the most responsibly-managed forests in the world."
The authority on forest certification, the independent, nonprofit Forest Stewardship Council has 25 years of sustainable forest management experience — providing a credible link between responsible production and consumers who want products that benefit people and the environment. To become an FSC-certified supplier, a company must meet the 10 principles and 57 criteria that support FSC's mission to promote environmentally sound, socially beneficial and economically prosperous management of the world's forests. Supporting FSC-certified products reduces the greenhouse gasses that lead to climate change while protecting wildlife habitat and supporting sustainable jobs.
"We're continuing to push what it means to be a sustainable company," says Mark Abrials, Avocado Co-Founder and Chief Marketing Officer. "This rigorous certification from the most trusted source in forest management is validation that we're doing exactly that."
Avocado is a proud certified B Corp and the first mattress company to become Climate Neutral certified. That means they voluntarily offset more than 100% of their emissions, from resource extraction all the way to shipping, by supporting carbon offset projects through the Bonneville Environmental Foundation. The offset projects help mitigate climate change and support innovation in addressing greenhouse gas emissions reductions.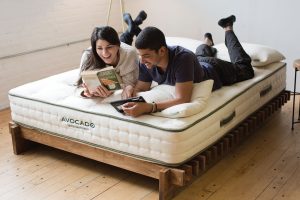 Avocado Green Mattress Prestijli Orman İdare Konseyi Sertifikasını aldı
B Corp Sertifikalı yatak üreticisi dünyadaki en katı kriterlere sahip, sürdürülebilir orman sertifikasını alabilmek için kapsamlı bir tedarik zinciri denetiminden geçer.
Sorumlu orman yönetiminde dünya lideri olan Orman İdare Konseyi (Forest Steward Council, FSC), kapsamlı bir denetim sürecinden sonra Avocado Green (Avokado Yeşil) Markalarına sertifika verdi. Böylece Avocado Green, FSC sertifikalı bir şirket unvanı aldı. FSC, organik ve eko-lüks uyku ürünü üreticisi olan Avocado'yu sertifikalandırarak, ormanlardan gelen ürünlerinin yolunu takip etti ve tedarik zinciri boyunca özel olarak FSC-sertifikalı şirketlerin kullanımını doğruladı. FSC sertifikalı bir şirket, ekonomik uygulanabilirliği sürdürürken ormanları, biyolojik çeşitliliği koruyacak ve yerel halkın ve işçilerin yaşamlarına fayda sağlayacak şekilde yönetir. Avocado'nun orman malzemeleri, yataklarında ve yastıklarında kullanılmak üzere GOTS (dünya çapında bir tekstil üretim sertifikası) organik sertifikalı lateks, mobilya serisinde kullanılmak üzere kerestedir.
Avocado'nun Bileşen Tedariki, Standartlar ve Sertifikalardan sorumlu Başkan Yardımcısı George Mathew ''FSC sertifikası bir şirketin alabileceği en zor standartlardan biridir,'' dedi. ''Son derece prestijlidir ve Avocado ürünlerinde en sorumlu şekilde yönetilen ormanlardan malzeme kullanıldığını gösterir."
Orman sertifikasyonu yetkilisi, bağımsız ve kâr amacı gütmeyen bir kuruluş olan Orman İdare Konseyi, sorumlu üretim ile insanlara ve çevreye yarar sağlayan ürünler isteyen tüketiciler arasında güvenilir bir bağlantı sağlamıştır ve 25 yıllık sürdürülebilir orman yönetimi deneyimine sahiptir. FSC sertifikalı bir tedarikçi olmak için, bir şirket FSC'nin dünya ormanlarının çevreye duyarlı, topluma yararlı ve ekonomik açıdan zengin yönetimini teşvik etme misyonunu destekleyen 10 ilke ve 57 kriteri karşılamalıdır. FSC sertifikalı ürünleri desteklemek, vahşi yaşam alanını korurken ve sürdürülebilir işleri desteklerken, iklim değişikline yol açan sera gazlarını azaltır.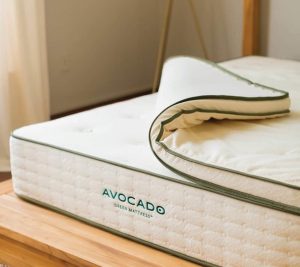 Avocado'nun Kurucu Ortağı ve Pazarlama Direktörü Mark Abrials "Sürdürülebilir bir şirket olmanın sınırlarını zorlamaya devam ediyoruz," dedi. "Orman yönetiminde bu en güvenilir kaynaktan aldığımız yüksek kriterlere sahip sertifika tam olarak bunu yaptığımızın göstergesidir."
Avocado, B Corp sertifikasına sahip olmaktan onur duyuyor. Ayrıca şirket İklim Nötr (Climate Neutral) sertifikasını alan ilk yatak şirketidir. Bu, Bonneville Çevre Vakfı aracılığıyla karbon dengeleme projelerini destekleyerek, kaynak çıkarımından nakliyeye kadar emisyonlarının   % 100'ünden fazlasını gönüllü olarak dengeledikleri anlamına geliyor. Dengeleme projeleri, iklim değişikliğini azaltmaya yardımcı olur ve sera gazı emisyonlarının azaltılmasına yönelik inovasyonu destekler.