Advanced Airflow capabilities ensure 100% breathability and maximum cross-ventilation.
FARMINGDALE, N.Y.  /PRNewswire/ — BEDGEAR®, the brand of Performance® that provides innovative bedding by focusing on an active lifestyle and well-being, today introduces Flow, the world's first advanced airflow pillow collection engineered with BEDGEAR's patented Air-X® Performance fabric technology, including Air-X mesh sides, and patented air vent design to ensure 100% breathability and maximum cross-ventilation. These advanced airflow and fabric breathability capabilities are essential for a clean sleep environment in today's health situation.
Flow's Air-X jersey-like gray cover with metallic-silver-colored piping and slate blue mesh sides provides continuous airflow to let the body naturally regulate its temperature and create an ideal sleep environment. Air-X technology has been a staple of BEDGEAR's proven sleep solutions in the form of Air-X mesh gussets that can be found on some of the brand's Performance pillows and mattresses.
Flow's Air-X 3D-structured fabric creates a cushion of air with spring-like yarns. This allows air to move more rapidly, providing continuous ventilation and 100% breathability throughout the night. Flow also features a patented air vent design. An air vent is a soft, circular fabric with a mesh center, which is about the size of a nickel. The benefit of it is allowing hot air coming from the head, neck and shoulders to be directed away on the corners of the pillow away from the body.
"BEDGEAR's Air-X technology allows for continuous airflow in and around the pillow, moving hot stale air away from the sleeper," said BEDGEAR CEO and founder Eugene Alletto. "Air-X reduces heat and sweat to create a better-quality rest at night. The Flow pillow collection is unique that it overflows with advanced airflow technology, including its air vent design, providing sleepers with cross-ventilation, comfort and a clean sleep environment."
Flow is available in four heights, also called sizes, to meet personal sleep preferences. The lowest height pillow — 0.0 size — includes one air vent and a mesh patch on top and bottom while the other three heights — 1.0, 2.0 and 3.0 sizes — include 10 air vents and mesh on all sides. Only the 0.0 size is not dual-sided; this single-chamber pillow ensures consistent comfort. The Flow pillow collection also features a zip-off removable and washable cover to ensure a clean and healthy sleep environment.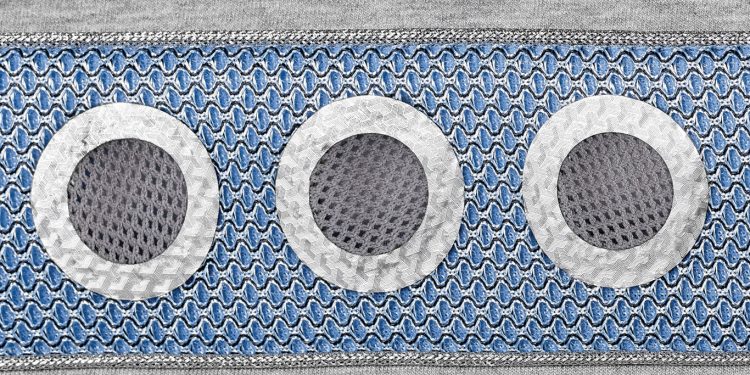 Flow: BEDGEAR'ın Air-X® Performance® kumaş teknolojisini ve patentli havalandırma tasarımını bir arada sunan dünyanın ilk ileri hava akış yastığı koleksiyonu
Gelişmiş hava akışı kapasitesi % 100 nefes alabilirlik ve maksimum çapraz havalandırma sağlar.
Aktif yaşam tarzı ve sağlığa odaklanarak yenilikçi yatak ürünleri satan Performans® markası BEDGEAR® bugün Flow'u tanıtıyor. Flow, BEDGEAR'ın patentli Air-X® Performans kumaş teknolojisi ile tasarlanmış dünyanın ilk ileri hava akış yastık koleksiyonudur. % 100 nefes alabilirlik ve maksimum çapraz havalandırma sağlamak için patentli havalandırma tasarımı ve Air-X file kenarlar içerir. Günümüzün sağlık koşulları dikkate alındığında bu gelişmiş hava akış kapasitesi ve kumaşın nefes alabilmesi temiz bir uyku ortamı için gereklidir.
Flow'un metalik gümüş renkli şeride ve griye çalan mavi file kenarlara sahip Air-X jarse hissi veren gri kılıfı, vücudun doğal olarak sıcaklığını düzenlemesini sağlamak ve ideal bir uyku ortamı yaratmak için sürekli hava akışı sağlar. Air-X teknolojisi, BEDGEAR'ın, markanın bazı Performans yastık ve yataklarında bulunabilen Air-X file kenar destek biçimindeki kanıtlanmış uyku çözümlerinin temelini oluşturuyor.
Flow'un Air-X 3D yapılı kumaşı, yay benzeri ipliklerle bir hava yastığı oluşturur. Böylece hava daha hızlı hareket eder, gece boyunca sürekli havalandırma ve %100 nefes alabilirliği sağlar. Flow, ayrıca patentli bir havalandırma tasarımına sahiptir. Havalandırma kısmı, merkezinde ağ olan yumuşak daire biçiminde bir kumaştır, yaklaşık bir madeni para büyüklüğündedir. Kafadan, boyundan ve omuzlardan gelen sıcak havayı yastığın köşelerine doğru göndererek vücuttan uzaklaştırır.
BEDGEAR CEO'su ve kurucusu Eugene Aletto "BEDGEAR'ın Air-X teknolojisi, yastığın içerisinde ve çevresinde sürekli hava akışına izin vererek sıcak kötü havayı uyuyan kişiden uzaklaştırır," dedi. "Air-X gece daha kaliteli bir dinlenme olanağı sağlamak için sıcağı ve terlemeyi azaltır. Flow yastık koleksiyonu, uyuyanlar için çapraz havalandırma, konfor ve temiz bir uyku ortamı sağlayan havalandırma kısmı tasarımı da dâhil olmak üzere gelişmiş hava akımı teknolojisi sayesinde yoğun hava akışını sağlar. Bu yönü onu benzersiz kılar."
Flow'un kişisel uyku tercihlerine yönelik dört ayrı yüksekliği, boyu mevcuttur. En alçak yastık, yani 0.0 boy bir havalandırma kısmı, üstte ve altta bir file parçası içerir. 1.0, 2.0 ve 3.0 olarak sıralanan diğer üç boy ise 10 havalandırma kısmı içerir ve tüm yanları filedir. Sadece 0.0 boy olan yastık çift taraflı değildir; bu tek odacıklı yastık sürekli bir konfor sağlar. Flow yastık koleksiyonunda ayrıca temiz ve sağlıklı bir uyku ortamı sağlamak için fermuarlı çıkarılabilir ve yıkanabilir bir kılıf bulunur.