Nino, the children and teen brand of Kilim Furniture, one of the most important furniture brands of Turkey, addresses to different age groups and life styles. Kilim Furniture invites the children to the adventure with its combination of grey and rose of "Dubleks" and blue & white transition of its "Ekol" brand.          
Nino, children furniture brand of Kilim Furniture, one of the most important brands of Turkey, attracts attention with its chic and full of adventure designs.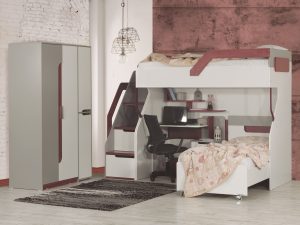 To happy mornings…
Making different living spaces with its design, Dubleks Teen Room sets make the time of youths spent in their rooms pleasant. While Dubleks Teen Room helps the youth to wake up happily, color combination of teen room generates a fresh and light image. The model can be arranged with its design advantages for the usage of one or two kids.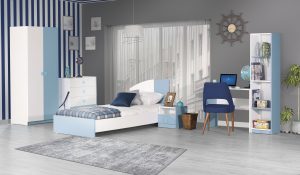 The newest way of minimalizing untidiness is Ekol Teen Room
Ekol Teenager Furniture helps to save living spaces from ordinariness. Adding a new dimension to the living spaces with its innovative details, the furniture answers all kinds of needs while minimalizing mess in the rooms. Ekol offers teenagers spaces which could be used for many years with its color harmony where they can spend pleasant times.
#kilim, #teen rooms, #Kilim Furniture, #Nino, #Dubleks, #blue & white, #Ekol,