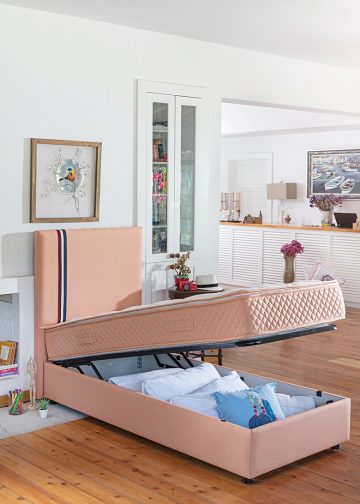 Offering a personalized sleep opportunity, Lova Yatak enables people to determine the most suitable mattress for them with the "Lova Sleep Test". It offers heat and moisture control to its customers with its new generation patented spring systems, memory foam technique and "Dry-Soft" technology that transfers heat and moisture. Lova designs a hygienic sleep environment thanks to its effective antibacterial properties and "Aegis" technology approved by international organizations. Drawing attention with its projects, Lova received the "Woman-Friendly Brand of the Year" award with its project "100 Women Dealers with Lova – You Are The Boss Of Your Business With Zero Capital". Growing with both its products and projects, Lova's Commercial Marketing and Development Director Ayhan Özcan informed us about Lova's goals and projects.
I want to start my questions with the pandemic period. What experiences have you had during this period?
At the beginning of the pandemic period, there was a decrease in visits and sales, but the density started to increase in May. With the bigger steps of the new normalization, there was a significant increase in sales in June. The effects of sleep on the immune system and hygiene during the pandemic period were frequently emphasized by experts. This situation directly affected the purchasing behavior of customers. We observed this easily, especially due to the common features of the products sold and the increase in sales. We urgently increased our measures to protect the health of our staff and customers in this process. We started our online sales channel by accelerating our infrastructure works and processes in this field. Thus, we have provided our customers with a shopping experience without leaving their homes. Thanks to our sales specialists' meetings on Whatsapp, we showed our stores and products and gave our customers a remote shopping experience. We started to serve in the highest hygienic conditions with disposable mattress test pads in our stores.
What are the most important factors in the production phase?
The production phase is the lifeblood of the brand. The design processes of all our products are based on trend research reports and customer experiences. We constantly observe every stage, from raw material purchasing to the machines used in our production facilities, and we work to be better with our R&D processes. Our main principle is to provide our customers with a healthy, hygienic and safe sleeping area. There have been changes in our product range due to changing consumer trends recently. Our products such as dirt and stain-proof, germ-free, washable mattresses with covers and pads, washable bedding sets, pillows and quilts are in high demand from our users lately. Before the pandemic period, we started our R&D processes for a hygienic and healthy sleep and accelerated this process during the pandemic period.
How are your work in e-commerce going?
You can see all the products in the Lova collection on our e-commerce site. The most important thing when preparing the site was to speed up e-commerce. We have taken initiatives to save time and effort without tiring our customers. Our sleep test on our site plays a critical role in helping our customers reach the right mattress.
What do you aim in your R&D processes?
Lova is in a different position from other brands with its personal anatomical solutions and mattresses suitable for every body type. We are very assertive in this area. We always design more advanced and innovative solutions with the idea of "The Best Sleep" in our R&D processes.
I wonder about the specific work you do to improve sleep quality. What are you doing about this topic? What kind of work do you have for adults and children?
We develop mattresses according to different body anatomy for a healthy and good sleep. Thus, we offer personalized solutions with our products that focus on health problems. Our product named "Young Star", which we designed for young people, is completely aimed at young people. Young Star's layers are designed according to the muscle, blood circulation and skeletal structure that occurred during adolescence. We also have a variety of mattresses for the needs of adults and health problems. For example, we have the Lova Algua Wellness model enhanced with Spirulina algae. This model provides a dynamic start to the new day by charging the body during sleep thanks to its special capsule technology. The natural algae extract in the micro-capsules in the fabric on the mattress opens with friction during sleep and releases the spirulina molecules that renew the body. Containing 11 kinds of natural vitamins, 10 kinds of minerals, 18 kinds of amino acids, iron, protective antioxidants and proteins, spirulina refreshes your energy by strengthening your immune system while you sleep.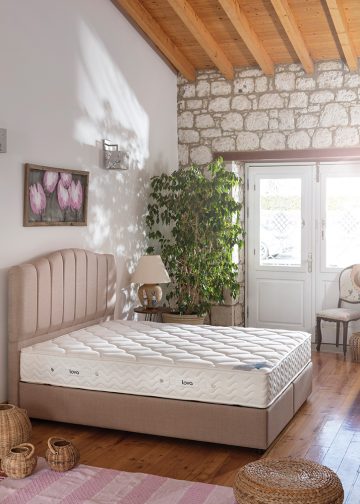 Which regions do you export to?
We export our products to 28 countries in Europe, Asia, Africa and America, including our group brands Doğtaş and Kelebek. We offer our healthy, safe and comfortable sleep products to consumers all over the world.
I want to learn about your goals and plans in the industry.
2021 will be the year of investment for us. In this context, we will increase our branding and retailing investments. We aim to have a bigger share in the mattress industry where we are one of the new players.
Finally, you received an award for a project in the field of "100 Women Dealers". Could you give detailed information about your project? What kind of projects do you have of this type or different from this?
We started our work to support women's employment with a project we collaborated with KOSGEB last year. Our women entrepreneurs who want to open a Lova store will be able to receive a certificate after completing the training of KOSGEB. In this sense, we support our women entrepreneurs. Our women become the bosses of their own businesses with the support of KOSGEB. Lova received the "Woman-Friendly Brand of the Year" award with the project "100 Women Dealers with Lova – You're the Boss of Your Business with Zero Capital" initiated with KOSGEB with the support of the Ministry of Industry and Technology in 2020. We are very proud to receive this award.
Kadın dostu Lova, yatak sektöründeki konumunu sağlamlaştırıyor 
Aldığı ödülle kadın dostu bir marka olduğunu kanıtlayan şirket, ürünleri ve projeleriyle yatak endüstrisindeki konumunu sağlamlaştırıyor.
Kişiye özel uyku fırsatı sunan Lova Yatak, "Lova Sleep Test" ile insanların kendilerine en uygun şilteyi belirlemesini sağlıyor. Yeni nesil patentli yay sistemleri, hafızalı sünger tekniği ve ısı nem transferi yapan "Dry-Soft" teknolojisi ile ısı ve nem kontrolünü müşterilerine sunuyor. Lova, kumaşa kazandırdığı etkili antibakteriyel özellikleri, uluslararası kuruluşlar tarafından onaylanan "Aegis" teknolojisi sayesinde hijyenik bir uyku ortamı dizayn ediyor. Yaptığı projelerle de dikkat çeken Lova, "Lova ile 100 Kadın Bayi-Sıfır Sermayeyle İşinin Patronu Sensin" projesiyle "Yılın Kadın Dostu Markası" ödülüne layık görüldü. Hem ürünleri hem de projeleriyle büyüyen şirketin Ticari Pazarlama ve Geliştirme Direktörü Ayhan Özcan, Lova'nın hedefleri ve projeleriyle ilgili bizleri bilgilendirdi.
Sorularıma Pandemi dönemiyle başlamak istiyorum. Bu periyotta ne gibi deneyimler elde ettiniz?
Pandemi periyodunun ilk başında ziyaretlerde ve satışlarda azalma oldu ancak Mayıs ayı itibariyle yoğunluk artmaya başladı. Yeni normalleşmenin daha büyük adımlarının atılmaya başlandığı Haziran ayında ise, satışlarda gözle görülür ciddiyette bir artış oldu. Pandemi periyodunda, uykunun bağışıklık sistemine olan etkisinin ve hijyenin uzmanlar tarafından sıklıkla vurgulanması, müşterilerin satın alma davranışlarını da doğrudan etkiledi. Özellikle satılan ürünlerin ortak noktalarından ve satışlardaki ivmenin yükselmesinden bunu rahatlıkla gözlemledik. Bu süreçte, personellerimiz ve müşterilerimizin sağlığını koruma anlamında önlemlerimiz alarm durumunda artırıldı. Online satış kanalımızı, bu alandaki altyapı çalışmalarımızı ve süreçlerimizi hızlandırarak bu dönemde hayata geçirdik ve müşterilerimize evden çıkmadan alışveriş deneyimi sunduk. Whatsapp üzerinden satış uzmanlarımızla yapılan görüşmeler sayesinde, müşterilerimize mağaza ve ürünlerimizi gezdirerek uzaktan alışveriş deneyimi yaşattık. Mağazalarımızda tek kullanımlık yatak deneme pedleriyle, en üst seviyede hijyenik koşullarda hizmet vermeye başladık.
Üretim aşamanızda en çok dikkat ettiğiniz şeyler nelerdir?
Üretim süreci elbette markanın can damarını oluşturuyor. Tüm ürünlerimizin tasarım süreçleri, trend araştırma raporlarına ve müşteri deneyimlerine dayanıyor. Ham madde alımından, üretim tesislerimizde kullanılan makinelere kadar her aşamayı, sürekli takip ve AR-GE çalışmalarımızla her zaman daha iyiye taşımak için çalışıyoruz. Ana ilkemiz; müşterilerimizin sağlıklı, hijyenik ve güvenli bir uyku uyumaları. Son dönemde değişen tüketici trendlerine göre ürün gamımızda da değişimler oldu. Kir ve leke tutmayan, mikrop barındırmayan, kılıflı ve pedli olan yıkanabilir yataklarla, yatak koruyucu alez, yıkanabilen nevresim takımı, yastık, yorgan gibi ürünlerimiz son dönemde kullanıcılarımızdan çok talep görüyor. Biz pandeminin öncesinde başladığımız ve pandemiyle hızlandırdığımız, hijyenik ve sağlıklı uyku için AR-GE çalışmalarımızı hız kesmeden devam ettiriyoruz. 
E-ticaret alanındaki çalışmalarınız nasıl gidiyor?
Lova koleksiyonundaki ürünlerin tamamını bugün e-ticaret sitemizde yer alıyor. Siteyi yayına alırken en önemli noktamız e-ticarete hız vererek müşteriyi yormayan, satın almada zaman kazandıracak atılımlarda bulunmak oldu. Sitemiz üzerinden yapılabilecek uyku testimiz de kullanıcılarımızın kendileri için en doğru yatağa ulaşmasında kritik bir rol oynuyor.
AR-GE süreçlerinizde neyi hedefliyorsunuz?
Lova, kişiye özel anatomik çözümleri ve her vücut tipine uygun yataklarıyla diğer markalardan ayrışıyor. Biz bu alanda oldukça iddialıyız. AR-GE çalışmalarımızda da hep daha ileri ve yenilikçi çözümleri "En İyi Uyku" konseptinden hareket ederek oluşturuyoruz.
Uyku kalitesini artırmak için yaptığınız özel çalışmaları merak ediyorum. Bu konu hakkında neler yapıyorsunuz? Yetişkinler ve çocuklar için ne tür çalışmalarınız var?
Lova Yatak olarak, sağlıklı ve iyi bir uyku için farklı vücut anatomilerine göre yataklar geliştiriyoruz. Böylece sağlık sorunlarına odaklanan ürünlerimizle kişiye özel çözümler sunuyoruz. Young Star ismindeki ürünümüz özellikle gençler için üretilmiş bir yatak. Young Star'ın özel çalışılmış katmanları, ergenlik döneminde şekillenen kas, kan dolaşımı ve iskelet yapısı göz önünde bulundurularak tasarlandı. Yetişkinler için de kendi ihtiyaçlarına ve sağlık sorunlarına yönelik yatak çeşitlerimiz bulunuyor. Örneğin, Spirulina yosunu ile güçlendirilmiş Lova Algua Wellness modelimiz; özel kapsül teknolojisi sayesinde, uyku sırasında vücudu şarj ederek yeni güne dinamik bir başlangıç yapmanızı sağlıyor. Yatağın üzerindeki kumaşta bulunan mikro-kapsüllerin içerisinde bulunan doğal alg özü, uyku sırasındaki sürtünme ile açılıyor ve vücudu yenileme özelliğine sahip spirulina moleküllerini serbest bırakıyor. İçerisinde 11 çeşit doğal vitamin, 10 çeşit mineral, 18 çeşit amino asit, demir, koruyucu antioksidanlar ve proteinler bulunduran spirulina, siz uyurken bağışıklık sisteminizi güçlendirerek enerjinizi tazeliyor.
Hangi bölgelere ihracat yapıyorsunuz?
Ürünlerimizi, grup markalarımız olan Doğtaş ve Kelebek'in de bulunduğu Avrupa, Asya, Afrika ve Amerika kıtalarında 28 ülkeye ihraç ederek; sağlıklı, güvenli ve konforlu uyku ürünlerini tüm
Sektördeki hedeflerinizi ve planlarınızı öğrenmek istiyorum.
Lova için 2021 yılı yatırım yılı olarak belirlendi. Bu kapsamda, markalaşma ve mağazalaşma yatırımlarımızı artırarak, en yeni oyuncularından biri olduğumuz yatak sektöründe daha büyük bir paya sahip olmayı hedefliyoruz.
Son olarak, "100 Kadın Bayii" alanında bir proje ile ödül aldınız. Projeniz hakkında kapsamlı olarak bilgi verebilir misiniz? Bu tür veya farklı ne tür projeleriniz var?
Geçtiğimiz yıl, KOSGEB işbirliği ile gerçekleştirdiğimiz bir proje ile kadın istihdamını destekleme çalışmamızı hayata geçirdik. Lova yatak mağazası açmak isteyip KOSGEB'in eğitimini tamamladıktan sonra sertifika alacak kadın girişimcilerimize destek veriyoruz. KOSGEB'in desteğiyle kadınlarımız kendi işlerinin patronu oluyorlar. Bu yıl da Lova Yatak, 2020 yılında Sanayi ve Teknoloji Bakanlığı'nın himayesinde KOSGEB ile hayata geçirilen "Lova ile 100 Kadın Bayi-Sıfır Sermayeyle İşinin Patronu Sensin" projesiyle "Yılın Kadın Dostu Markası" ödülüne layık görüldü. Biz bu ödülü almaktan ötürü gurur duyuyoruz.
Editor
Ethem Sündük | [email protected]