CIFF is a respectful world brand happening in Guangzhou in March and in Shanghai every September. This September has seen a great edition of CIFF again recording a big flow of visitors and a wide variety of innovative products displayed. The fair boasted whole category of exhibits which covers the entire industry chain of upstream and downstream home furnishing, with design home furnishing and international home furnishing as the core, including sleeping furniture, sofa and living & dining furniture, office and commercial furniture and hotel furniture, furniture manufacturing equipment, accessories and home textiles, outdoor furnishing.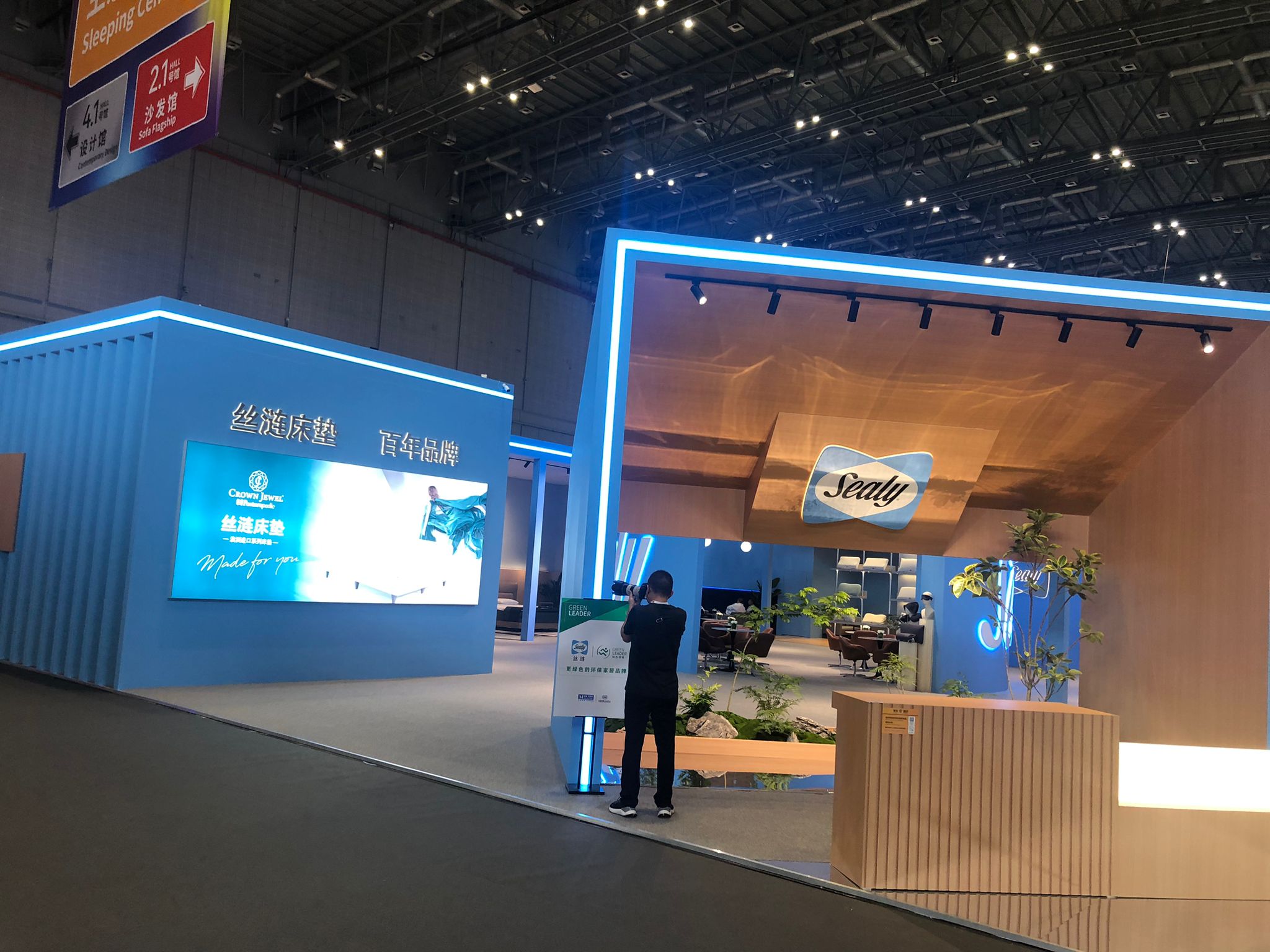 After more than 8 years of development, China International Furniture Fair Shanghai has always adhered to the principle of winning quality domestic market as top priority, integrating exhibition and stores for energy endowment and combining top design brands and industry leading brands to enhance each other's radiance.
This year's edition of CIFF-Shanghai has aroused a great interest from industry professionals in terms of both visitors and exhibitors. We saw that every corner of the halls had been designed with attractive exhibits and interested professionals were very busy with them.
As the world leading professional home furnishings exhibition, CIFF Shanghai was held with CIFF Shanghai Equipment Exhibition, CIFF Commercial Office Space Exhibition, CIFF Trend Life Aesthetics Exhibition and CIFF Urban Outdoor Exhibition over the same period, CIFF has attracted more than 1,500 brands and nearly 150,000 visitors in each session.
The Fair is committed to 365-day all-channel marketing and build a win-win diversified home furnishings ecosystem.
China International Furniture Fair Shanghai has built a design hall with great efforts to generate a new highland for original home design in China, the main position for commercial design brand promotion and distribution, and become the premier exhibition of home furnishing commercial design in China. The world's top design brands showed up with new products, presenting a new style of home furnishing design for the industry.
Aiming at the characteristics of home furnishing products, it gathers resources such as product designers, interior designers, contemporary designers and cross-border designers, with a database of more than 100,000 domestic designers to accurately attract high-end design professionals. At the same time, a series of design activities and special exhibitions were held, empowering the high-quality development of the home furnishing industry.
Through internationalization, globalization, and multi-channel promotion and invitation, deeply integrating resources and channels, gathering global home furnishing professional media, and building an international economic and trade cooperation platform; in response to the needs of foreign trade enterprises and brands that intend to explore overseas markets, building a resource pool of overseas buyers in advance to attract professional buyers from all over the world; making a plan to attract international buyers by providing warm and convenient exclusive services, to facilitate business cooperation, CIFF Shanghai did its best and managed all these goals.
52'nci CIFF Şanghay'ın "Tüm Ev" konsepti ve "Uyku Merkezi" profesyonelleri etkiledi
* Çin'de uluslararası mobilya ve mefruşat alımlarının ilk adresi olan CIFF, Çin Uluslararası Mobilya Fuarı, ev mobilyalarının tüm segmentlerini kapsadı ve "Uyku Merkezi" adı verilen özel bir alanla uyku ürünleri konusunda büyük bir ilerleme kaydetti
CIFF, her mart ayında Guangzhou'da ve her eylül ayında Şangay'da gerçekleşen saygın bir dünya markası. Bu Eylül ayında da CIFF büyük bir ziyaretçi akınına ve sergilenen çok çeşitli yenilikçi ürünlere sahne oldu. Fuar, uyku mobilyaları, kanepe ve oturma ve yemek mobilyaları, ofis ve ticari mobilyalar ve otel mobilyaları, mobilya üretim ekipmanları, aksesuarlar ve ev tekstili, dış mekan mobilyaları dahil olmak üzere tasarım ev mobilyaları ve uluslararası ev mobilyaları ile her türlü ev mobilyalarının tüm endüstri zincirini kapsayan bütün sergi kategorilerine sahipti.
8 yılı aşkın bir süredir gelişmekte olan Çin Uluslararası Mobilya Fuarı Şangay (CIFF-ŞANGAY), her zaman birinci öncelik olarak kaliteli iç pazarı kazanma ilkesine bağlı kalmış, enerji desteği için sergi ve mağazaları entegre etmiş ve birbirlerinin ışıltısını artırmak için en iyi tasarım markalarını ve sektör lideri markaları bir araya getirmiş bir etkinlik.
CIFF Şangay'ın bu yılki organizasyonu hem ziyaretçiler hem de katılımcılar açısından sektör profesyonellerinden büyük ilgi gördü. Salonların her köşesinin çekici sergilerle tasarlandığını ve ilgili profesyonellerin bunlarla çok meşgul olduğunu gördük.
Dünyanın önde gelen profesyonel ev mobilyası fuarı olan CIFF Shanghai, aynı dönemde CIFF Shanghai Equipment Exhibition, CIFF Commercial Office Space Exhibition, CIFF Trend Life Aesthetics Exhibition ve CIFF Urban Outdoor Exhibition ile birlikte düzenlendi ve her etkinlikte 1.500'den fazla marka ve yaklaşık 150.000 ziyaretçi çekmiştir.
Fuar, 365 gün boyunca tüm kanallardan pazarlama yapmaya ve kazan-kazan şeklinde çeşitlendirilmiş bir ev mobilyası ekosistemi oluşturmaya kararlı.
Çin Uluslararası Mobilya Fuarı Şangay, Çin'de orijinal ev tasarımı için yeni bir tarz, ticari tasarım marka tanıtımı ve dağıtımı için ana konum oluşturmak ve Çin'de ev mobilyası ticari tasarımının önde gelen fuarı olmak için büyük çabalarla bir dizayn salonu inşa etti. Dünyanın en iyi tasarım markaları yeni ürünleriyle boy gösterdi ve sektör için yeni bir ev mobilyası tasarımı tarzı sundu.
Ev mobilyası ürünlerinin özelliklerini hedefleyen fuar, üst düzey tasarım profesyonellerini doğru bir şekilde çekmek için 100.000'den fazla yerli tasarımcıdan oluşan bir veri tabanı ile ürün tasarımcıları, iç mimarlar, çağdaş tasarımcılar ve sınır ötesi tasarımcılar gibi kaynakları bir araya getirdi. Aynı zamanda, ev mobilyası endüstrisinin yüksek kaliteli gelişimini güçlendiren bir dizi tasarım etkinliği ve özel sergi düzenlenmiştir.
Uluslararasılaşma, küreselleşme ve çok kanallı tanıtım ve davet yoluyla, kaynakları ve kanalları derinlemesine entegre ederek, küresel ev mobilyası profesyonel medyasını bir araya getirerek ve uluslararası bir ekonomik ve ticari işbirliği platformu oluşturarak; denizaşırı pazarları keşfetmek isteyen dış ticaret işletmelerinin ve markalarının ihtiyaçlarına yanıt olarak, dünyanın her yerinden profesyonel alıcıları çekmek için önceden denizaşırı alıcılardan oluşan bir kaynak havuzu oluşturmak; iş işbirliğini kolaylaştırmak için sıcak ve uygun özel hizmetler sunarak uluslararası alıcıları çekmek için elinden geleni yaptı ve bütün bu hedefleri gerçekleştirmeyi başardı.