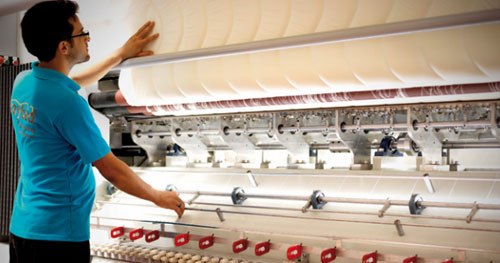 By the support from its automatic assembly line, KAYBED has a production capacity of 1,000 mattress/day installed on modern and hygienic facilities planted on 10,000 square meters area located at Kayseri Organized Industrial Zone.
As well as having an expertized and experienced line in the sector, KAYBED with its INNOVATIVE mark aims to increment standard line of mattress manufacturing in the sector by its MODERN production and marketing apprehension. KAYBED which has a sense of social responsibility consciousness and shows respect to ethical values yet innovative plays an important and pioneering role in the sector. The company strengthens its corporate management pattern and develops strategies that increases yield in local and international markets by stable and balanced growth. Each phase of integrated production line was programmed to proceed from scratch. Each piece of raw material which is to be processed enters to line from starting point and they become a component to be used in mattress manufacturing. During these procedures, by showing a environmental friendly approach and SENSITIVITY, none of materials which are risky to public health and not in accordance with international standards shall be used. Combining quality with aesthetics and elegance, KAYBED offers latest trends complemented with its style to its customers. Mattresses, Base, Headboard and Mattress Products are standing ready at KAYBED's modern factory and warehouse facilities. KAYBED who combines numerous technologies, has a customer oriented production mission in its "MATTRES FACTORY". Towards this mission; KAYBED targets unconditional customer satisfaction by keeping product design and QUALITY at its best, accomplishing after sales services with care and steadiness. One of the most important exceptions that makes KAYBED distinctive from other manufacturers is that it designs products that fit other countries' sleeping culture and needs, tastes and expectancies. KAYBED, being particularly named as "PRIVATE LABEL" and positioned as a manufacturing vendor; offers special branding, collections and designs according to demands. KAYBED sees each customer as a new project and deals with identical interest, thus, is glad that customers have their products at their homes.
Why you should choose KAYBED?
•KAYBED is a important player of the mattress sector. KAYBED has Turkey's most modern production plant, and it's production is full automatic plant on 10.000 SQM. At the same time, it manufactures special handmade mattresses.
•Wide range of Products thanks different materials: Bonnel, Pocket Spring, Memory Foam (Visco) and Latex are part of the production from KAYBED. Furthermore KAYBED has an extra capacity for the production of mattress covers.
•With its innovative packing systems, KAYBED is able to do customer-driven, hygienic and steady packing with its roll, press and duplex plastic technics.
•Of course, we benefit from the longtime experiences of Mert Makina, which is under the same Group as us  Mert Group. Mert Makina produces for several years machines for the mattress sector and has an important position in this category.
•We are in possession of Quality Certificate ISO 9001: 2008 and go on with continuous, powerful and innovative R&D activities.
•KAYBED which is experienced in the topic of Hotel Mattresses, have created a separate collection for this target group.
•KAYBED is actively involved in government projects.
•KAYBED opens up to the domestic market with its location which can be regarded as central Turkey, and to the whole World thanks to its proximity to the Mersin Port.
•One of KAYBEDs main target for the year 2015 is to export in 50 countries.
KAYBED's Private Label Program
"Trademarks are international on the advance"- This showed a study (sketch), from the market research enterprise ACNielsen, which had examined (by the order of the world association of the private Label Manufacturers (www.plma. com)) in 38 countries the business with trademarks in more than 80 categories. Why you should wait? With our Private Label Program we design and produce, in addition to our collection, customized and exclusive products for distributors and retailers under their own brand.