Homevs hits to the point by determining the needs right
People seek different aspects of mattresses while deciding on their choices, such as practicality, durability, aesthetics or orthopedics. Homevs aims to provide maximum satisfaction of users by determining their changing needs. Koray Donmez, general manager, commented on raw material demand of the industry for Sleep Well.
Would you mention about products you offer to the market?
Mattress can be defined as a tool designed to provide comfort and well being to the basic needs of rest and social-cultural activities which occupy a large part of people's daily life. Addressing to the domestic and global projects, our firm is able to produce a wide range of mattresses to the needs of homes, hotels, hostels, hospitals backed by high quality products and production technologies sold through a large network of sellers. For us, it is highly important to get data about prospective demand, usage of products, and profiles of buyers and companies while determining their needs realistically.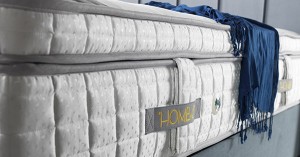 What kinds of raw materials do you need for production? Which ones are most demanded?
It can be said that individuals consider on a combination of basic factors such as a waiting expectancy, ease of use, strength, aesthetics and health. In order to provide these elements in an ideal bed, it is necessary to design the bed so that it can be adequately responded to its usage requirements and completely fulfilled the expected comfort, before converting the bed to the final product to be produced. Our beds have natural features such as horsehair, camel wool, cashmere, coco, latex, cotton, linen, viscose and wool. Besides, our CNC cutting hyper soft sponge beds and visco sponge products are available. Human health is kept on the front in our company, so, non-carcinogenic raw materials are used in the production when they pass the necessary tests and documents. In line with recent increase in the demand for natural textured bedding and textile products, we can say that our sales of horsehair beds and cotton products are ranked at the top of the list.
How does your production process work? Would you give information about your production facilities?
Considering the human needs and the trend of the year, new products have been designed by our R&D department and they are produced through hygienic and optimum processes in our high-capacity facility equipped with technological machinery park. Raw material, product stock control, proper planning, production and timely and damage free shipments contributes to the customer satisfaction.
If we take the first quarter, what are Homevs' expectations for the sector in 2017?
Considering the political and geographical conjuncture in the country and in the region, we think that the year 2017 will be more efficient and stable. We expect that the contribution of our sector to the national economy will be better for the year in terms of  employment, stability and productivity.
What inspires Homevs while designing mattresses and the use of technology?
Designers of our company are influenced by various events according to the work done in the life cycle, according to the mood of the people or the environment they are in, so that ideas can come out to inspire some design opportunities. If you think and analyze deeply small ideas can lead to  great works. So, as Homevs, we come up with different design resources that allow us to perceive and think together with the relaxed body, or to handle the existing integrity in the environment differently.
#Homevs, #KorayDonmez