With no help from anyone, you can restore your yellowed beds with the materials in your home! Cleaning the yellowed beds may seem hard work at first. In fact, it is not as difficult as it seems. However, this will not be difficult when you use practical methods. Lavender oil, baking soda, vinegar, oxygenated water, bleach and many other practical substances are the most important materials in fighting yellowed beds. Thanks to the mixes you can easily prepare, you will see that your yellowing beds turn out to be white again.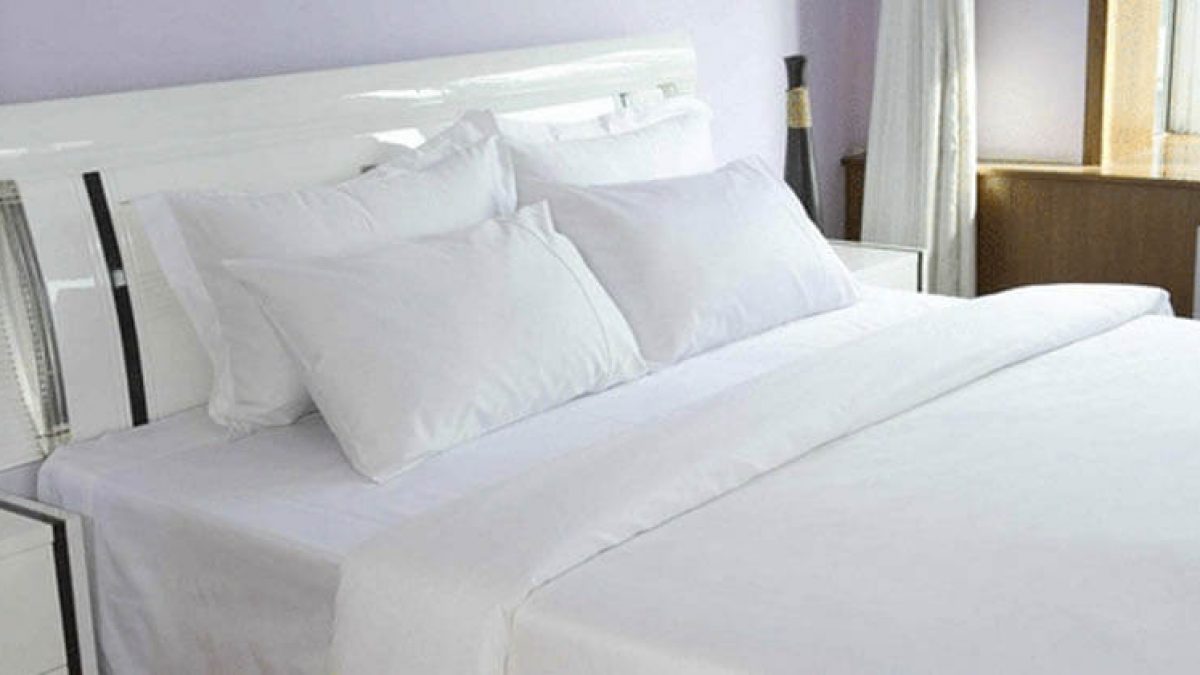 Cleaning with baking soda
There are many tasks that baking soda undertake in cleaning. Carbonate takes the first place in yellowing bed cleaning.
First, vacuum your bed with a vacuum cleaner. In this way, you will have cleaned of dirt, dust and dead skin.
Your bed is now ready to be cleaned with a baking soda mixture.
Add a few tablespoons of baking soda into a bucket of cold water and mix well.
Dip the cleaning cloth in this water and wipe all over your bed.
You can do this once a month.
Cleaning with white vinegar
White vinegar is very ambitious about surface whitening and removing stains.
First, put warm water in a bucket.
Then add 2 tablespoons of white vinegar.
Dip a microfiber cloth into this bucket and wipe it all over your bed.
Apply this method every 1-2 months.
Bleach also cleans
One of the indispensable cleaning products of every house, bleach becomes the number one enemy of the yellowed beds!
Put 1 cap of bleach in a deep bucket and half cold water.
Dip the microfiber cloth into this mixture and wipe it away.
If you rub it, all stains will be removed.
Be careful not to use this method frequently, as bleach is a heavy cleaning product and should not be used very often.
Tips for a clean bed
You can do many things so that your bed does not turn yellow.
Use protectors (alezes) for mattresses. The mattress protector is a very useful item and can be easily washed in the washing machine.
Take care your mattress by turning it seasonally. In this way, you will delay the yellowing and aging of the mattress.
Ventilate the bed frequently. Make sure it gets sunlight. You may be very surprised when you witness that it looks as new as the first day you bought it!
Sararan yataklar nasıl bembeyaz edilir?
Herkes kullandığı yatağın hep bembeyaz kalmasını ister. Fakat dış etkenler ve bazen sadece zaman faktörü sebebiyle bu durum her zaman böyle olmayabilir. Bu da oldukça can sıkıcı bir durumdur. İşte bu sıkıntı hakkında ferahlatıcı birkaç formül.
Kimseden yardım almadan, evinizde bulunan malzemelerle sararmış yataklarınızı tekrar eski hallerine kavuşturabilirsiniz! Sararmış yatakları temizlemek ilk başta zor bir iş gibi görünüyor olabilir. Aslında görüldüğü kadar da zor değil. Ancak, bu durum pratik yöntemlerden yararlandığınız zaman zor olmaktan çıkacak. Lavanta yağı, karbonat, sirke, oksijenli su, çamaşır suyu ve daha birçok pratik madde, sararmış yataklarla savaşmada en önemli yardımcılar oluyor. Basit bir biçimde hazırlayabileceğiniz karışımlar sayesinde sararan yataklarınızın yine özlediğiniz bembeyaz hale dönüştüğünü göreceksiniz.
Karbonat ile temizlik
Karbonatın temizlik konusunda üstlendiği pek çok görev var. Sararmış yatak temizliği konusunda da karbonat ilk sırada yer alıyor.
Öncelikle elektrikli süpürge ile yatağınızı süpürün. Bu sayede kir, toz ve ölü derilerden yatağınızı arındırmış olacaksınız.
Yatağınız artık karbonat karışımı ile temizlenmeye hazır.
Bir kova soğuk su içerisine birkaç yemek kaşığı karbonat ekleyip iyice karıştırın.
Temizleme bezini bu suya batırıp yatağınızın her yerini silin.
Bu işlemi ayda 1 kez yapabilirsiniz.
Beyaz sirke ile temizlik
Beyaz sirke yüzey beyazlatma ve lekeleri çıkarma konusunda oldukça iddialıdır.
Öncelikle bir kova içerisine ılık su koyun.
Daha sonra 2 yemek kaşığı kadar beyaz sirke ekleyin.
Mikrofiber bir bezi bu kovaya batırıp çıkarın, bu bezle yatağınızın her yerini silin.
Bu yöntemi 1-2 ayda bir uygulayın.
Çamaşır suyu da temizler
Her evin vazgeçilmez temizlik ürünlerinden biri olan çamaşır suyu, sararmış yatakların bir numaralı düşmanı oluyor!
Derin bir kova içerisine 1 kapak çamaşır suyu ve yarısına kadar da soğuk su koyun.
Bu karışıma mikrofiber bezi batırıp çıkarın ve yatağınızı silin.
Ovarak silerseniz tüm lekeler çıkacaktır.
Bu yönteme sık sık başvurmamaya özen gösterin, çamaşır suyu ağır yapıda bir temizlik ürünü olduğu için çok sık kullanılmamalıdır.
Temiz yatak için ipuçları
Yatağınızın sararmaması için birçok şey yapabilirsiniz.
Şilte için koruyucu kullanın. Yatak koruyucusu oldukça kullanışlı bir eşyadır ve çamaşır makinesinde kolayca yıkanabilir.
Şilteyi mevsimsel biçimde çevirmeye özen gösterin. Bu şekilde yatağın sararması ve eskimesini de geciktirmiş olacaksınız, mutlaka deneyin deriz!
Yatağı sık sık havalandırın. Güneş ışığı almasını sağlayın. İlk aldığınız günkü kadar yeni göründüğüne şahit olduğunuzda fazlasıyla şaşırabilirsiniz!