The leading brand of Turkish bedding industry, Armis Yatak adds to its Hybrid Series the Samoa Collection, a collection attracting attention with its spectacular lines and comfortable sleeping standard. The Samoa Collection comprised of a headboard, bed base and bed, all manufactured with the next generation machinery of Armis Yatak, brings in an elegant look to bedrooms.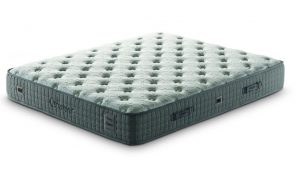 The Samoa Bed offers long-awaited incessant pleasure of sleeping with the ideal compatibility of the hyper sponge and packaged spring system as well as its silky upper surface. The packaged spring system providing support to the body also adapts itself to the bodily ergonomics of spouses, who have different anatomies, through its ability to react independently of each other. Besides a high-quality sleeping experience, the anatomic support is continuously provided despite changing positions during sleep. The Samoa Bed Case supplementing the collection draws attention with its specially-produced foots enabling facilitated cleaning of the floor underneath as well its vast inner space. The Samoa Headboard produced with the outer coating featuring the same material with the Samoa Bed Case introduces a distinct style to bedrooms with its elegant design and fine craftsmanship.
The Armis Yatak range of products includes the white products group featuring duvets, pillows, drawsheets, and baby sets besides beds, bed cases, headboards and footboards. Pursuing its studies for always offering to its customers the best-quality and most novel products with affordable prices through its motto of a 'Swell Sleeping Experience', Armis Yatak presents all its products at Armis Shops or online sales channels.