The association, continuing its efforts to make Turkey one of the 5 largest countries in the world in furniture production and export, started its moves in order to increase the power of the sector in the domestic market, considering that it is necessary to be powerful at home, in order to achieve the said goal, MOYSAD, prepared to reveal its unifying power in the furniture sector at the Furniture Sector Meetings, which it will start in September, will examine the future of the sector at these events.
All components will be together
It is aimed to take the sector to the next level with problems and solution suggestions in the events where all components of the furniture from fabric to rubber, spring to foam will be discussed and examined in detail.
Five centers of the furniture sector
At the sector meetings to be held in Istanbul, Ankara, Izmir, Kayseri and Inegol under the moderation of famous names, the leading companies and brands of the sector that support furniture in the relevant centers will come together in a series of panels, and they will have the opportunity to evaluate possible collaborations through bilateral meetings.
First stop Kayseri
While the first of the sector meetings, starting from September, to be held in a region every month will be held in Kayseri, İnegöl in October, Ankara in November, İzmir in December and Istanbul in January will host these meetings. Within the scope of the meetings where cooperation will be held with sector associations, chambers of commerce and industry and non-governmental organizations in the region, the solutions will be sought for all problems of the sector.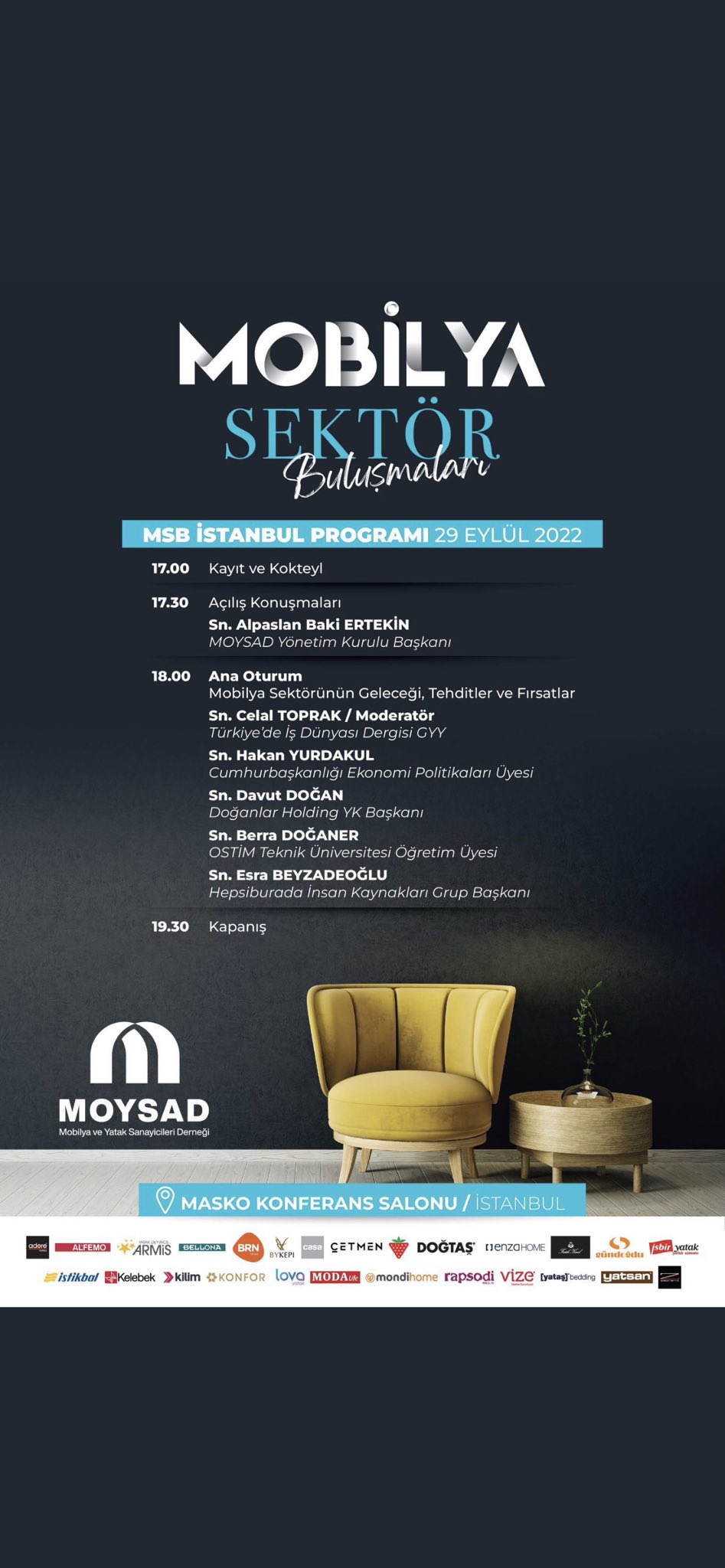 Mobilya Sektör Buluşmaları İçin Geri Sayım Başladı…
Türkiye'nin en önemli mobilya ve yatak markalarının tek çatı altında toplandığı Mobilya ve Yatak Sanayicileri Derneği (MOYSAD) tüm Türkiye'yi kapsayacak sektör buluşmaları etkinliği için geri sayıma başladı. Türkiye'nin en önemli mobilya üretim merkezlerinden; İstanbul, Ankara, İzmir, Kayseri ve İnegöl'de yapılması planlanan buluşmaların startı ise Eylül ayında Kayseri'de verildi.
Türkiye'yi mobilya üretim ve ihracatında dünyanın en büyük 5 ülkesinden biri haline getirmek amacıyla çalışmalarını sürdüren dernek, söz konusu hedefe ulaşmak için öncelikle kaleyi içten güçlendirmek gerektiği düşüncesinden hareketle sektörün iç piyasadaki gücünü artırabilmek adına hamlelerine başladı. Mobilya sektöründeki birleştirici gücünü Eylül ayında start vereceği Mobilya Sektör Buluşmaları'nda ortaya koymaya hazırlanan MOYSAD, söz konusu etkinliklerde sektörünün geleceğini mercek altına alacak.
Tüm bileşenler bir arada yer alacak
Mobilyanın vücut bulduğu; kumaştan kauçuğa, yaydan süngere kadar olan tüm bileşenlere yönelik sektörün en ince detaylarına kadar masaya yatırılarak inceleneceği etkinliklerde sorun ve çözüm önerileri ile birlikte sektörün bir üst seviyeye taşınması hedefleniyor.
Mobilya sektörünün beş merkezi 
Ünlü isimlerin moderatörlüğünde İstanbul, Ankara, İzmir, Kayseri ve İnegöl'de düzenlenecek olan sektör buluşmalarında ilgili merkezlerde mobilyaya hayat veren sektörün öncü firma ve markaları paneller serisinde bir araya gelirken ikili görüşmelerle de olası iş birliklerini değerlendirme imkânı bulacak.
İlk durak Kayseri
Eylül ayından başlayarak, her ay bir bölgede yapılacak sektör buluşmalarının ilki Kayseri'de düzenlenirken, Ekim'de İnegöl, Kasım'da Ankara, Aralık'ta İzmir ve Ocak ayında da İstanbul söz konusu buluşmalara ev sahipliği yapacak. Sektör dernekleri, ticaret ve sanayi odaları ve bölgedeki Sivil Toplum Örgütleri ile iş birliklerinin yapılacağı buluşmalar kapsamında sektörün tüm sorunlarına da çözüm yolları aranacak.