The countdown has begun for the 15th edition of CNR IMOB, one of the world's two largest international furniture trade fairs, to be held at CNR Expo Yeşilköy on January 22-27, 2019.  
CNR Holding company Istanbul Trade Fairs is organizing the 15th International Istanbul Furniture Exhibition (IMOB) between 22-27 January 2019 at CNR Expo Yeşilköy. More than 600 companies will take part with over 1.000 brands in CNR İMOB where 182 companies are lined up on the waiting list. Malaysia and Romania will have country pavilions in the exhibition where 35 furniture companies from the USA, Russia, Moldova, Ukraine, Egypt, Belgium, Germany, Italy, and Spain will showcase their products.

IMOB boost to the exports and tourism
CNR IMOB, the International Furniture Exhibition, which contributes significantly to the export rates of the Turkish furniture industry, will boost export and tourism figures in 2019 with the number of foreign buyers it will host. The hotels around the exhibition ground are already fully booked to welcome the 70 thousand foreign buyers expected. The residents in the vicinity started to rent their rooms and houses due to the overwhelming demand by international visitors.
BIA will help break records in foreign buyer numbers
CNR İMOB receives great interest especially from abroad. This year, foreign buyers are expected to increase by 20 percent thanks to the Global Market Intelligence System (BIA Business Intelligence Agency) implemented with the support of CNR International Business Development Department and a total investment of US$ 11 million. This year, CNR IMOB aims to host more than 190 thousand visitors, 70 thousand of them foreign, and sıgnificantly increase the trade volume during the exhibition with the procurement committee program carried out in targeted markets in more than 40 countries.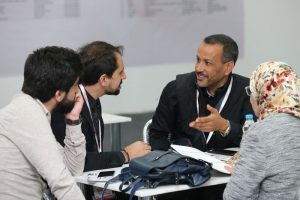 US$1 Billion exports expected
Furniture trade fairs have continuously been organized for the past 15 years to support the export and business volume of the furniture industry. IMOB 2019 will be a major contributor to the achievement of this goal by the Turkish furniture industry aspiring to become one of the world's top five furniture exporters. Participants are expected to exceed US$ 1 billion in exports during the exhibition.
CNR İMOB will host one of the most comprehensive procurement committee organization within the context of International Competitiveness Development İncentive (UR-GE) supported by the Ministry of Trade hand in hand with the hosted buyer program organized by CNR Holding. Exhibitors will conduct bilateral business meetings with delegations from all over the world within the scope of "Procurement Committees B2B Match Making Program".
The exhibition housing the finest designs of the Turkish furniture industry will welcome more than 150,000 visitors, including chain store representatives, wholesalers, distributors, importers, exporters, architects, interior designers, decorators, industrial designers, and furniture store managers.
#Sleepwellexpo, #sleepwell, #CNR, #IMOB, #furniture, #industry, #furniturefair #Turkishfurnitureindustry, #export, #import, #manage