* A brand new paint in Turkey, Bi'boya, shared its color guide that will be the key to better sleep. So, which colors are sleep-friendly, and which are not suitable for a perfect sleep?
The focus of Bi'Boya, which Kalekim offers to consumers and professionals with its new digital applications, is a consume satisfaction-oriented brand. Bi'Boya, which was developed as a result of long and meticulous researches considering the current trends and consumer needs, aims to meet the expectations of the consumers perfectly. The color guide developed by the company introduces us to the colors that are sleep friendly and those are sleep retardant.
Soothing effect of colors
It is known that the colors are more effective on our lives more than we thought. Although people have different characteristics, scientific research has proven the effects of certain colors on people. Especially when it comes to getting a calm and relaxing environment in your room, the effect of colors becomes an undeniable fact. After understanding which colors are able to relax and make you feel more peaceful, you can look at the decoration options for your bedroom and resting spaces.
Journey to the most mysterious of living spaces
Many people see the bedroom as a place used only during sleep hours. However, the only place spent at least 8 hours a day for healthy living are bedrooms. The quality of the bedroom is in communication with your soul, including the bed you prefer, the window that filters the light, the curtain that gets the light in your room. The right wall color not only makes it easier for you to fall into a deep sleep, but is is also the most important factor in waking up to the new day with a quality sleep.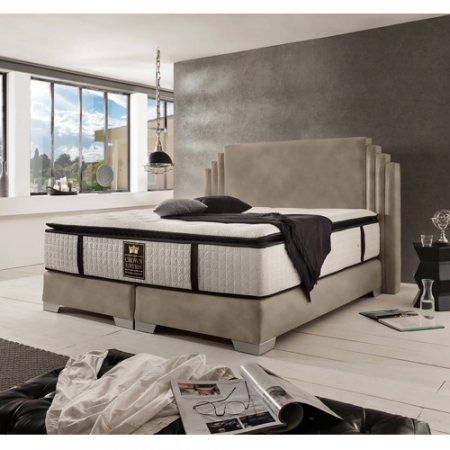 Wake up positively with natural colors
The colors of the walls of your bedroom, may have the effect either positively or negatively on your sleep. If you are dreaming of a good night's sleep to relieve the tiredness of the day, you should recognize the wall paint color alternatives that will protect your sleepy state. You can start this discovery with shades of green, blue, silver, yellow and orange, the warmest color of nature. You will enjoy sleep with these colors, which increases the possibility of a positive wake up.
You should know that your relationship with sleep will be much better than other colors if someone offers you to paint it blue. Blue is always on the front when it comes to sleep. If it is blue, your blood pressure and heart rate will be good, allowing you to fall asleep. The meditation effect of night blue, also called parliament blue, is a plus for the blue choice. Known as the brother of blue, green is a full energy source with healing properties, refreshes your soul with a good sleep.
Watch out for red, white and yellow!
Did it ever occur to your mind that your wall paint on the ceiling would lose your sleep? If you prefer red in the bedroom, you better not wait for sleep. Red is good for sleepless nights with its intense stimulating effect. You should be prepared for sleepless nights in red, which makes your heart beat faster. If you insist that your bedroom wall color should be white, you may have a light gray to save the situation. However, do not think about yellow in your bedroom, because its effect is almost similar to color white. Yellow is not a good companion for sleep.