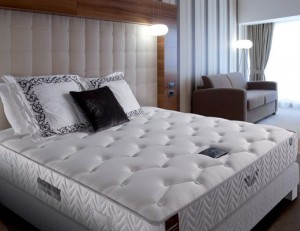 The most preferred mattress brand in the USA, Sealy is now sold in Turkey by Yatsan.
Added to the portfolio of Yatsan's sleep products last year, American brand Sealy raises the living standards with its innovative specifications. Sealy hybrid mattresses are made by opticool technology; gel foam with memory used at upper of mattress provides a climatic effect for the body. Having Outlast technology, paddings made of silk and wool fibers, the product offers perfect support for the body.
Besides opticool and Opti-Pro™ visco gels the mattresses are supported by SolidEdge™ and ForeverFlew™ solutions.
The springs of the product are made of titanium alloy and support every points of the surface to provide perfect comfort for couples. IntelliCoil™ spring system reduces the transfer of movements on the mattress.