The numbers speak for themselves. +20.17% of visitors compared to CIFF Guangzhou 2019, the last edition held over two phases before the pandemic. It was truly difficult to imagine an increase of this size in times as difficult as these, which have, among other things, resulted in the limited presence of foreign visitors at the exhibition.
Having concluded on 31 March after a total of 8 days (4 for the first phase and 4 for the second), the 47th CIFF Guangzhou occupied 750,000 square meters of exhibition space, divided among almost 4,000 exhibitors, and attracted 357,809 qualified trade visitors.
As usual, it was a huge, innovative, progressive, and futuristic event. The only one in the world that gathers the entire furniture sector under one roof, an event capable of generating strong synergy between the Chinese internal market and the international markets and integrating both events and business matching at the exhibition with activities on the online CIFF Cloud platform (which obtained around 7.6 million views) and the CIFF mini APP (which registered 2.36 million logins), pursuing the objective of making collaboration between exhibitors and visitors more profitable, while also giving special consideration to foreign buyers who are currently unable to participate in CIFF.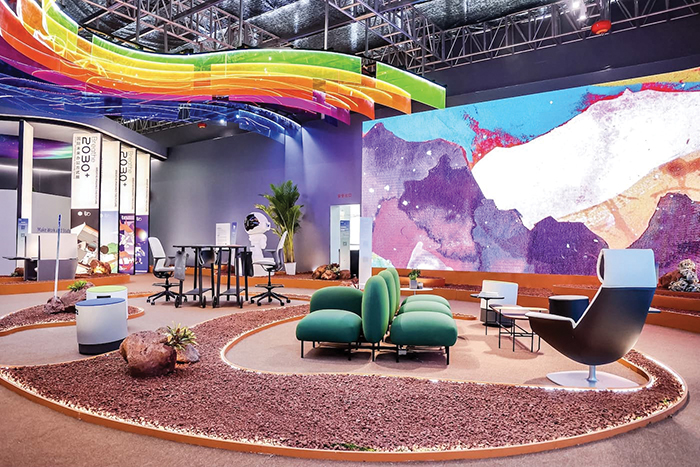 As Xu Xiangnan, chairman of the China National Furniture Association, stated, the 47th CIFF Guangzhou 2021 has actively promoted the coordinated development of the entire industrial chain and has given a strong impetus for the evolution of companies in the sector during the post-pandemic period. This has increased confidence in the sector thanks to the continuous improvement of quality, services and results, as noted by International Business Daily (official press under the Chinese Ministry of Commerce).
Corridors more crowded than ever, queues at the entrances to the stands, and packed conferences characterized the latest edition of CIFF Guangzhou, an edition that has without a doubt excited visitors with the innovative ideas and product design proposed by the sector's main brands in response to new demands and new markets. The high-level content of 20 design exhibitions and over 100 conferences organized by CIFF in collaboration with famous designers, market experts, design brands, media, trade associations and universities have been valuable sources of inspiration, testifying to the qualitative growth of Chinese products, increasingly appreciated on a global scale.
During a period in which it is truly difficult to find a bit of optimism, CIFF Guangzhou 2021 has experienced an extraordinary success which can only bring more trust and hope for a quick return to normality.
During the first phase, from 18 to 21 March 2021, the spotlight shone on the world of home living, including furniture and decor for both indoors and outdoors.
Home Furniture offered original solutions for the customization of domestic environments, conceived as increasingly multifunctional and fluid spaces characterized by accessible design and quality, sustainability concepts involving the use of natural materials, and a captivating fusion of styles.
In this context, through many events, the 'Design Spring' Contemporary Chinese Furniture
Design Fair gathered more than 80 of China's most influential furniture brands as well as hundreds of Chinese artists and designers, thus creating a well-respected platform capable of stimulating creativity and exchange of ideas, with the objective of supporting and adequately promoting the development of Chinese design.
The Design Dream Show (DDS) presented, under the theme 'Pick up & Give Up', seven different domestic scenes designed to improve quality of life.
The CMF Trend Lab perfectly interpreted the trends of the market across aspects like color, materials and surfaces, thereby providing directions for the production of saleable products.
Homedécor & Hometextile presented the latest trends in interior decor: furnishings, lighting, decorative paintings and artificial flowers for adding value to every environment.
Outdoor & Leisure focused on outdoor lifestyle, offering increasingly sophisticated solutions to extend the quality and comfort of interior environments outside the home.
Headlining in the second phase, from 28 to 31 March 2021, were workplaces and public spaces, in addition to the essential technologies for the furniture industry.
During Office Show, the leading brands of the sector showed countless flexible and innovative solutions for work environments capable of responding to the demands of companies that are in constant evolution with the objective of increasing performance and productivity, improving well-being and security, and inspiring new ideas. Much space was also dedicated to public commercial spaces and healthcare facilities, including those dedicated to the elderly, in addition to schools.
CIFM/interzum guangzhou 2021 presented an absolutely comprehensive offering of technology and semi-finished products for the furniture industry. The major Chinese and international brands in machinery, materials, surfaces and hardware provided convincing responses to the needs of an industry in constant growth and pursuit of the most innovative solutions to produce quality while optimizing production.
The 47th CIFF has been without a doubt a significant edition of a fair that has shown itself to be not only the most important business platform in Asia, but also a place dedicated to the efficient union of the culture of good design and good living with the concrete demands of global trade.
And now another meeting in Shanghai is only 5 months away! The 48th CIFF Shanghai will take place 3 to 6 September 2021 at the National Exhibition & Convention Center in Shanghai Hongqiao.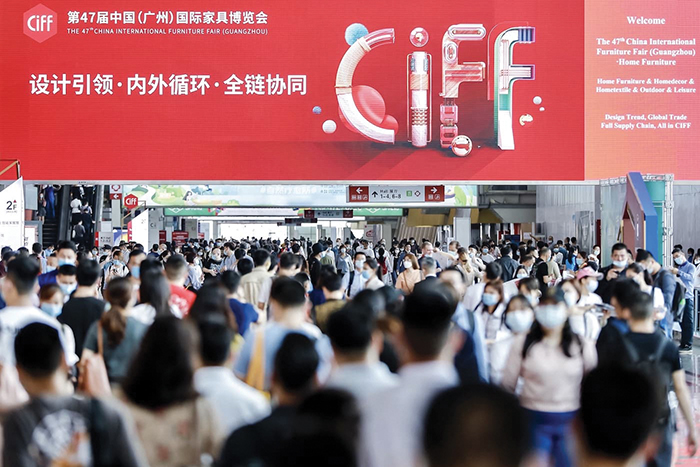 47. CIFF Guangzhou 2021 muhteşem bir başarıya imza attı!
* Çin Uluslararası Mobilya Fuarı (CIFF) bütün beklentileri fazlasıyla karşıladı. Katılımcıların sunduğu yenilikçi çözümler ve tasarımcılar tarafından tüm yaşam ve çalışma ortamlarının kalitesini geliştirmek için önerilen trendler, sektör profesyonellerine ilham vermek ve karşılaşma, iletişim ve paylaşım anları oluşturmak için CIFF tarafından düzenlenen etkinlikler, konferanslar ve organizasyonlar hem Çin pazarını hem de küresel ticareti sürdürmeyi amaçlayan somut bir 'tek durak' iş platformunun tümü, CIFF Guangzhou 2021'in inanılmaz başarısının temelinde yer alıyor.
Rakamlar en doğruları söyler. Ziyaretçilerin sayısı pandemiden önceki CIFF Guangzhou 2019'a kıyasla, % 20,17'lik bir artışla iki aşamadan fazla gerçekleşti. Bu kadar zor zamanlarda bu büyüklükte bir artışı hayal etmek gerçekten zordu; bu, diğer faktörlerin yanı sıra, fuarda sınırlı sayıda yabancı ziyaretçi ile sonuçlandı.
Toplam 8 günün ardından (4'ü birinci aşama, 4'ü ikinci aşama) 31 Mart'ta sona eren 47. CIFF Guangzhou, 750.000 metrekarelik sergi alanında yaklaşık 4.000 katılımcı arasında bölünmüş ve 357.809 nitelikli ticari ziyaretçiyi cezbetmiş bir etkinlik oldu.
Her zaman olduğu gibi fuar yine devasa, yenilikçi, ilerici ve fütüristik bir etkinlikti. Tüm mobilya sektörünü tek çatı altında toplayan dünyadaki tek etkinlik, Çin iç pazarı ile uluslararası pazarlar arasında güçlü bir sinerji oluşturabilen ve fuardaki hem etkinlikleri hem de iş eşleştirmesini online CIFF Cloud platformundaki etkinliklerle entegre edebilen bir fuar (yaklaşık 7,6 milyon görüntüleme elde etti) ve CIFF mini APP (2,36 milyon oturum açma kaydı), katılımcılarla ziyaretçiler arasındaki işbirliğini daha karlı hale getirme hedefini sürdürürken, aynı zamanda şu anda CIFF'e katılamayan yabancı alıcılara da özel önem veriyor.
Çin Ulusal Mobilya Birliği başkanı Xu Xiangnan'ın belirttiği gibi, 47. CIFF Guangzhou 2021, tüm endüstriyel zincirin eşgüdümlü gelişimini aktif olarak destekledi ve sektördeki şirketlerin pandemi sonrası gelişmeleri için güçlü bir ivme kazandı. International Business Daily (Çin Ticaret Bakanlığı'nın resmi basını) tarafından belirtildiği gibi, bu, kalitenin, hizmetlerin ve sonuçların sürekli iyileştirilmesi sayesinde sektöre olan güveni artırdı.
Koridorlar her zamankinden daha kalabalık, stantların girişlerindeki kuyruklar ve dinleyicilerle dolu konferanslar, CIFF Guangzhou'nun son organizasyonu olan bu açılışında şüphesiz ki, sektörün ana markalarının önerdiği yenilikçi fikirler ve ürün tasarımıyla ziyaretçileri yeni talepler ve yeni pazarlar açısından heyecanlandıran bir deneyim oldu. CIFF tarafından ünlü tasarımcılar, pazar uzmanları, tasarım markaları, medya, ticaret birlikleri ve üniversitelerle işbirliği içinde düzenlenen 20 tasarım sergisinin ve 100'ün üzerinde konferansın üst düzey içeriği, Çin ürünlerinin niteliksel büyümesine tanıklık eden ilham kaynakları olmuş ve bu büyük ve yenilikçi pazar küresel ölçekte giderek daha fazla takdir edilmekte.
Biraz iyimserlik bulmanın gerçekten zor olduğu bir dönemde, CIFF Guangzhou 2021, normalliğe hızlı bir dönüş için yalnızca daha fazla güven ve umut getirebilecek olağanüstü bir başarı yaşadı.
18-21 Mart 2021 tarihleri arasındaki ilk aşamada, hem iç hem de dış mekanlar için mobilya ve dekor da dahil olmak üzere, ev yaşamı dünyasına dikkat çekildi.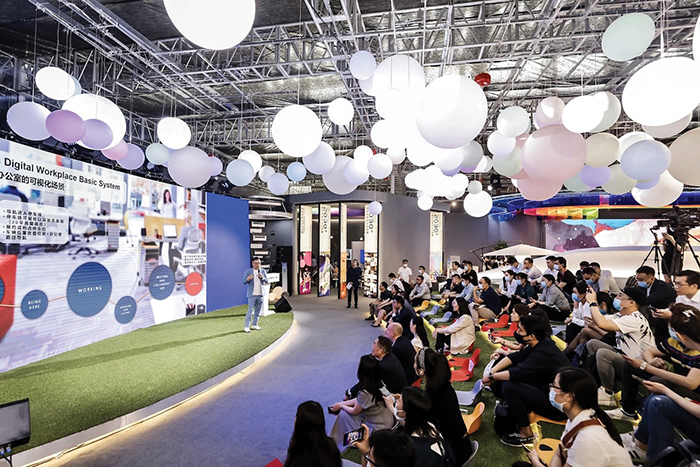 Ev Mobilyaları, erişilebilir tasarım ve kalite, doğal malzemelerin kullanımını içeren sürdürülebilirlik kavramları ve stillerin büyüleyici bir birleşimi ile karakterize edilen, giderek daha çok işlevli ve akışkan alanlar olarak tasarlanan ev ortamlarının özelleştirilmesi için orijinal çözümler sundu.
Bu bağlamda, birçok etkinlik aracılığıyla, 'Tasarım Baharı' Çağdaş Çin Mobilyaları Tasarım Fuarı, Çin'in en etkili mobilya markalarının 80'den fazlasını ve yüzlerce Çinli sanatçıyı ve tasarımcıyı bir araya getirdi, böylece Çin'in gelişimini desteklemek ve yeterince teşvik etmek amacıyla yenilikçiliği ve fikir alışverişini teşvik edebilen saygın bir platform oluşturdu.
Design Dream Show (DDS), "Pick up & Give Up" teması altında, yaşam kalitesini iyileştirmek için tasarlanmış yedi farklı ev sahnesi sundu.
CMF Trend Lab, pazarın trendlerini renk, malzeme ve yüzeyler gibi yönlerden mükemmel bir şekilde yorumladı ve böylece satılabilir ürünlerin üretimi için talimatlar sağladı.
Homedécor & Hometextile, her ortama değer katan mobilyalar, aydınlatma, dekoratif tablolar ve yapay çiçekler gibi iç dekorasyondaki en son trendleri sundu.
Outdoor & Leisure, dış mekan yaşam tarzına odaklandı ve ev dışındaki iç ortamların kalitesini ve konforunu genişletmek için giderek daha karmaşık çözümler sunuyor.
28 – 31 Mart 2021 tarihleri arasındaki ikinci aşamada, mobilya endüstrisi için gerekli teknolojilerin yanı sıra işyerleri ve kamusal alanların da tasarım ve döşemelerine dikkat çekildi.
Office Show'da sektörün önde gelen markaları, performansı ve üretkenliği geliştirmek, refahı ve güvenliği artırmak ve ilham verici hedeflerle sürekli gelişim içinde olan şirketlerin taleplerine cevap verebilen çalışma ortamları için sayısız esnek ve yenilikçi çözümler sergiledi. Okulların yanı sıra yaşlılara ayrılmış olanlar da dahil olmak üzere kamusal ticari alanlara ve sağlık tesislerine büyük bir alan ayrıldı.
CIFM / interzum guangzhou 2021, mobilya endüstrisi için kesinlikle kapsamlı bir teknoloji ve yarı mamul ürün yelpazesi sundu. Makine, malzeme, yüzey ve donanım alanındaki büyük Çin ve uluslararası markalar, sürekli büyüyen ve imalatı optimize ederken kaliteyi üretmek için en yenilikçi çözümlerin peşinde koşan bir endüstrinin ihtiyaçlarına ikna edici yanıtlar verdiler.
47. CIFF, hiç şüphesiz, sadece Asya'daki en önemli iş platformu değil, aynı zamanda iyi tasarım ve iyi yaşam kültürünün etkin bir şekilde birleşmeye adanmış ve küresel ticarete somut taleplerin gelşitirildiği bir yer olduğunu gösteren bir fuarın önemli bir edisyonu olmuştur.
Ve şimdi Şangay'daki başka bir randevuya sadece 5 ay kaldı! 48. CIFF Shanghai, 3 – 6 Eylül 2021 tarihleri arasında Shanghai Hongqiao'daki Ulusal Sergi ve Kongre Merkezi'nde gerçekleşecek.