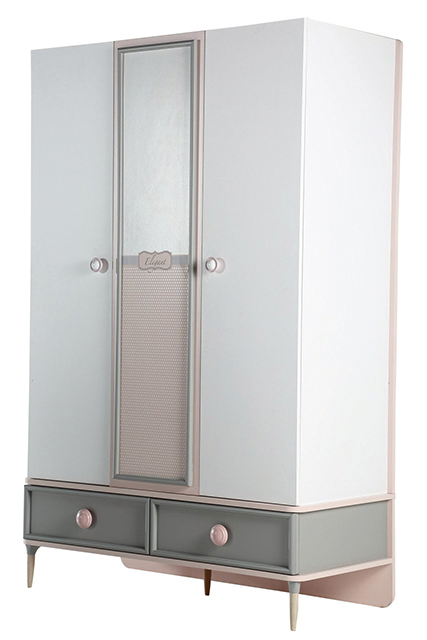 The carefully prepared room is the place the baby spends most of its time in from the moment it was born. This room, where the baby will spend its first days in, will accompany it while growing up and contribute to a happy childhood, to learning by dreaming and to feeling safe in a cozy home. For this reason, the baby room selection is one of the things that mothers with babies and expectant mothers think about most. Families who want to create a living space for their baby that is warm, well lighted and good ventilated, so they can enjoy peaceful times together, want to choose the most beautiful and special furniture.
Simplicity, spaciousness, and quality …
The Alice Baby Room Set, which CaddeYıldız Furniture created for the comfort of newborns and new mothers, helps babies to listen to their fairy tales in a fairytale-like environment and to grow up peacefully in a living space that will also feed their imagination. The set consisting of a growing cradle, a wardrobe with LED lighting and a dresser, facilitate the lives of mothers and fathers thanks to their functional structure.  While the growing cradle saves parents from the cost of a second bed for the rapidly growing little ones, the wardrobe with LED lighting offers a spacious usage area hangers and shelves. The wide drawers of the dresser create more space for clean baby clothes and belongings. The light-toned colors and foot detailed design of the set give the room a very elegant and chic look.
A healthy and peaceful atmosphere
Designed with materials suitable for babies' health, the Alice Baby Room Set also meets the European TÜV ISO 9001 quality standard. The collection adds a peaceful atmosphere to your baby's room, with its simple design that evokes spaciousness and fairytale-like features.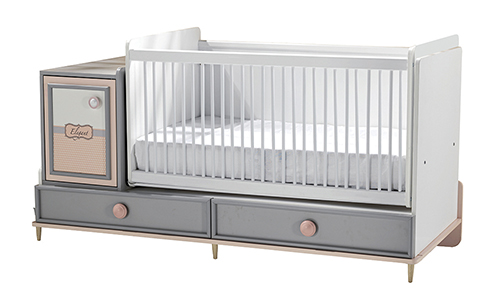 Masal gibi bebek odası
Koleksiyonlarıyla yaşam alanlarını güzelleştiren CaddeYıldız Mobilya, miniklere yönelik hazırladığı ürün gruplarıyla da çok iddialı. Masalsı görünümüyle dikkat çeken Alice Bebek Odası Takımı, bebeklerin ilk yuvasını adeta 'Harikalar Diyarı'na dönüştürüyor. CaddeYıldız, büyüyen beşik, led ışıklı gardırop ve şifonyerden oluşan bu fonksiyonel takım ile annelerin de hayatını kolaylaştırıyor.
Bir bebeğin dünyaya geldiği andan itibaren en çok zaman geçireceği yer onun için özenle hazırlanmış odası oluyor. Bebeğin dünyadaki ilk günlerini geçireceği bu oda, büyürken de onun mutlu bir çocukluk geçirmesine, hayaller kurarak öğrenmesine ve sıcacık bir yuvada güvende hissetmesine katkı sağlıyor. Bu sebeple bebekli annelerin ve anne adaylarının en fazla kafa yorduğu şeylerin başında da bebek odası seçimi geliyor. Dünyaya gelen bebekleri için sıcaklığıyla, ışıklandırmasıyla, havalandırmasıyla ve tasarımıyla çok rahat edecekleri, huzurlu zaman geçirecekleri bir yaşam alanı sunmak isteyen aileler mobilya seçimleriyle de bebeklerine en güzelini ve özelini vermek istiyor.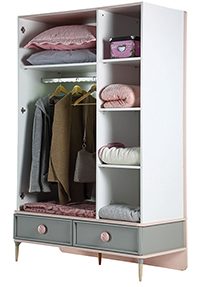 Sadelik, ferahlık ve kalite…
CaddeYıldız Mobilya, yenidoğanların ve annelerin konforunu düşünerek hayata geçirdiği Alice Bebek Odası Takımı ile bebeklerin masallarını masal gibi bir ortamda dinlemelerine, hayal dünyalarını da besleyecek bir yaşam alanında huzurlu bir şekilde büyümelerine yardımcı oluyor. Büyüyen beşik, led ışıklı gardırop ve şifonyerden oluşan takım, fonksiyonel yapısıyla anne ve babaların da hayatını bir hayli kolaylaştırıyor. Büyüyen beşik hızla gelişen minikler için ebeveynleri ikinci bir yatak masrafından kurtarırken, led ışıklı gardırobun dolap içi askı ve raf bölümü kıyafetler için ferah bir kullanım alanı yaratıyor. Şifonyerin geniş çekmeceleri ise yıkanan temiz bebek çamaşırlarına ve eşyalarına daha fazla yer açıyor. Takımın açık tondaki renkleri ve ayak detaylı tasarımı odaya hem çok şık hem de çok zarif bir görünüm kazandırıyor.
Sağlıklı ve huzurlu bir atmosfer
Bebeklerin sağlığına uygun malzemeler kullanılarak tasarlanan Alice Bebek Odası Takımı, Avrupa TÜV ISO 9001 kalite standardını da karşılıyor. Koleksiyon, ferahlığı çağrıştıran sade tasarımı ve masalsı çizgileriyle bebeğinizin odasına huzurlu bir hava katıyor.